I never even knew about Potatoes O'Brien until I tried them at my mother-in-law's house. I was crazy about the flavors from the first bite. I've often made my breakfast potatoes with green onions added in. But there's just something extra good about the flavor the bell pepper adds.
Traditionally there's both red and green bell peppers in these breakfast potatoes. However, I've never been the big of a green bell pepper fan, so I went with all red in this version.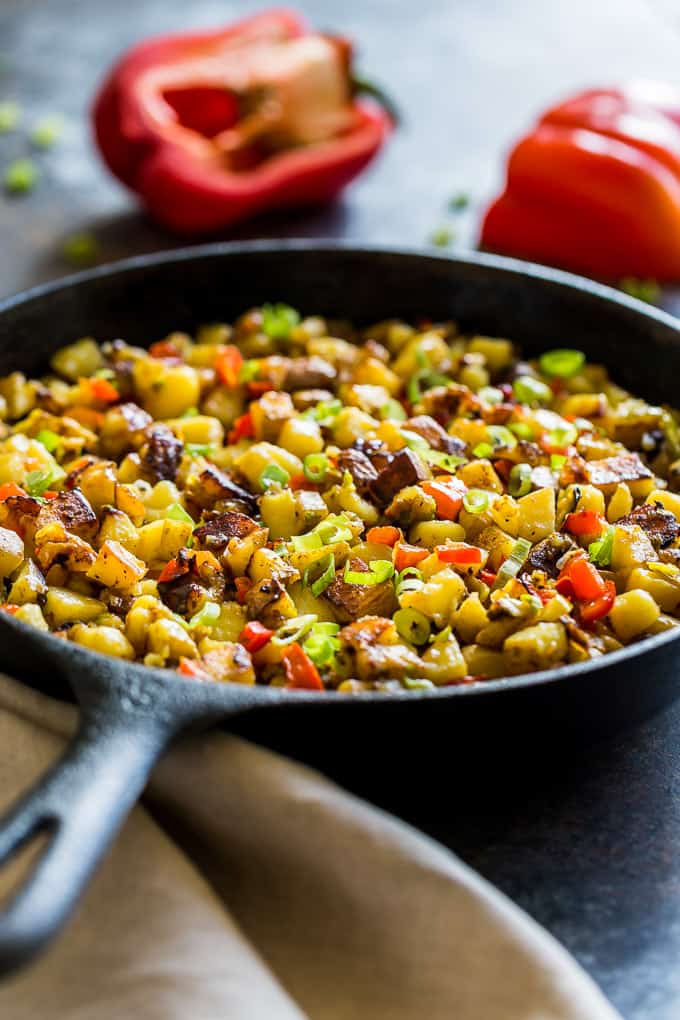 My first experience with green bell pepper wasn't a great one, and I've never really moved past it. I was around 5 years old when my Grandmother insisted that I have a taste. She loved them to the point where she'd eat them sliced up as an apple.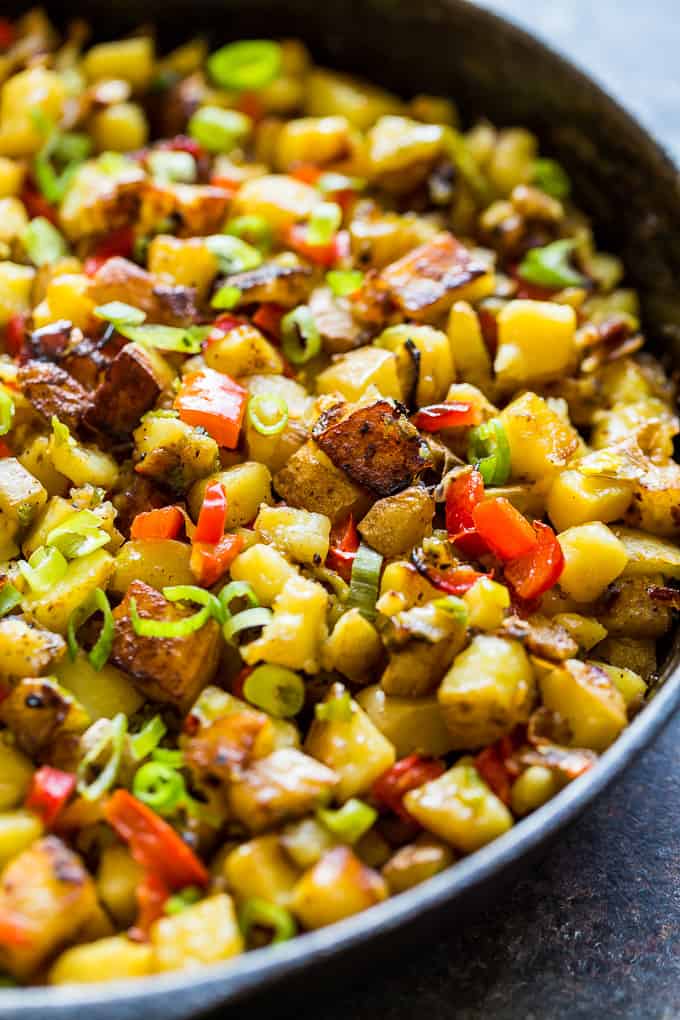 However to my young taste buds, even the smell was repulsive. Not to be deterred, she insisted until I tried it, which I'm sure you can see it coming that I was not a fan! Over the years, I've kept trying them, hoping that someday my taste buds will change their mind. And while I don't find them repulsive anymore, I'm still not exactly a fan.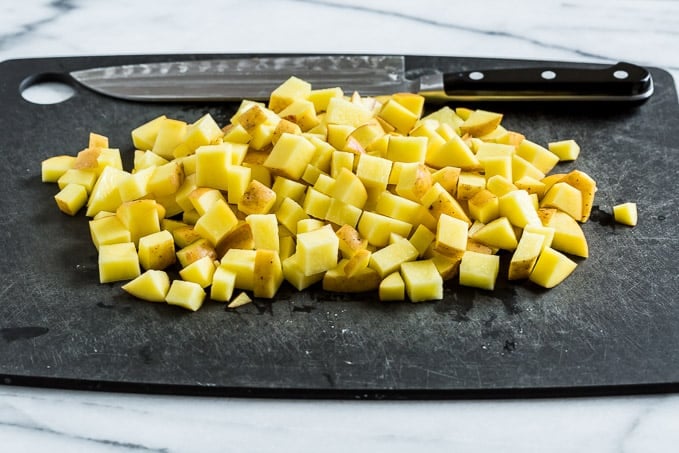 Anyway's you can always add them if you'd like to this recipe, just split the amount called for 50/50.
I like to use Yukon Gold potatoes for all my breakfast potatoes. I find Russets to be a little too dry. And any type of red potato to have too much moisture for proper crisping.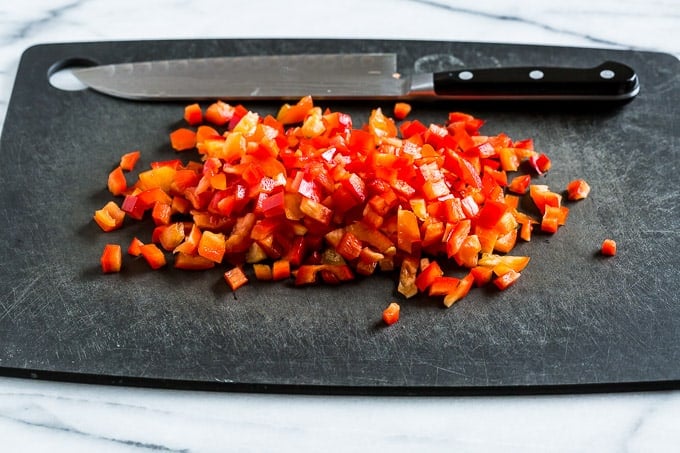 I'm not sure of the traditional way to cook Potatoes O'Brien, but I like to reserve the bell pepper and green onions until halfway through the cooking time. That way they retain some of their texture and flavor, instead of melting into the potaotes.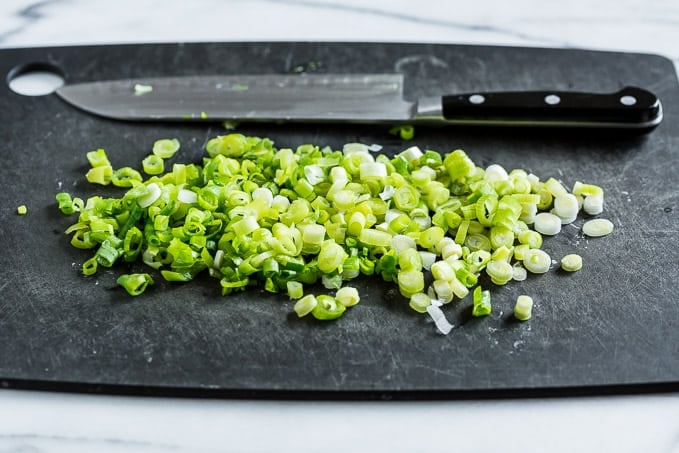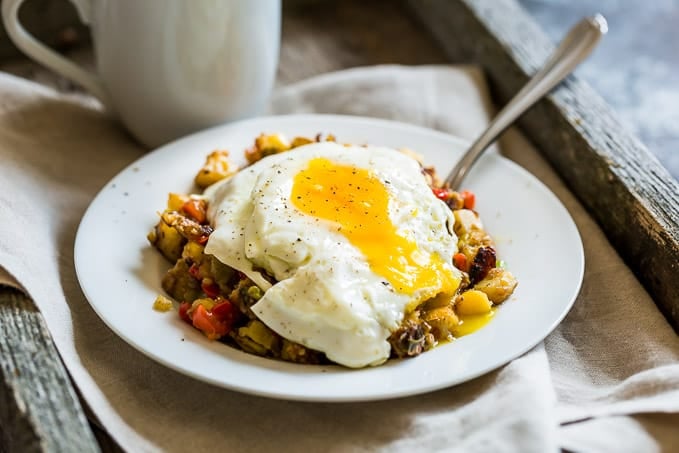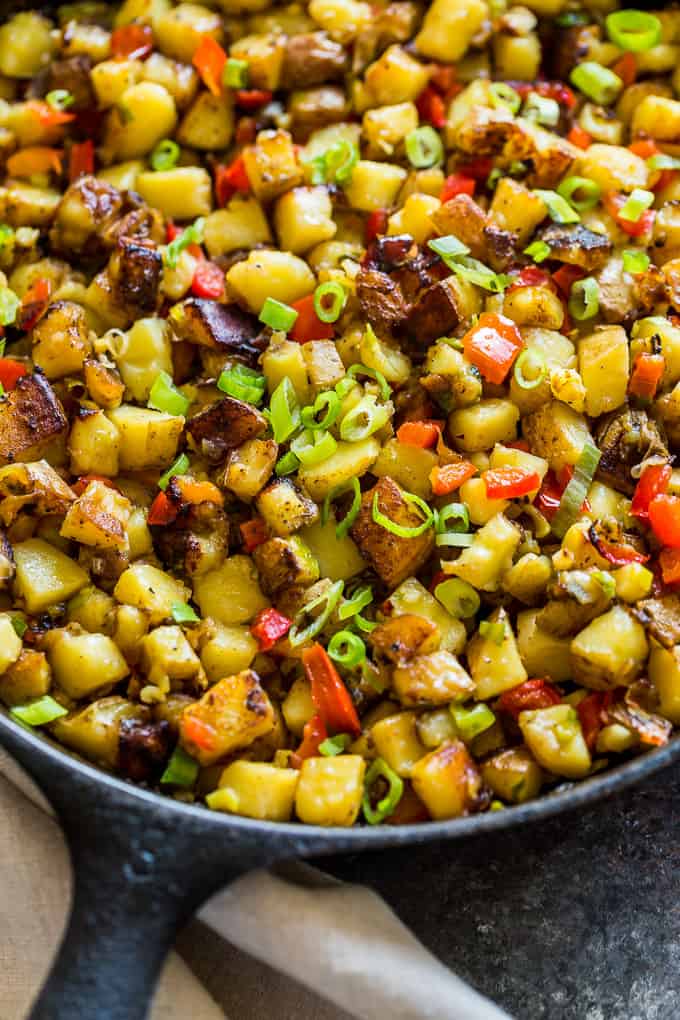 Our favorite way to serve these for breakfast is topped with over easy eggs. I get super serious about the over easy part, and I always have everything else ready before the eggs go into the pan. That way, I focus solely on cooking the eggs perfectly so there's ample amount of yolk to run into those crispy potatoes.
Really… it's the little things in life!
Print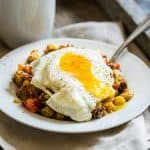 Easy Breakfast Potatoes O'Brien
---
6

medium Yukon gold potatoes, 1 1/2 pounds, 6-7 cups diced

2

–

3

Tablespoons olive oil

1 Teaspoon

sea salt, or to taste

1 Teaspoon

freshly ground black pepper

1

red bell pepper, diced into

1/2

" pieces, 1 cup

1/2 cup

thinly sliced green onions
---
Instructions
Wash and cut the potatoes into 1/2″ cubes.
Heat a 9″ cast iron skillet over medium high heat. When the pan is hot, add 2 tablespoons of the oil along with the potatoes. Sprinkle the sea salt and pepper over the potatoes, and use a metal spatula to stir and combine.
Cook over medium to medium high heat, stirring with a metal spatula as they brown, adding the additional tablespoon of oil only if needed to prevent sticking. The amount of oil needed really varies from pan to pan. After the potatoes have cooked for 8-10 minutes, add the bell pepper and green onions.
Continue to cook, stirring as they brown, until the potatoes have softened and are crispy brown on the outsides, about 10-15 additional minutes.
Taste to adjust the sea salt and pepper, and serve immediately.
Notes
Using a metal spatula with the cast iron pan is key to scrape up the crispy potatoes as they brown. A silicone or plastic spatula isn't strong enough to loosen the potatoes, but those spatulas work well if you're using a non-stick pan to cook the potatoes with.
Prep Time:

10 mins

Cook Time:

30 mins