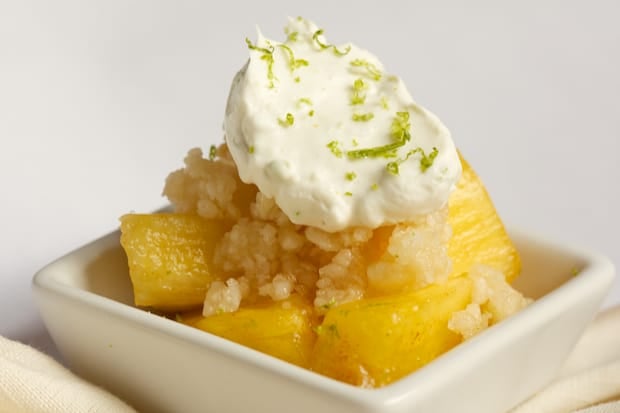 Fresh Pineapple Crisp with Coconut Whipped Cream is a little different than a usual crisp, it's not baked. It is just fresh fruit, a macadamia nut topping, and coconut lime whipped cream. What does that mean for you? It means that in 20 minutes you can have a great dessert that is healthy enough to eat for breakfast.
I love the combination of flavors in this dessert. The pineapple tastes light and fresh paired with the brightness of lime zest. The cinnamon and coconut whipped cream adds decadence that makes it truly satisfying. Not to mention, pineapple is one of the few fruits that tastes good year round. I think it would also be a great ending to any summertime barbecue. Stay posted, I'll get back to you on that in a few months.
We are going to start by cutting off both ends of the pineapple.
Next, stand the pineapple up and cut off the sides until mostly yellow fruit remains.
Cut right through the core into quarters.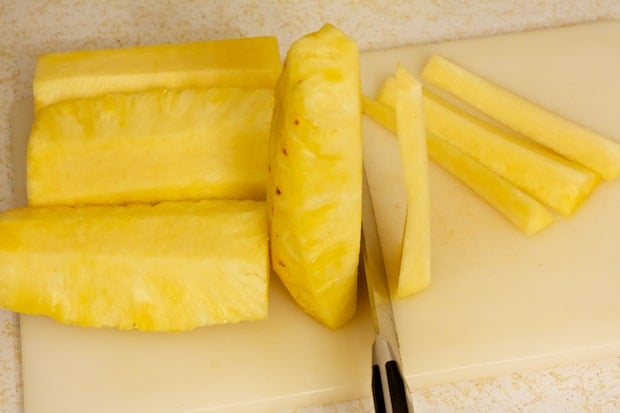 Then slice the core out of each of the four sections. Finally, chop the pineapple into tidbit size.
Measure out the tidbits and place in a bowl. Stir in the cinnamon and maple syrup, set aside.
Place the topping ingredients in a food processor and pulse until a crumbly topping forms. If you don't have a food processor, chop the nuts until the desired consistency is reached. Then stir in the rest of the topping ingredients.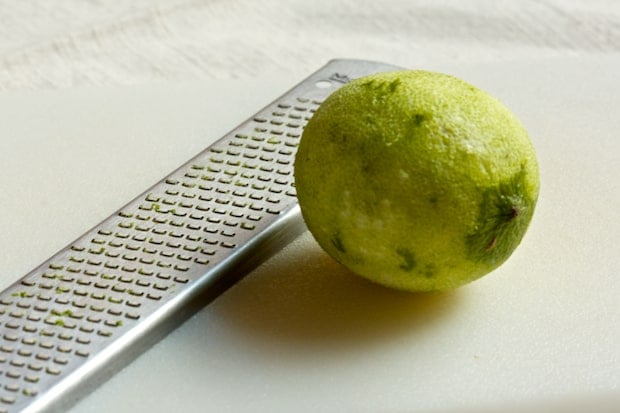 When zesting the lime, you only want the colored part.  The white pith underneath is bitter. I like using a microplane grater because you don't get any big chunks. You're looking more for essence of flavor than chewy bits of rind.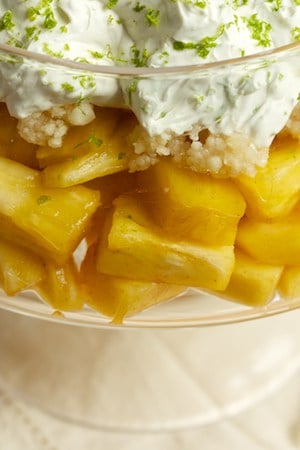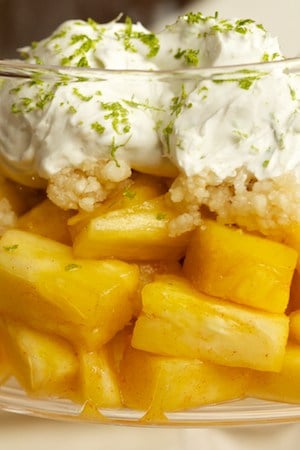 In a glass bowl or trifle dish, layer the pineapple mixture then sprinkle with macadamia topping. The crisp can be refrigerated at this point for several hours. Just before serving, top with whipped cream and garnish with lime zest.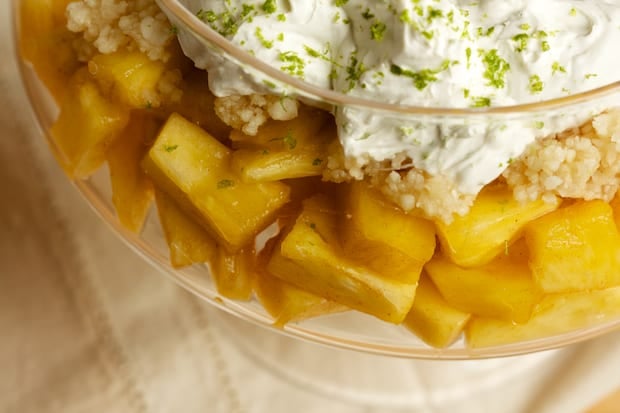 You can also assemble the crisps in individual bowls, whichever is more to your liking.
As a final note, my husband doesn't normally like pineapple but you should see this dessert disappear! Let me know what you think, enjoy!
Print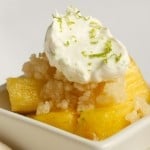 Fresh Pineapple Crisp
---
4 cups

fresh pineapple, chopped into tidbit size

1/2 Teaspoon

cinnamon

1/4 cup

maple syrup
TOPPING:

1 cup

macadamia nuts

2 Tablespoons

maple syrup

1 Teaspoon

vanilla
pinch of sea salt
COCONUT WHIPPED CREAM:

1

can coconut milk, refrigerated

2 Tablespoons

maple syrup

1 Teaspoon

vanilla
GARNISH:
lime zest, microplaned
---
Instructions
Stir together the pineapple, maple syrup, and the cinnamon in a bowl and set aside.
In a food processor, place all of the topping ingredients in the bowl fitted with the chopping blade and pulse until a coarse topping forms.
At this point you can assemble the pineapple and crisp topping into your serving dish and refrigerate up to 4 hours. You can also store them separately for 1 to 2 days before serving if needed.
Just before serving, remove the coconut milk from the refrigerator and scoop out all of the solid cream that has risen to the top. Place in a mixing bowl with the maple syrup and vanilla. Beat until light and fluffy, (can take up to 10 minutes depending on ratio of coconut cream to the size of the mixing bowl). Top the crisp with the whipped cream and garnish with freshly grated lime zest.