These Gluten Free Lemon Blueberry Scones are a weekend favorite that go perfectly with a nice cup of coffee and side of scrambled eggs!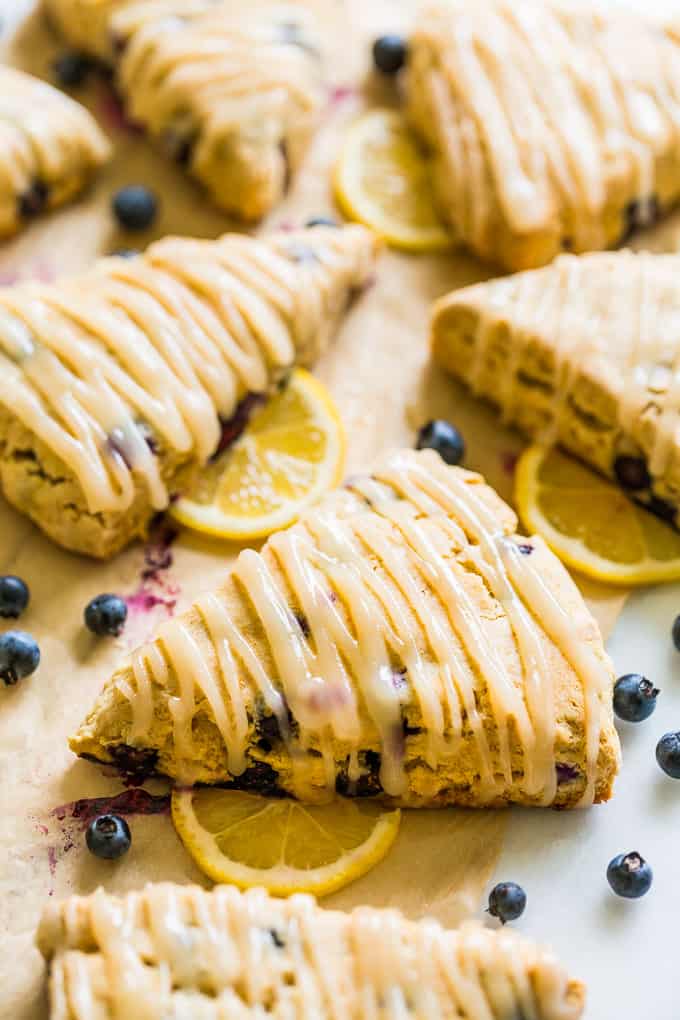 Scones are one thing I've always avoided ordering when I'm out because they're usually just not worth it. I have yet to have a truly delicious scone in a restaurant. But who knows that could change someday. For now, I just make them at home. Then I know they're not going to be crumbly and dry, with the texture of sawdust!
The key to a good scone is good butter – plain and simple- and there's no skimping on the butter around here. Just think of it as a treat, there's no point in trying to cut back on the butter. It will ruin the texture and taste of your baked good (any baked good for that matter).
I remember the day I got one of my favorite cookbooks in the mail. I sat down that evening read 'Once Upon a Tart' and they quickly won my heart when they described customers asking for a low fat scone. They would simply respond to the query with, 'just eat half', and I couldn't express it any better myself!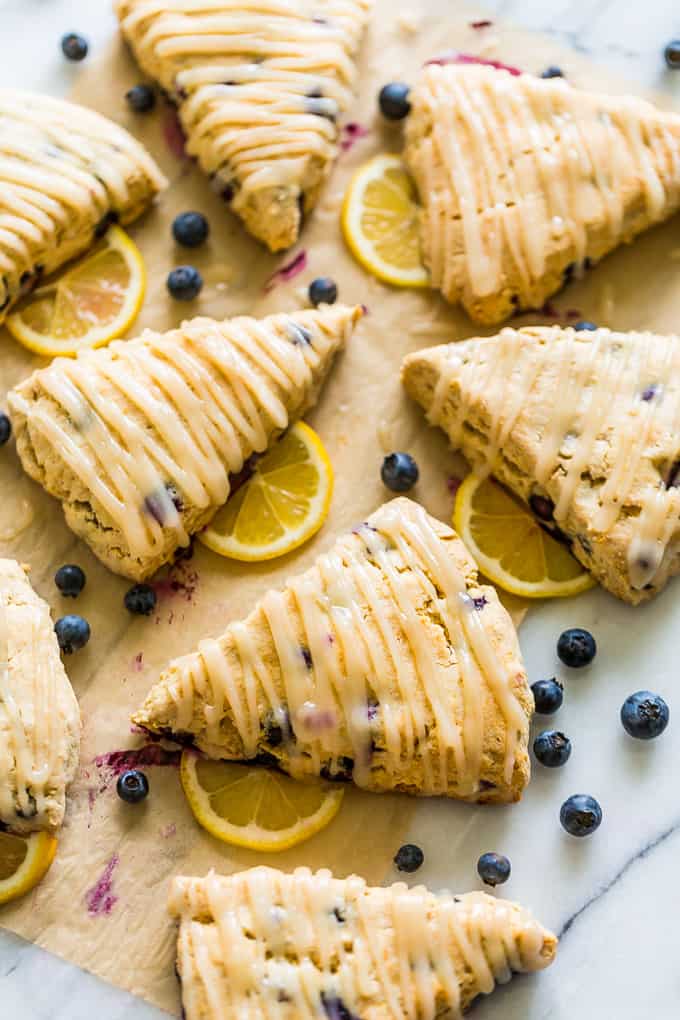 There's nothing like fresh, buttery baked goods on a weekend morning. And it's even better when I get to take these scones along for a hiking weekend. You can only imagine the looks of envy we get from other campers, or other photographers for that matter. We like to set up for a sunrise, and once we're in place, we break out the homemade baked goods, and make fresh coffee.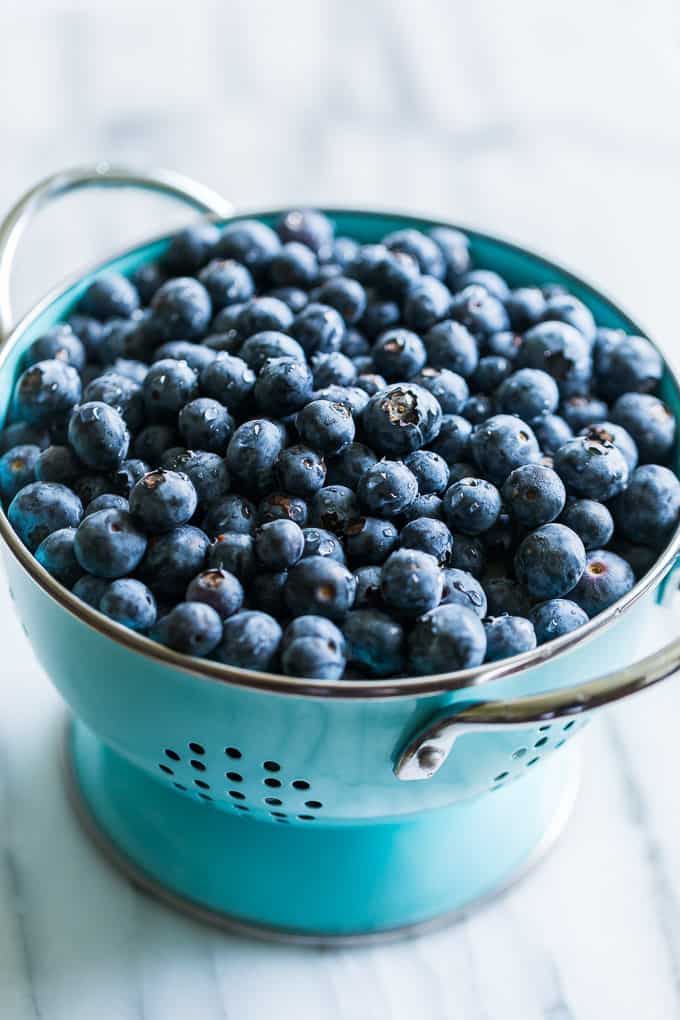 Tips for how to make these Gluten Free Lemon Blueberry Scones:
Fresh blueberries work the best in scones. You can use frozen berries, but they will turn the batter purple which will bake into grey colored scones. They taste fine, but the color is not as pretty.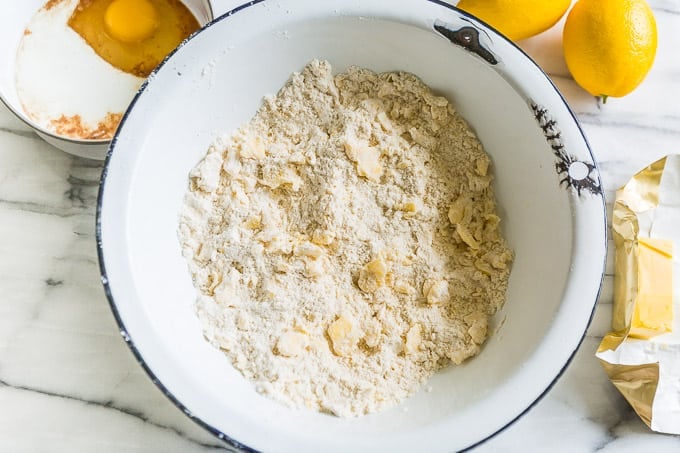 For the flakiest scones, I like to work the butter in like I would for a pie crust. I add the butter into the flour mixture in thin slices. Then using my hands I make a smearing motion working the butter into the flour between my palms.
You want to work fairly quickly so the butter doesn't get too warm. I also like to leave fairly big pieces of butter showing, (see the above photo). This creates flaky layers as the scones bake.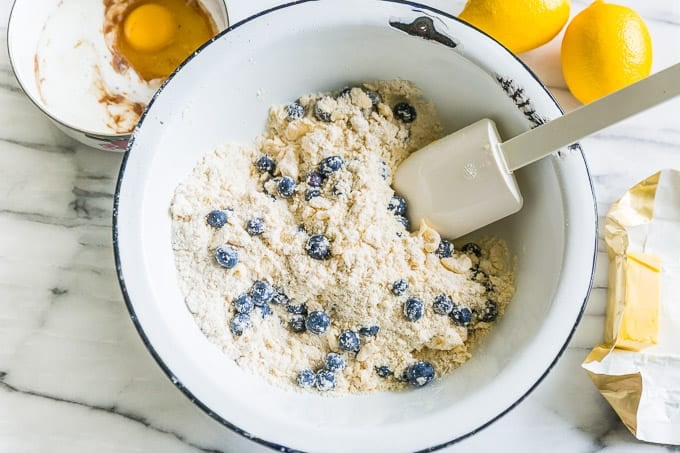 Then the blueberries are mixed in…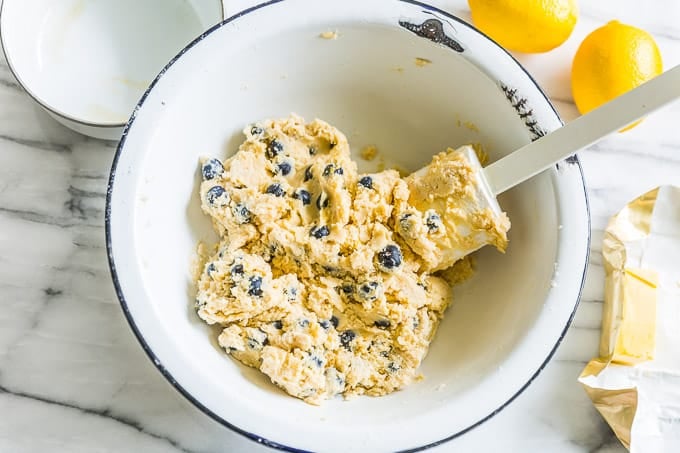 … and finally the liquid is added.
Then you lightly roll the dough into a round before cutting the round into 8 triangular pieces.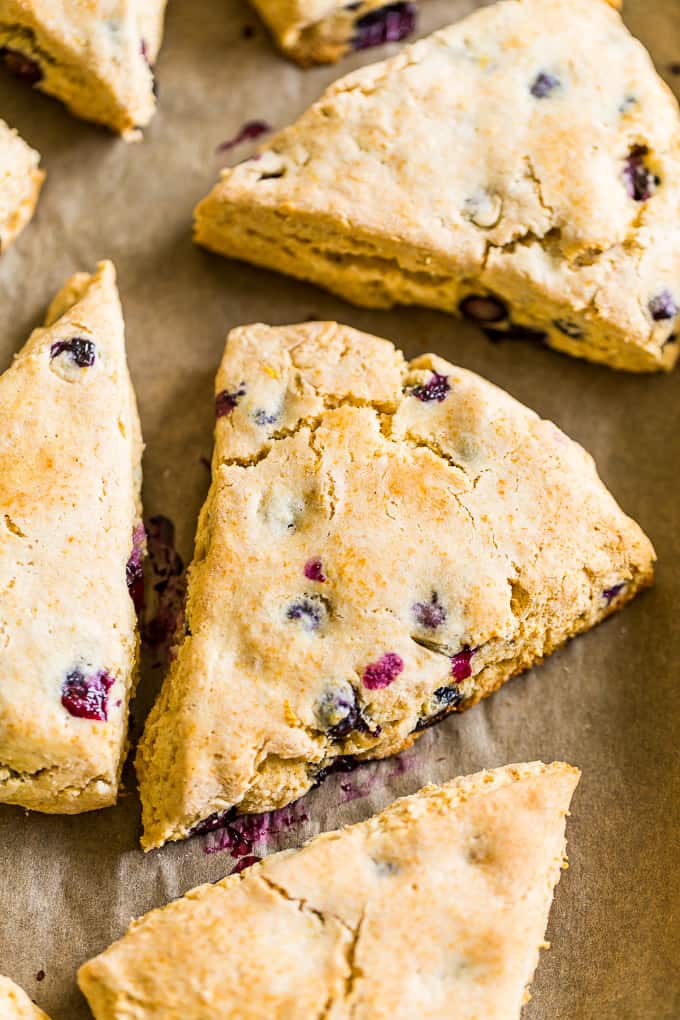 I brush the tops with buttermilk before baking, and you can sprinkle them with sugar if you want to skip the glaze.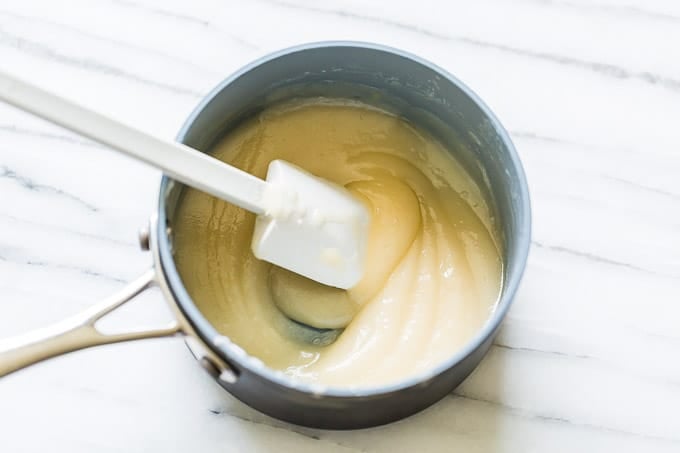 The glaze comes together easily in a saucepan, and then I poured mine into a squeeze bottle to make it easier to decorate the tops of the scones.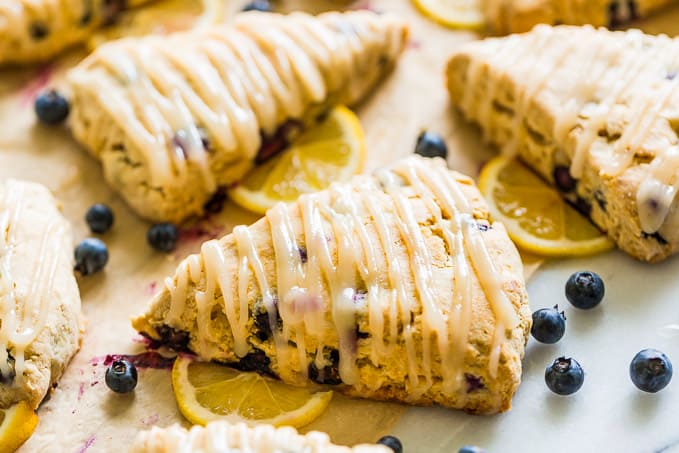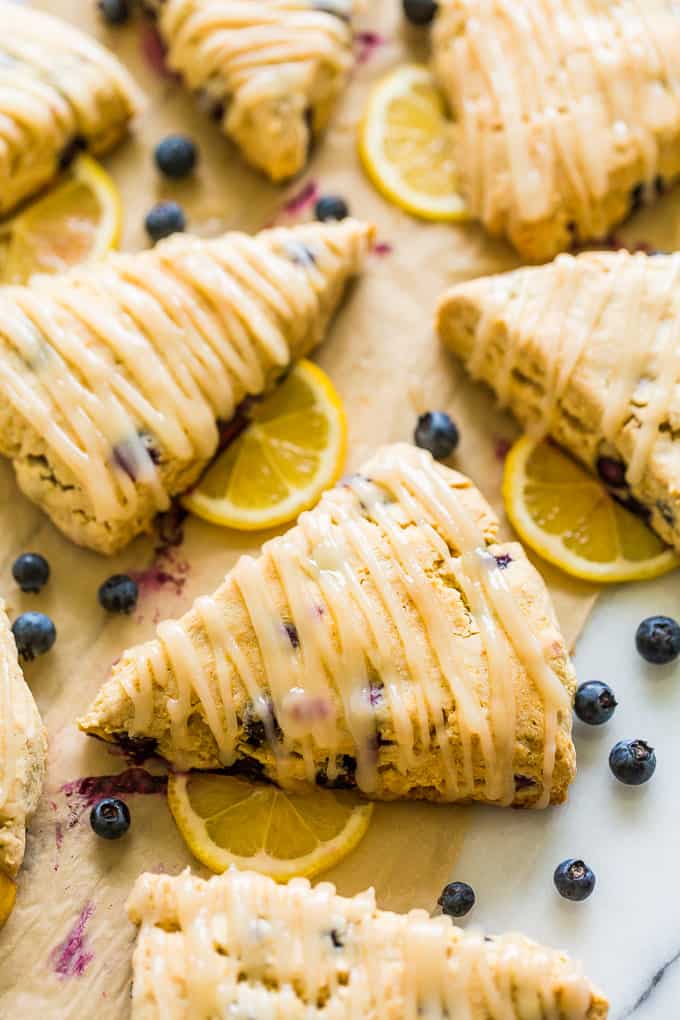 We've really been enjoying these over slow easy going mornings, and I can't wait to take them along on some photography trips. I have a post coming soon for a Summer Bucket List for 2017, and one thing on that list is to watch a sunrise with coffee and something baked. So at least I know what I'm making for that!
Print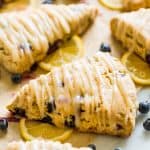 Gluten Free Lemon Blueberry Scones
---
Description
These scones are a weekend favorite for brunches!
---
2 cups

gluten free flour, I use the Namaste brand

1 Tablespoon

lemon zest

1 Tablespoon

baking powder

1/2 Teaspoon

baking soda

1

stick of salted butter, 8 Tablespoons, or

4 ounces

1 cup

fresh blueberries, see notes

1/3 cup

honey

1

egg

1/4 cup

buttermilk +

2 Tablespoons

to brush the tops

1 Teaspoon

vanilla extract

1/2 Teaspoon

almond extract
Lemon Glaze:
6 Tablespoons

coconut butter

2 Tablespoons

honey

2 Tablespoons

freshly squeezed lemon juice

3

–

4

drops of almond extract, about

1/2

of 1/4 Teaspoon
---
Instructions
Preheat the oven to 400ºF and line a baking sheet with parchment paper.
In a large mixing bowl, combine the flour, lemon zest, baking powder, and baking soda until thoroughly mixed.
Cut the butter into small pieces and add it to the mixing bowl. Using your hands, work the butter into the flour mixture by rubbing it between your palms creating a smearing motion. This works the butter in to create perfectly flaky scones. You want to work quickly to get the butter incorporated within 3-4 minutes so that the heat from your hands doesn't melt it too much. Also be sure and leave visible pieces of butter, (refer to pictures in the post) which creates the flaky texture. When the butter has been incorporated, stir in the blueberries, and set the bowl aside.
In a separate mixing bowl, combine the honey (lightly warm it first if it's not liquid), egg, 1/4 cup buttermilk, and the vanilla and almond extracts.
Pour the wet ingredient mixture into the the flour/butter mixture and mix just to combine.
Using a spatula, scrape the dough onto a lightly floured work surface and pat/roll it into a round about 1 1/2″ deep and 10-12″ diameter. Using a sharp knife, cut the round into 8 triangular pieces and place each triangle on the prepared baking sheet. Brush the tops of the scones with the remaining 2 Tablespoons of buttermilk.
Bake for 15-18 minutes, or until the scones are puffed up, lightly golden, and just done in the center.
Let the scones cool for 20 minutes or until room temperature before glazing.
For the glaze, combine all the glaze ingredients in a small saucepan placed over low heat. Stir as the coconut butter melts, and heat only until all the ingredients have combined together. Remove the pan from the heat and place the glaze in a squeeze bottle to easily make zig zag lines over the scones, or just drizzle the glaze over the scones with a spoon.
Serve immediately. Leftovers can be frozen and gently reheated.
Notes
Fresh blueberries work best in scones. You can use frozen berries, but the juice will turn the scones a rather unappealing greyish color, but the flavor is still delicious.
The nutritional information is calculated using Namaste gluten free flour. To reduce the number of calories per serving, try making the scones half the size. These are large, bakery style scones, so they can easily be made smaller!
Prep Time:

15 mins

Cook Time:

15 mins

Category:

Breakfast

Method:

Baking

Cuisine:

American
Keywords: Gluten Free, Gluten Free Baking, Gluten Free Scones, Brunch