So I might just lead with the fact that these doughnuts are insanely pink! I thought I was going for a more mellow shade, but I completely spaced the fact that beet juice powder gets more intense as it sits… so these beauties happened quite by accident.
By all means feel free to dial it down a bit, but after a seriously long winter, I'm actually loving the vibrance. These doughnuts also get quite a bit of color from a special ingredient – freeze dried strawberries – these are so fun to work with, and I know there's going to be more creations in the future.
I took a package of freeze dried strawberries and pulverized them into powder. From there I added some to the batter, some to the frosting, and then saved a little to be 'sprinkles' on top. Freeze dried strawberries are a natural 'natural flavoring' agent, but without the chemicals. They have an intense concentrated strawberry flavor that really helps these doughnuts taste like strawberry in every single bite.
I bought my freeze dried strawberries at our local health food store, and I'd recommend stocking up whenever they go on sale, or looking for a good price online because they can be expensive in some store.
To crush them into powder, you can use a small food processor, or place them in a ziplock and crush them with a rolling pin, or a mortar and pestle works as well.
All the dry ingredients get mixed together in a bowl, and you can see how bright the strawberry powder is, it really adds so much beautiful color as well as flavor.
Then you add the wet ingredients and mix to combine…
… before adding chopped fresh strawberries to the batter.
Mix again to make sure the strawberries are evenly distributed…
… and then portion some of the batter into a lightly greased doughnut pan.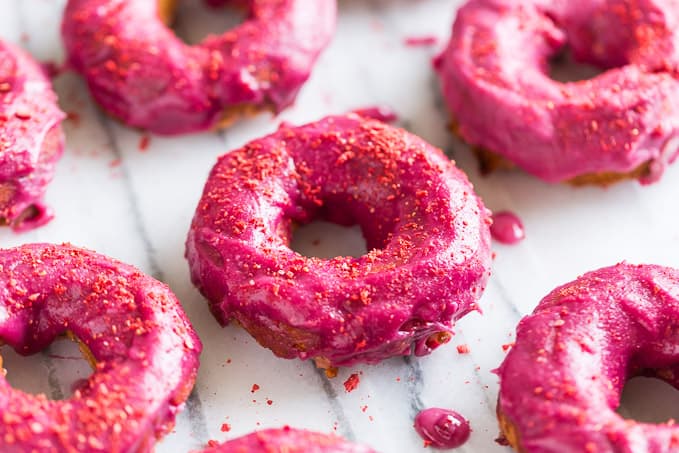 When the doughnuts are done baking, make sure you let them cool until they're almost room temperature, before carefully removing them from the pan. I got a little over excited with the first batch, and broke half of them trying to take them out too early. They're extra delicate cake doughnuts because of the strawberry chunks, but I promise the short wait will be worth it!
Finally it's time to glaze them, and as I mentioned before, feel free to make the frosting as pink as you'd like. You don't even need to add the beet juice powder to the frosting, and it will be a light pink just from the powdered strawberry.
Print
Grain Free Strawberry Cake Doughnuts
---
1 3/4 cup

fine almond flour

1/4 cup

tapioca starch

1 Teaspoon

baking powder
pinch of sea salt

1

–

1.2

ounce package freeze dried strawberries, crushed into powder (yielding

1/2 cup

)
Optional: 1/2-1 Teaspoon dehydrated beet juice powder, for color

1 Tablespoon

lemon zest, from 1 lemon

4 Tablespoons

salted butter, melted, or coconut oil

1/4 cup

honey

1/4 cup

coconut milk

1

egg

1 Tablespoon

vanilla extract

1/2 cup

diced fresh strawberries, about 4, or

3 ounces
Strawberry Glaze:
2 Tablespoons

coconut butter

1 Tablespoon

freshly squeezed lemon juice

3 Tablespoons

Grade A amber maple syrup

2

–

4

Tablespoons water

1/4 cup

powdered freeze dried strawberries, (half of the amount prepared above)
Optional: 1/2 Teaspoon dehydrated beet juice for color
---
Instructions
Preheat the oven to 350ºF, and lightly grease a doughnut pan.
In a medium sized mixing bowl, combine the almond flour, tapioca starch, baking powder, and pinch of sea salt. Measure out 3 Tablespoons from the 1/2 cup of powdered strawberries, reserving 1 Tablespoon to be 'sprinkles' on top of the doughnuts, and 1/4 cup for the frosting.
Mix the 3 Tablespoons of powdered strawberries into the almond flour mixture along with the optional beet juice powder and lemon zest.
In a small saucepan, melt the butter and honey together until just melted but not hot. Remove it from the heat and add the coconut milk, egg, and vanilla extract. Whisk together to combine. Don't add the egg to the butter and honey if it's hot or it will scramble the egg.
Mix the butter mixture into the almond flour mixture until completely combined before folding in the diced strawberries.
Portion half the batter into the 6 doughnut molds in your doughnut pan. Reserve the rest of the batter to make a second batch, or fill 2 pans for a total of 12 doughnuts.
Bake for 8-12 minutes, or until lightly puffed and done in the center. Remove the pan from the oven and let the doughnuts cool for at least 20 minutes before carefully removing the doughnuts from the pan. Let the doughnuts continue to cool on a cooling rack as you make the glaze.
To make the strawberry glaze, add all of the glaze ingredients starting with the lowest amount of water, including the reserved 1/4 cup strawberry powder into a small sauce pan placed over low heat. Stir the glaze while it melts until it's completely emulsified, then remove it from the heat, add the remaining water only if necessary.
Using a small spatula, spread the glaze over the cooled doughnuts. Then sprinkle the reserved 1 tablespoon of powdered strawberries over the top as 'sprinkles'. Let the glaze set for 20 minutes or so, or serve right away with soft frosting
Prep Time:

20 mins

Cook Time:

10 mins