When it comes to desserts, I lean towards chocolate pretty much every single time. However if I'm looking for something sweet earlier in the day, vanilla is my usual go-to.
There's just something extra good about vanilla scented baked goods with my morning coffee. Chocolate so often competes with coffee, and it's hard to find a good pairing. But vanilla on the other hand, well… that's where the magic happens.
So these coffee cake muffins are inspired completely by my love of coffee and vanilla together. They're sweetened with honey because that's a really lovely combo as well, but you can also use maple syrup instead.
These muffins come together in 3 simple parts: first up the batter…
… which you portion into a muffin tin.
Then the cinnamon streusel is mixed together…
… and portioned equally over the top of the batter.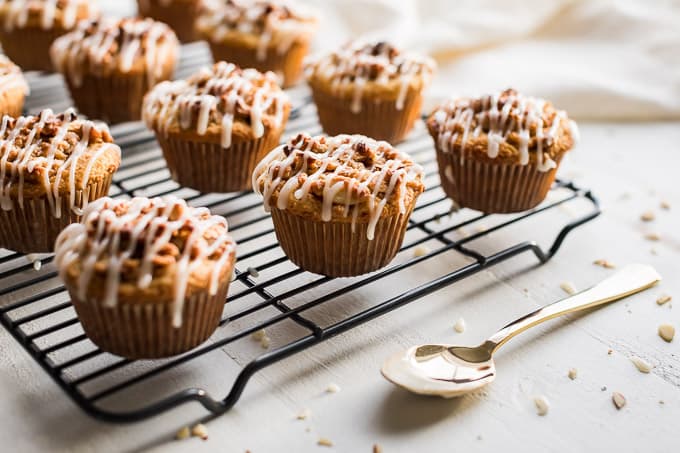 Once they're finished baking, it's time for a glaze. I know I have a tendency to glaze a lot of my muffins, but in this case they were just begging for that coffee shop look. Something about a streusel topping just needs a good glaze. And maybe it's just me, but coffee cake muffins in particular are incomplete without a little white frosting decorating the tops!
Print
Grain Free Vanilla Bean Honeyed Coffee Cake Muffins
---
Description
Vanilla scented muffins perfect for long weekend brunches with coffee!
---
2 cups fine almond flour
1/2 cup tapioca starch, sometimes called flour
1/2 Teaspoon sea salt
2 Teaspoons baking powder, see notes
1 vanilla bean, split lengthwise in half, see notes
1 Tablespoon vanilla extract
1/2 cup honey, or pure maple syrup
2 eggs
1/4 cup melted ghee, or butter
Streusel: 1/2 cup fine almond flour
1 Teaspoon ground cinnamon
1/2 cup sliced almonds, chopped pecans are also nice
2 Tablespoons melted ghee, or butter
2 Tablespoons honey
Glaze:
1/4 cup coconut butter, also called coconut mana
1 Tablespoon honey Any remaining vanilla bean seeds you can scrape from the pod called for above
---
Instructions
Preheat the oven to 350ºF and line a muffin tin with muffin cup liners.
In a medium sized mixing bowl, add the almond flour, tapioca starch, sea salt, and baking powder. Scrape the seeds from the split vanilla bean into the bowl and stir to combine all the ingredients. Set the vanilla bean pod aside for the glaze and keep it for another use listed below in the notes. Add the vanilla extract, honey, and melted ghee/butter. If your honey is solid, you will need to melt it over low heat before adding it to the bowl. Stir until the mixture is combined, then portion the batter evenly into the lined muffin tin.
For the streusel, stir together the almond flour, cinnamon, and sliced almonds until the cinnamon is mixed in. Then add the melted ghee/butter and honey. Stir again to combine, then portion the streusel evenly over the top of the muffin batter.
Bake the muffins for 10-15 minutes, and when they're looking very golden, place a piece of foil over them as a 'tent' to keep them from over browning. Normally you wouldn't need to do this when baking muffins, but honey can over brown, and burn easily. Continue to bake until the muffins are puffed in the middle and a toothpick inserted into the middle comes out clean, about 22 minutes total.
Remove the muffins from the oven and set them on a cooling rack to cool for about 10 minutes. Then carefully remove the muffins from the pan to continue cooling.
While the muffins are cooling, make the glaze by adding the coconut butter to a small saucepan. Melt over low heat, then when no more lumps remain, remove the pan from the heat and whisk in the honey. Scrape any seeds you can from the vanilla bean pod into the melted coconut butter, and whisk in water 1 tablespoon at a time until a glaze like consistency forms. If the glaze looks broken, just whisk in another tablespoon or so of water until it smoothes out again.
From there you can drizzle it over the tops of the muffin or place it in a squeeze bottle to makes clean lines over the tops of the muffins. Serve the muffins still warm or at room temperature.
If you have leftovers, they freeze well and can be reheated gently. I place mine in the oven at 250ºF for 5 minutes or so, then turn the oven off and let them completely defrost in the residual heat for about 15 minutes. The glaze doesn't look quite as good reheated, so you can always glaze them when you serve them, if you choose to make these ahead.
Notes
Baking powder can have all sorts of additives, and isn't always gluten free or paleo. To be safe, you can make your own by mixing together 1 part baking soda to 2 parts cream of tartar, and use the mixture right away.
Vanilla beans are very expensive at this point in time, so look for them where you can buy in bulk. I've seen very good prices at Costco and online ordering. Also once you scrape the seeds from the vanilla bean pod, don't through it away. You can use pieces of the vanilla bean pod in smoothies where a high powered blender will grind it right up and make your smoothie taste like dessert. The pods can also be kept in sugar for a vanilla scented sugar. And finally if you don't have vanilla beans, you can omit them and double the vanilla extract which is admittedly a lot, but so worth it to really taste the vanilla.
Prep Time:

15

Cook Time:

22

Category:

Baking
Keywords: Gluten Free, Grain Free