We've really been enjoying our end-of-summer garden produce with as many salads as possible before winter! We just got back from an amazing trip to Iceland where we did our best to eat healthy. But there were definitely at least 2 days where neither one of us had either a fruit or veggie.
Circumstances can get interesting while you're traveling, and we've been craving fresh veggies like crazy since coming home. We ate lots of cooked veggies in the last few weeks, but not a single salad. And I'll have to say I came home extra grateful for the simple things like a stove that doesn't run out of fuel. Or for a kitchen sink to easily wash veggies and make a salad!
We love sheet pan dinners, but it's taken me a couple of years to make the connection that I could also use the whole sheet pan method for salads.
The chicken and veggies get roasted together with spices all in one sheet pan.
While everything is roasting, you assemble the salad and make the dressing.
Once the chicken and veggies are cool enough to handle, chop/slice the chicken up and arrange/toss the salad together.
This recipe is also fantastic for salad jars. You simply layer in the ingredients starting with the dressing, then veggies and chicken, then cherry tomatoes and lettuce. I like to store the pumpkin seeds separately so they remain crunchy and I add the avocado right before I eat the salad jar.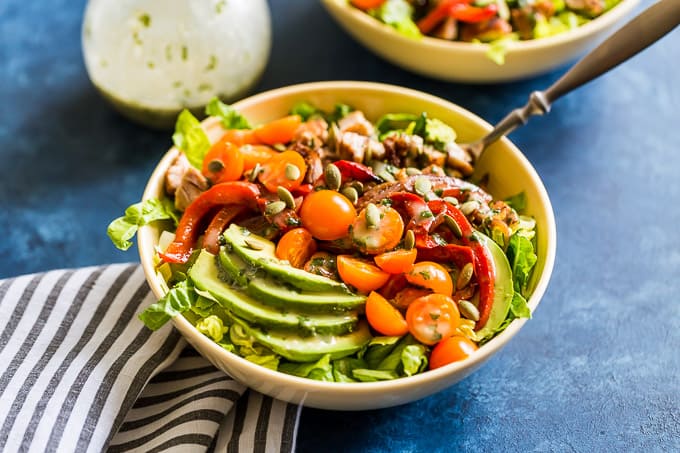 I have lots of upcoming fall yumminess planned, and if you have any requests, be sure and let me know! But before those vine-ripe tomatoes disappear for another season, be sure and try this salad out because it's just packed with flavor.
Print
Sheet Pan Fajita Salad Bowls
---
Sheet Pan Chicken and Veggies:
1

pkg boneless skinless chicken thighs, about 1 1/2 pounds

2

red bell peppers, 1 pound

2

red onions, 1 1/2 pounds

1 Tablespoon

ground cumin

2 Teaspoons

chili powder

1 Teaspoon

chipotle chili powder

1 Teaspoon

sea salt, or to taste
Salad Ingredients:
8 cups

chopped romaine, washed and dried

2 cups

halved cherry tomatoes, I used orange Sungolds

1

ripe avocado, sliced or diced

1/4 cup

toasted pumpkin seeds
Cilantro Dressing:
1/4 cup

chopped fresh cilantro

1 Teaspoon

ground cumin

1

clove garlic, minced

1/3 cup

freshly squeezed lime juice

1 Teaspoon

sea salt, or season to taste

2 Teaspoons

Dijon mustard

2/3 cup

avocado oil, or olive oil
---
Instructions
Preheat the oven to 450ºF and line a baking sheet with parchment paper.
Prepare the bell peppers by coring them, slicing in half, and removing the seeds. Then slice them into 1/4-1/2″ slices lengthwise. For the onions, cut off both ends, and peel away the tough outer layer. Slice them in half from the top to the bottom, and lay the halves flat side down on the cutting board. Cut across them into 1/4-1/2″ half moon shaped slices.
Place the chicken and prepared veggies on the lined baking sheet. Mix together the spices and sprinkle them over the top. Toss lightly to mix, and place in the oven to roast for 20-25 minutes, or until the veggies are crisp tender, and the chicken is no longer pink.
While the chicken and veggies roast, prepare the salad ingredients, and place them into a large serving bowl.
For the dressing place all the ingredients into a blender except the oil, and blend on low until combined. Drizzle in the avocado oil with the blender running until the dressing is completely emulsified, but with small pieces of cilantro remaining.
When the chicken and veggies are done, remove them from the oven. When they're cool enough to handle, cube/slice up the chicken and arrange them over the top of the salad, or toss the warm chicken and veggies together with the salad ingredients.
Serve immediately with the dressing on the side, or toss as much as you'd like together with the salad.
Notes
The dressing recipe makes about 1 cup of dressing, and can be used on any salad of your choice as well.
To make this recipe into salad jars, layer 1/4 cup of dressing each into 4-32oz quart mason jars. Then top evenly with 1/4 of the veggies and chicken into each jar. And finally top the chicken and veggies with cherry tomatoes and divide the lettuce evenly. Secure the lids and store in the refrigerator for 4-5 days. Add the pumpkin seeds and avocado when you're ready to eat the salad.
Prep Time:

30 mins

Cook Time:

20 mins