I hope you'll find all my tips for How to make Paleo Gravy helpful in your next Thanksgiving, or anytime you're making gravy!
How do you go about making gluten free gravy? I mean a good part of a great gravy is the flour right? Well… maybe not so much because it's completely possible to make great gravy without flour.
While I suppose you could try and use gluten free flour blends. My personal experience with even the most popular ones are that they give a weird/strange aftertaste to your gravy.
So today I'm letting you know how you can make paleo gravy with tapioca flour. Or how you can make slightly better gravy with cornstarch. There's no doubt cornstarch has a better texture. But for anyone who strictly can't have corn ever, tapioca works really well too.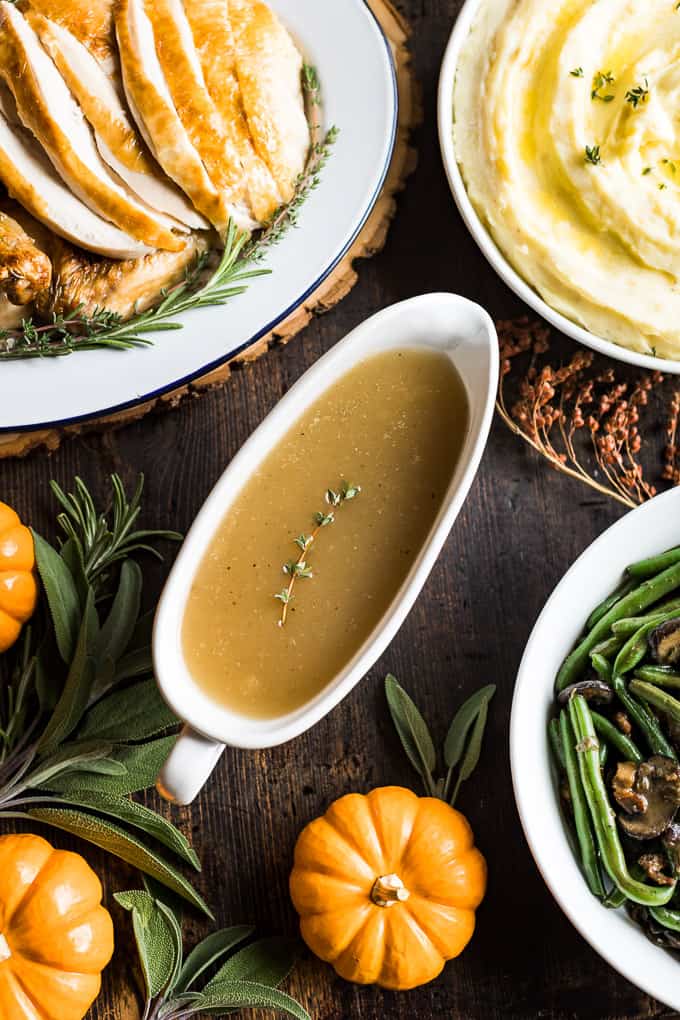 How to make the best gravy:
No matter how you choose to thicken your gravy, the #1 thing you need to consider is flavor of your stock and drippings.
First up stock: if you have homemade chicken stock in the freezer, go ahead and use that! Otherwise check your local health food store for a good frozen turkey bone broth. I'm a fan of frozen over boxed bone broth because I think the flavor is just that much better.
Drippings: this is what's left in the bottom of your roaster, and they're essential to good gravy. Most people prefer to strain the drippings as you add them to a pan to make gravy. But it's not necessary if you don't need a perfectly smooth gravy.
Plenty of salt and pepper: sea salt and freshly ground black pepper are foundational to really making turkey gravy, or even pot roast gravy tasty. You can have the best drippings and stock, but they will be bland without proper seasoning.
If you have extra time, (funny right?) you can simmer your turkey stock with the turkey neck for extra flavor. But I'm going to tell you right now, I never do this anymore because well… time of course!
How to perfectly thicken gravy?
My solution for the perfect gravy texture is to add your thickening agent slowly. Don't just add it all at once. I like to mix together either cornstarch or tapioca with water just until it's smooth. Then you slowly drizzle it into your simmering stock, whisking constantly.

Add this mixture little by little until your desired thickness is reached. I personally like to be careful with tapioca starch as it has a slightly strange texture the thicker you make the gravy. Cornstarch isn't as prone to those problems, but it's not paleo and a fair amount of people can't eat corn or corn products.
Tip 1: Once your desired thickness is reached, be sure and liberally season it with salt and pepper. As I mentioned above, your gravy flavor is really going to depend on proper seasoning.
Tip 2: If you can, put the finished gravy into 2 different gravy boats for opposite ends of the table. Or you can also use those glass pyrex measuring cups with the pour spout.

I think it's pretty essential to have 2 gravy containers at Thanksgiving dinner because everyone needs gravy. And what's more, those gravy boats don't hold that much, or maybe my family is a little crazy about gravy!
Tip 3: Save the water from boiling potatoes for mashed potatoes, or if you have leftover water from any vegetables you might be making. This is a trick both my mother and mother-in-law use to 'extend' their gravy in case it doesn't look like there will be enough.

Another thing you can do is have a backup extra package of bone broth in the freezer as well. Additional bone broth will add more flavor than vegetable water.
So that's a complete rundown on everything my family and Tyler's does to make the best possible gravy! I really hope you'll find this helpful on your 'Turkey Day'.
And if you do make it, I hope you'll leave me a comment/rating below. And I always love hearing from you here, and over on Instagram where you can tag me at #getinspiredeveryday with your photos of How to Make Paleo Gravy.
Print
How to make Paleo Gravy
---
Author:

Kari

Total Time:

15 minutes

Yield:

About

5 cups

gravy

1

x

Diet:

Gluten Free
Description
The best gluten free gravy from turkey to pot roast!
---
1 – 24 ounce package frozen turkey, chicken or beef bone broth/stock, 3 cups
Drippings leftover at the bottom of the roaster when your turkey/roast is done, see notes
1/4 cup tapioca starch, or cornstarch which has a great texture but isn't paleo
3–4 Tablespoons water
Sea salt to taste
Freshly ground black pepper to taste
Extra: leftover potato water from making mashed potatoes or extra stock if necessary
---
Instructions
Melt the frozen bone broth/stock in a large saucepan over low heat. 
When your roast chicken/turkey/pork/or beef is done, strain out the drippings and add them to the melted stock.
Mix together the tapioca starch with water until completely smooth.
Bring the stock and drippings to a simmer. If it doesn't look like you'll have enough liquid, add some leftover potato water from making mashed potatoes, or additional stock if you have it on hand. Always err on the side of a bit more gravy!
Then add the tapioca mixture in a thin steady stream while whisking constantly. Add the mixture only until your desired thickness is reached. You may need more or less to achieve the texture you like. If you find your gravy is still too thin, mix together some more tapioca starch with water.
Remove the pan from the heat and season to taste liberally with sea salt and pepper.
Serve immediately.
Notes
This method of making gravy applies to anything from roast chicken/turkey, pork roast, and pot roast. Just change your stock/bone broth to match whatever you're making.
This recipe makes about 5 cups of gravy. But this is subject to change based on how many drippings you have leftover.
The nutritional information was calculated without the turkey drippings as there's no way to measure, but know that the calories will be at least 3x the amount give or take.
Prep Time:

10

Cook Time:

5

Category:

Sauces

Method:

Stove top

Cuisine:

American
Keywords: Gluten Free Gravy, Gluten Free Gravy Recipe, Paleo Gravy, Paleo Gravy Recipe, Gluten Free Gravy for Turkey, Recipe for Gluten Free Gravy