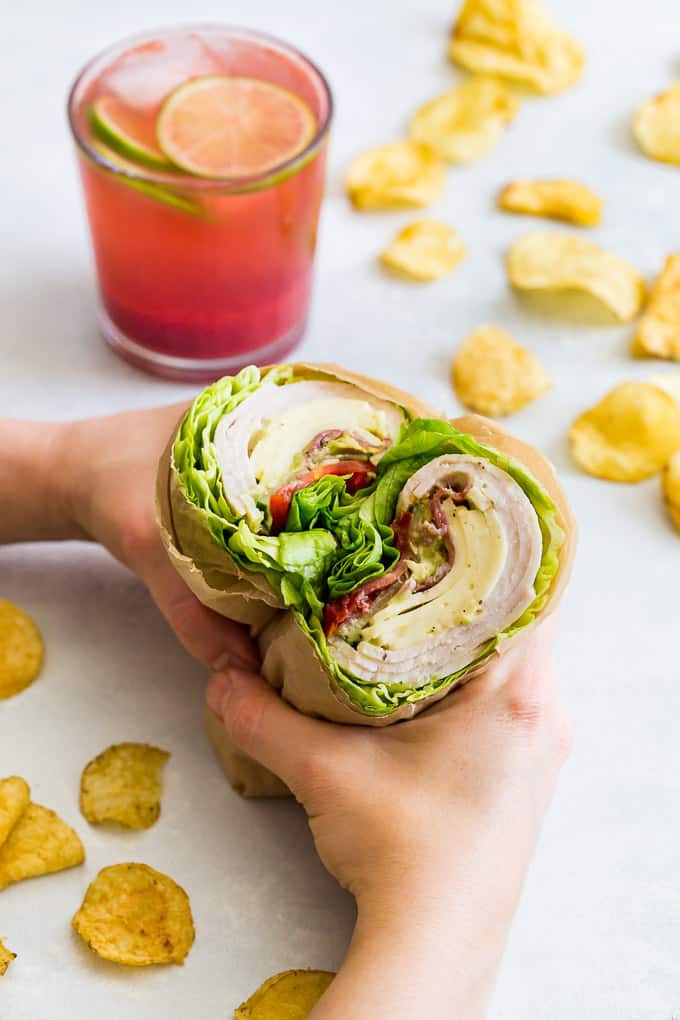 We've made these lettuce wraps so many times this summer, I've lost track now! This particular combination of ingredients is just one that keeps us coming back for more. They're based off the ever popular Italian sub sandwiches, but made into a lettuce wrap.
They're fresh, yet really satisfying, and so perfect for summer because you don't need to cook at all to make them. We've even made them several times now on the tailgate of our truck while camping. And while that does require a little extra effort, it's still pretty to make even without a kitchen.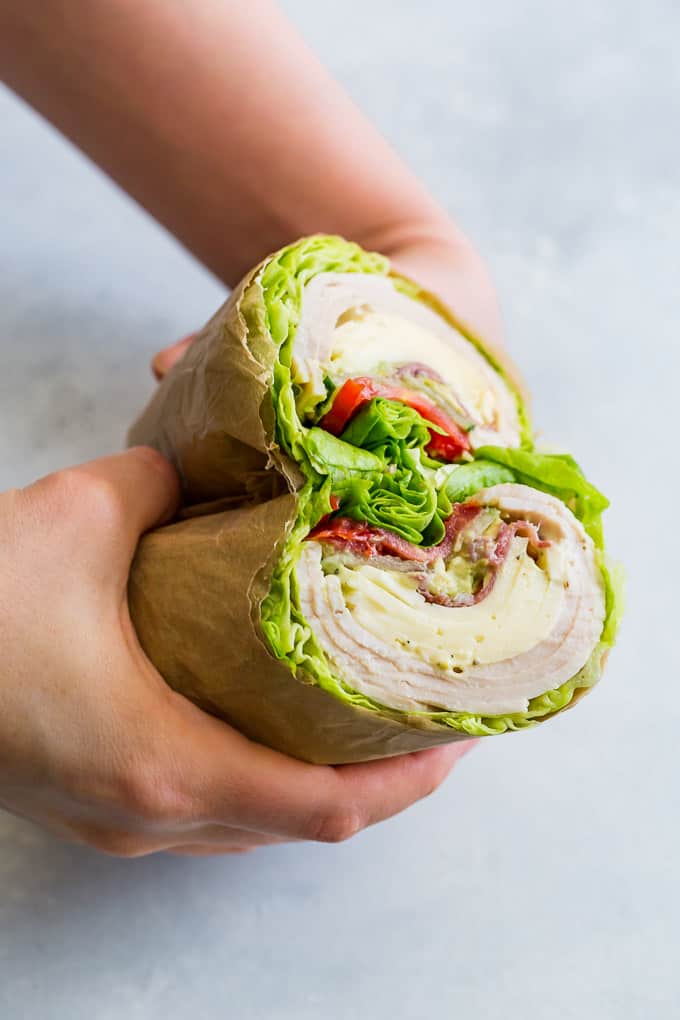 And from this recipe, I hope it inspires you to create your own favorite combinations just like you would with sandwiches. They're great made a little ahead and packed for work lunches, as well as picnics since they're so nice and portable.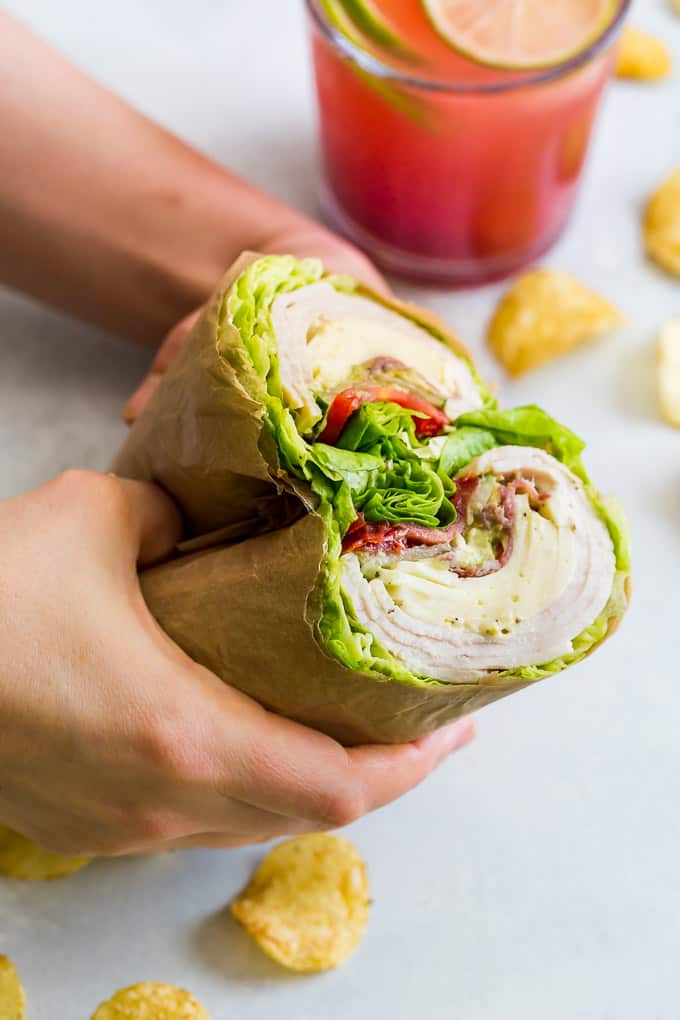 To complete the picnic feel, it's always nice to throw in some kettle cooked potato chips and something cold to drink. In the above photo the pink drink is my Watermelon Kombucha Mocktail, (just in case you want to make that too).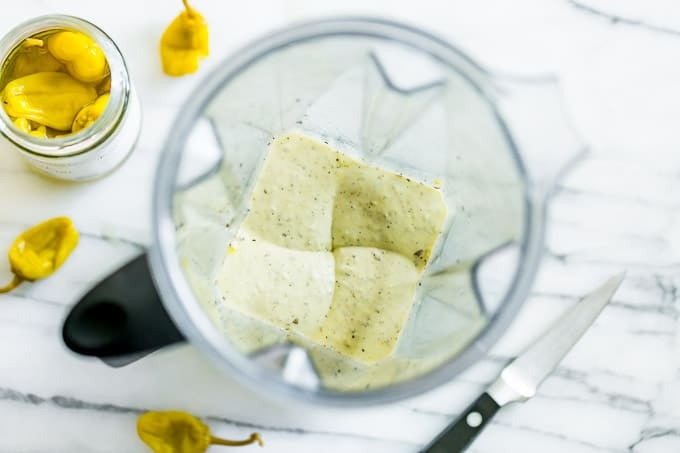 I've provided the recipe below for how I make my pepperoncini aioli, but it does contain raw egg. If that's not your thing, you can always use a good quality mayonnaise, and blend in the pepperocini and spices. Once I've finished making it, I always store mine in a squeeze bottle to make it extra easy to add to the wraps.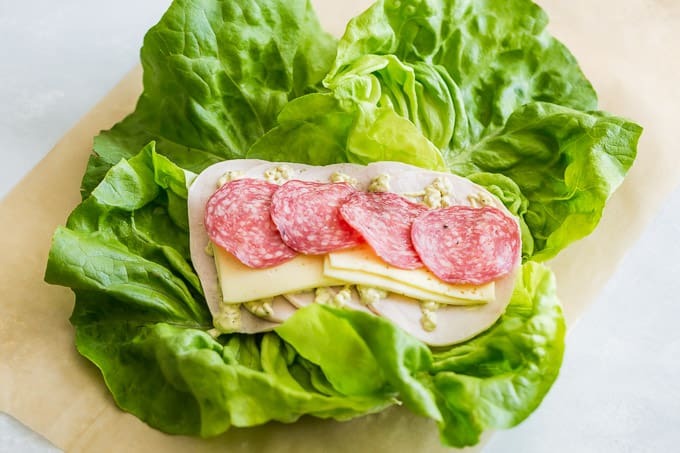 You don't have to roll these in parchment paper, you can just roll up the lettuce the best possible and eat it that way. However, it's definitely messy – but it is how we eat them when we're camping. If you want to take them to work or on a picnic, I highly recommend using the parchment paper.
Start by placing 4-6 leaves of lettuce down on a large rectangle of parchment paper. I've been using green leaf lettuce, and butterhead lettuce from Farmer's Market. (I specify from Farmer's Market only because butterhead grown in actual dirt is much sturdier for lettuce wraps than the hydroponically grown butterhead you find in the store, which is very soft.)
From there you layer your choices of meat and salami, along with the pepperoncini aioli, and a few slices of cheese. If you're dairy free, you can easily omit the cheese because there's so much flavor going on in the aioli.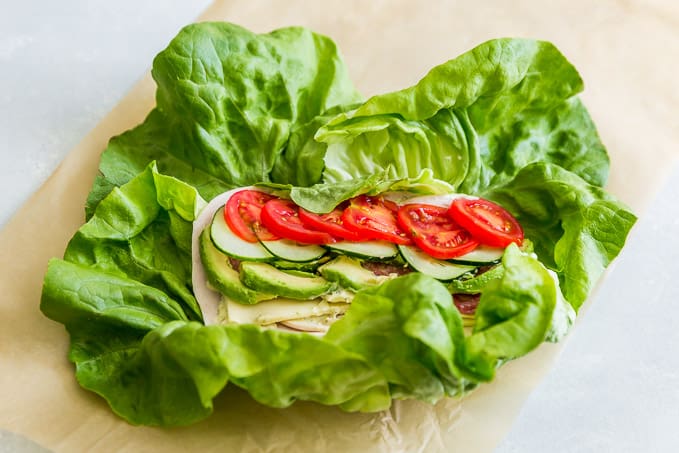 Next up, you add some veggies: sliced cucumber, tomato, and avocado are my favorites with this wrap.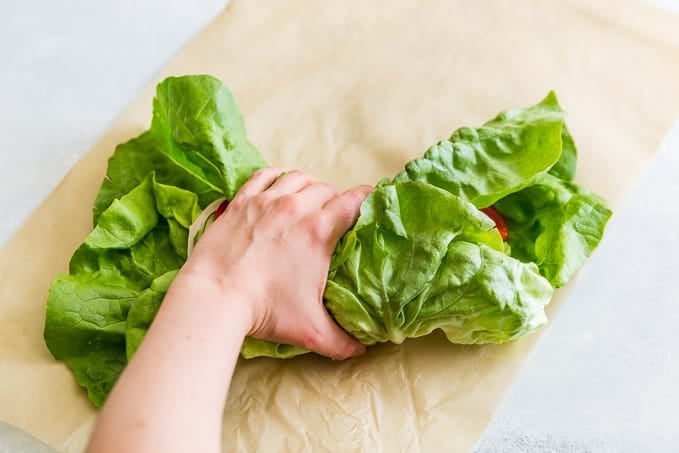 And now comes the rolling. It can be a little daunting at first, but you'll get the swing of it after a couple wraps. First using one hand, bring the lettuce together over the filling. Then take the corner of parchment paper closest to you, and wrap it around to tuck under the other side of the wrap.
From there you start to roll, making sure to tuck in the sides as you begin the first roll. As you roll try and keep it as tight as possible which makes it easier to eat later. Fully tucking in each of the ends as you roll is the most important part because that's what you'll be holding when you go to eat the wrap.
When I first tried this out, there were a couple of times I didn't tuck the ends in well enough, and they popped back out while I was trying to roll it up. If this happens, simply unroll a bit and tuck the ends in again so they're secure.
Once you've finished rolling, cut the lettuce wrap in half, but not cutting it all the way through, (leave the bottom parchment still in tact) with a sharp/serrated knife.
You can see here that the wrap is still held together on one side, this really helps it stay together and not let the parchment paper unravel. But to eat the wrap right away, I like to cut it all the way through, making sure to keep the parchment paper end tucked under so it doesn't come undone.
Also if you're planning to pack this to work or a picnic, you can cut the wrap completely in half if you have a storage container that fits them well. I have a rectangular glass container where they fit in perfectly. I just place them with the parchment paper end laid down so they stay together. They completely fill up the container, so they always hold together nicely this way.
Print
Italian Sub Lettuce Wraps with Pepperoncini Aioli
---
Author:

Kari

Total Time:

10 minutes

Yield:

1

large lettuce wrap

1

x
Description
I've been making these lettuce wraps more times than I can count this summer, and I never tire of this combination!
---
Pepperoncini Aioli:
1 farm fresh egg, at room temperature, see notes for alternatives
1 Teaspoon Italian seasoning
1/4 cup chopped pepperoncini, see notes
1/2 Teaspoon sea salt, or to taste
1 Teaspoon white wine vinegar, or apple cider vinegar
1/2 Teaspoon freshly ground black pepper
1 Tablespoon Dijon mustard
1 cup avocado oil
Lettuce Wraps:
4–6 large leaves of green or red leaf lettuce, washed and dried
3–4 slices of turkey or ham, (see notes) or leftover rotisseri chicken, etc.
4 thin slices genoa salami, see notes
2 thin slices of provolone or havarti cheese, omit for dairy free and paleo
Pepperoncini aioli to taste, we like quite a bit, around 2-3 Tablespoons per wrap
4–5 thin slices from 1 small tomato
4–6 thin slices cucumber
1/4–1/2 ripe avocado, thinly sliced, add as much as you'd like
---
Instructions
Start making the aioli by adding all of the ingredients called for except the avocado oil. Blend starting on low and working up to medium speed until the pepperoncini are mostly smooth. Then start adding the avocado oil in with the motor still running in a slow steady stream. Keep adding the oil until the aioli is so thick it starts to stick in the blender. Transfer the aioli to the storage container of your choice, and keep up to 3 days in the refrigerator.
To make a lettuce wrap, start by cutting a piece of parchment paper at about 2-2 1/2 feet in length. Place the lettuce on the parchement paper in the right hand corner closest to you, with the ribs of the lettuce all pointing to the center. You want to leave around 6-8″ space in the corner to start wrapping with.
Next lay down the turkey, genoa salami, optional cheese, and aioli over the top. Then layer on the tomato, cucumber, and avocado slices.
Bring the lettuce together in the middle over the filling. Then taking the corner closest to you, pull it up and over the lettuce wrap, tucking it under the wrap on the other side. As you begin to roll, be sure to keep it as tight as possible, and thoroughly tuck in both ends as you make the first full roll. Keeping the ends well tucked in, continue to roll until you reach the far corner of the parchment paper.
Then cut the wrap in half using a sharp/serrated knife and place into a container with the parchment paper ends tucked under. You can also leave part of the wrap uncut to make sure it holds together if you don't have a container that tightly fits the wrap.
Serve immediately, or refrigerate and serve within 6 hours for the best results.
Notes
To avoid consuming raw eggs, you can always sub in 1 cup of your favorite good quality mayonnaise and then blend in the Italian seasoning, pepperoncini, black pepper, and Dijon mustard. This recipe makes about 1 1/4 cups of aioli, so if you're not planning on making a lot of wraps, you can always cut the recipe in half. The reason it makes so much is because 1 egg makes at least 1 cup of mayonnaise. So if you're subbing in pre-made mayonnaise, you can make as much or little as you'd like.
With the turkey, ham, genoa salami, and pepperoncini peppers you really want to read your labels carefully to make sure they're good quality. With any kind of lunch meat, be sure and get it from a good quality brand, or make your own roast/grilled chicken in place of the lunch meat if a good quality one isn't available. Salami can have all sorts of additives, so my favorite brand is Applegate. Pepperoncini often has food dyes and additives, so I use the Jeff's Naturals brand.