What I love about this recipe the most is it's resemblance in flavor to sushi! Wasabi cucumbers combined with rich juicy salmon and salty miso/soy flavors, all wrapped up in my favorite soft yet still crunchy butterhead lettuce! And… speaking of sushi, I like making sushi and sushi bowls at home, but I never use any kind of raw fish – after all, I live in the landlocked state of Montana. I do love creating it's flavors in a 'safe for home cooks' kind of way! These lettuce wraps are a great way to enjoy some of those flavors with a couple servings of veggies thrown in for good measure!
These lettuce wraps are definitely on the lighter side, so be sure to throw in some complex carbohydrates if you've been working up an appetite! I think the original source for this recipe is the cookbook author Nina Simonds. I'm not even sure how much I've altered it over the years, and I couldn't find the book locally, so I've included a link to it. This recipe has definitely been a long time favorite, so I wanted to share it with you even though I'm no longer sure where the idea first came from! We're always experimenting with new recipes, so there's not very many that withstand the test of time!
For the wasabi cucumbers, peel 4-5 strips from your cucumber. Cut off both ends and cut it lengthwise into quarters. Cut the quarters crosswise into thin slices. Transfer the sliced cucumbers into a bowl – wait to toss them with the dressing until you're ready to eat. The cucumbers will start to shed water as soon as the dressing is added – which waters down the intensity of flavor if they sit.
I like using a brown rice miso that's unpasteurized. I've found I like the flavor of the mellow version (above photo).
For the salmon, evenly spread the miso marinade over each fillet. Grill it over medium heat until just done. If you're not sure whether or not it's done don't hesitate to break into one. Better safely moist, than chalky dry salmon!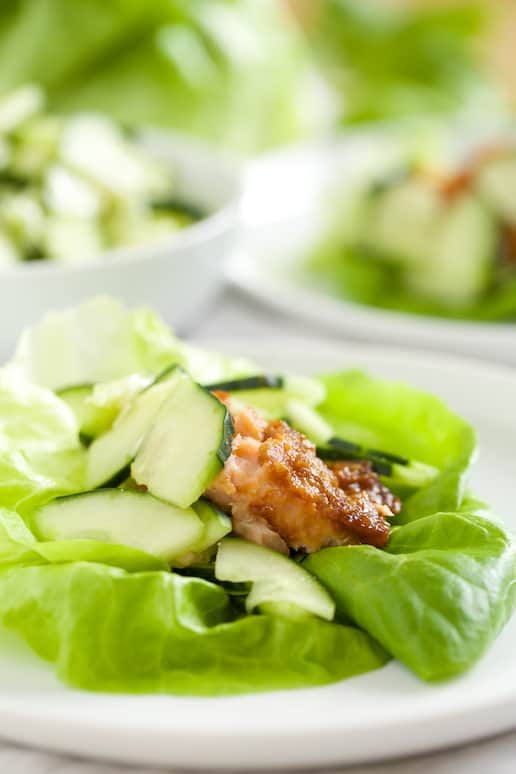 I love the sharp spiciness that comes from wasabi, it contrasts perfectly with the richness of the miso salmon. But… if it's not your thing, make this dish mild flavored by leaving it out of the cucumbers, or try inserting another flavor more to your liking!
Print
Miso Salmon Lettuce Wraps with Wasabi Cucumbers
---
2

(4-6 ounces each) salmon fillets, skin on for easier grilling

1 Tablespoon

, mild/mellow miso paste

1/2 Teaspoon

toasted sesame oil

2 Teaspoons

soy sauce
Cucumbers:
1

–

10

ounce cucumber

2 Teaspoons

rice vinegar

1/2 Teaspoon

wasabi powder

2 Tablespoons

freshly squeezed orange juice

1/2 Teaspoon

sea salt

1 Teaspoon

maple syrup

1

–

8

ounce head of butter lettuce
---
Instructions
Preheat the grill on high.
Combine the miso, sesame oil, and soy sauce. Spread the miso mixture evenly over the salmon.
While the grill is heating, prepare the cucumbers. Peel 4-5 strips from the cucumber. Cut off both ends and quarter it lengthwise. Cut the quarters crosswise into thin slices and transfer them into a serving bowl. Make the dressing for the cucumbers and set it aside.
When the cucumbers are prepped, put the salmon on the grill. Immediately lower the heat to medium and cook until just done. This will take anywhere from 8-15 minutes depending on the thickness of your fillets. Start checking the salmon early to make sure it doesn't get overcooked. If the salmon is done before you're done prepping, set it off to the side, these wraps are really good even when the salmon is room temperature.
While the salmon cooks, prep the lettuce. Break down the head off lettuce into individual leaves. Wash and spin dry.
When the salmon is done, toss the cucumbers with their dressing.
Assemble each wrap with a bit of salmon and cucumbers. Each fillet will make 3-4 wraps per person.
Notes
Any of the mild miso pastes will work here, either yellow or white. The darker red ones are too intensely flavored and overwhelm the salmon.
The amount of wasabi in the cucumbers is for a barely warm spice – feel free to add more to taste.
Prep Time:

20 mins

Cook Time:

10 mins