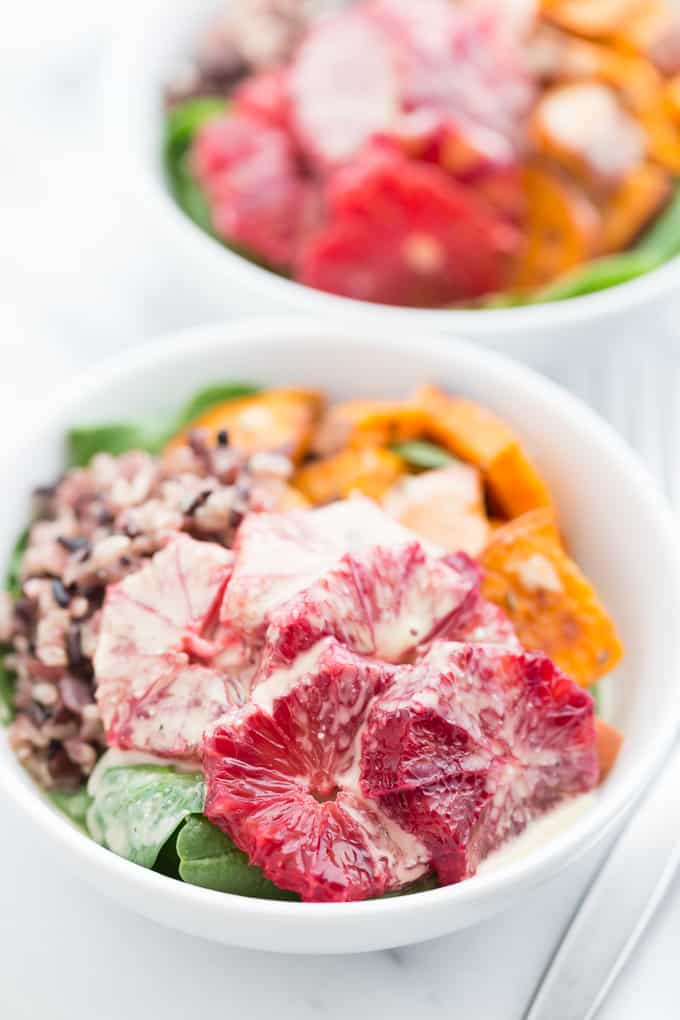 I love the concept behind nourish bowls – i.e. bowls of great tasting food packed with healthy nutrients! Of course I love all bowl foods, so I might be predisposed to like these! If you think about it, most favorite foods are bowl foods from ice cream to burrito bowls – what's not to love?
Recently I found this great sprouted blend, (at Costco) with wild rice, brown rice, and quinoa – from there I was off and running! I still had some blood oranges after my Citrus Spinach Salad, (because I chronically over-buy yummy produce) so the natural choice was to pair their candy-like flavors with the nuttiness of my new found sprouted blend. Next I added rosemary roasted sweet potatoes, (optional but delicious) and placed it all over a bed of spinach, topped with the creamiest lemon garlic dressing!
The rosemary roasted sweet potatoes are so good, I highly recommend making them all by themselves as a side dish sometime!
This creamy dressing is a real breakthrough because… get this… is doesn't have any dairy in it! I threw some hemp seeds in my dressing one day on a whim, and it was pretty much the best discovery I've made in a while! They add super amounts of creaminess with a boost of plant based protein as well!
Whenever I'm leaving out dairy I tend to rely on a egg for a thick creamy dressing, but that presents a problem for a lot of people. Raw egg can be of concern especially if you don't have access to farm fresh eggs. So… hemp seeds to the rescue – solving all your creamy dressing needs! Since this discovery I've been working on a dairy free, egg free Caesar dressing – which before now I didn't think was even close to possible!
Tip: for pictures of how-to cut the peels from citrus, you can check out my Citrus Spinach Salad with Feta.
This recipe has a couple of different parts to it, but don't feel like you have to make both the rice and sweet potatoes, because it's really good with either one which also saves you some time! Both the dressing and the sweet potatoes are an entity unto themselves, and can be used in all sorts of different ways!
Print
Nourish Bowls with Creamy Lemon Garlic Dressing
---
2

sweet potatoes or yams, weighing 1 1/2 pounds

2 Teaspoons

fresh rosemary, minced

2 Tablespoons

olive oil

1/2 Teaspoon

sea salt

1 cup

sprouted rice blend – cooked according to your package instructions
Salad ingredients:
4

–

6

blood oranges

4

–

6

cups washed baby spinach, weighing 4-6 ounces
Dressing:
1/4 cup

freshly squeezed lemon juice

1/2 Teaspoon

sea salt

1/2 cup

olive oil

1

clove garlic, minced

1 Teaspoon

Dijon mustard

1 Tablespoon

hemp seeds
---
Instructions
Preheat the oven to 450ºF and line a baking sheet with parchment paper.
Wash and trim ends from the sweet potatoes. Cut them into eighths lengthwise (or quarters if your sweet potatoes are small). Next, cut them crosswise into 1/2 inch chunks. Toss the sweet potato pieces with the rosemary, olive oil, and sea salt. Roast them for 15-20 minutes, or until tender, turning them over twice during the baking time.
After you place the sweet potatoes in the oven begin cooking the rice according to your package directions – times will vary depending on what your'e using. I used a sprouted blend that took 20 minutes to cook.
While the rice and sweet potatoes cook, prepare the blood oranges by cutting off both ends and then slicing off the skins. Once all the peel is removed, slice them crosswise into 1/4 inch round slices.
Make the dressing placing all the dressing ingredients in a blender and blending until smooth and creamy.
To serve, divide the spinach between each bowl and top with a bit of rice, sweet potatoes, and blood orange slices. Drizzle with dressing or pass it separately around at the table.
Prep Time:

30 mins

Cook Time:

20 mins