This Paleo Granola Dust is simple to make, very portable and is fantastic on everything from smoothie bowls to yogurt. It works for a healthy breakfast or snack, and you'll find tips for how to make this with seasonal fruits as well.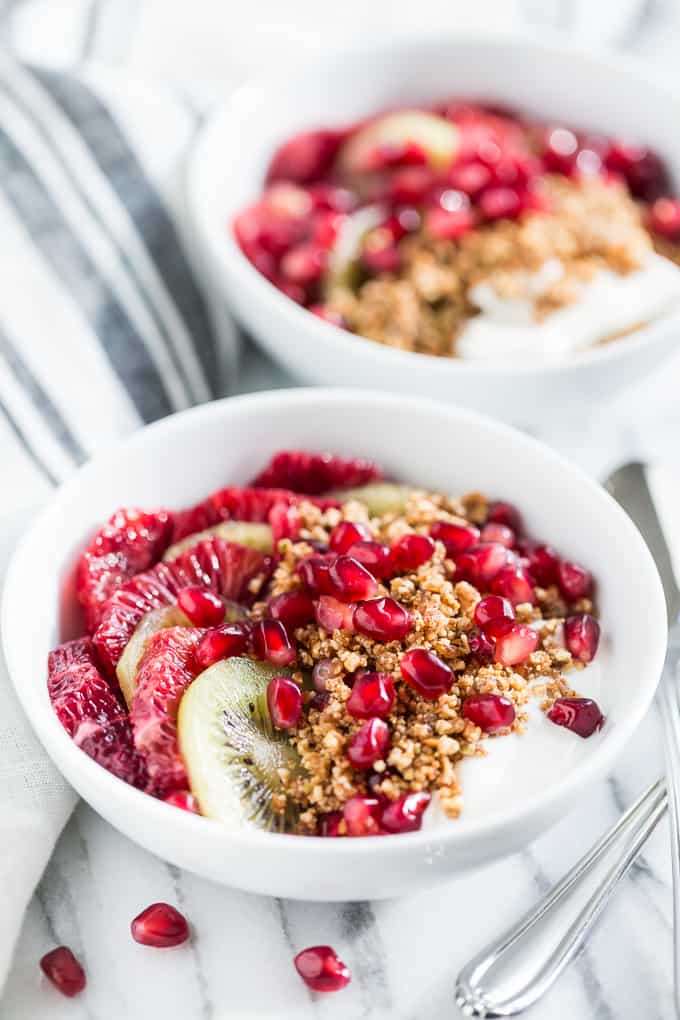 This granola dust is a bit of a departure from the original Jamie Oliver version because there's no oats in sight. He originally developed his recipe as a super food replacement for sugar laden cereals. I don't know if you've been caught up in the granola dust craze yet. But there's a lot of reasons this is a fantastic idea, and you should make some immediately!
I used coconut flakes, nuts, seeds, and dried fruit in my version making it completely grain free. And since I used different ingredients, I'll just say that my recipe is more of a 'granola dust method' than actual dust. You see when you use nuts and coconut the end product comes out much moister. Sort of like a crumbling energy bar if you will.
It's fantastic with yogurt to add a bit of protein to the mix. Or with almond milk, and of course topped off with seasonal fruit. The original recipe adds cocoa powder in for flavor. But I was more of a Cinnamon Life cereal girl myself back in the day, so I added Vietnamese cinnamon instead.
I made a lot of granola dust while recipe testing! And I've been keeping it in the fridge and some in the freezer to make sure it keeps for a while. (You don't want the oils from the nuts to go rancid.)
You'll find photos here of 2 different version to inspire you to eat this year round. I don't know about you… but when I see something with winter/summer fruits or veggies, I think to myself 'I guess I'll pin that for next season'.
But granola dust is year round, and the fruit topping of choice is all about what's in season! Even though we're a little ways from berry season yet, it was fun to get some for this recipe. Maybe it's just enough summer to keep me going through these last weeks of winter.
Now let's jump in and make this Paleo Granola Dust step by step!
You can use whatever mixture of coconut, nuts, and seeds that works with your diet.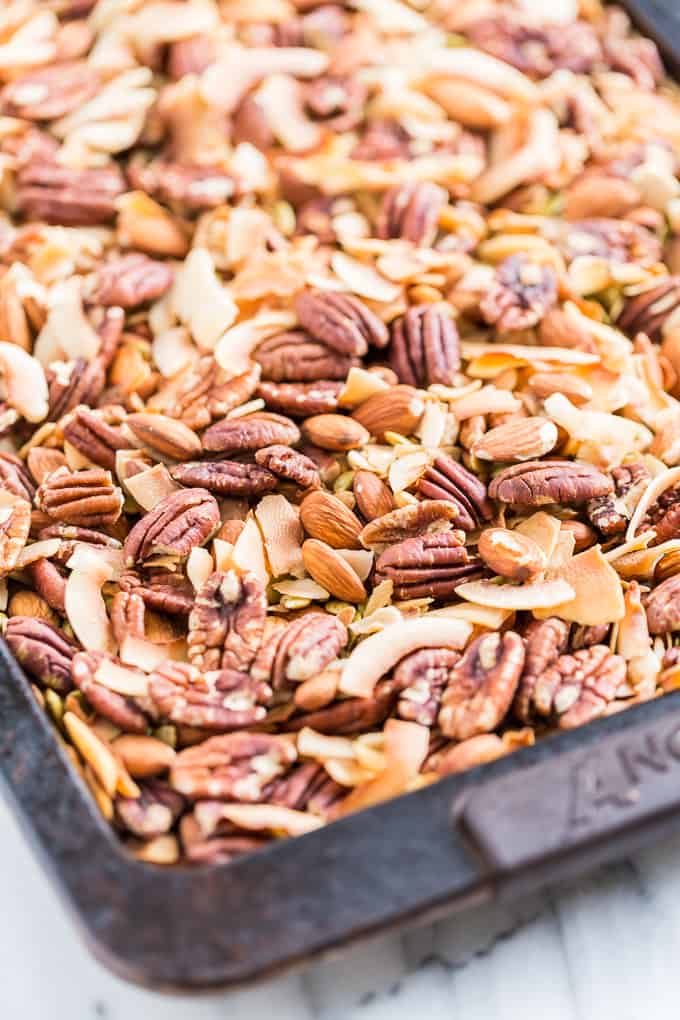 They get lightly toasted and then set aside to cool.
I used a mixture of dates and dried figs for my dried fruit. And I love that the granola dust came out perfectly sweetened without any kind of added sugar at all.
To make granola dust you add your mixture of toasted nuts along with some chopped dried fruit into a food processor.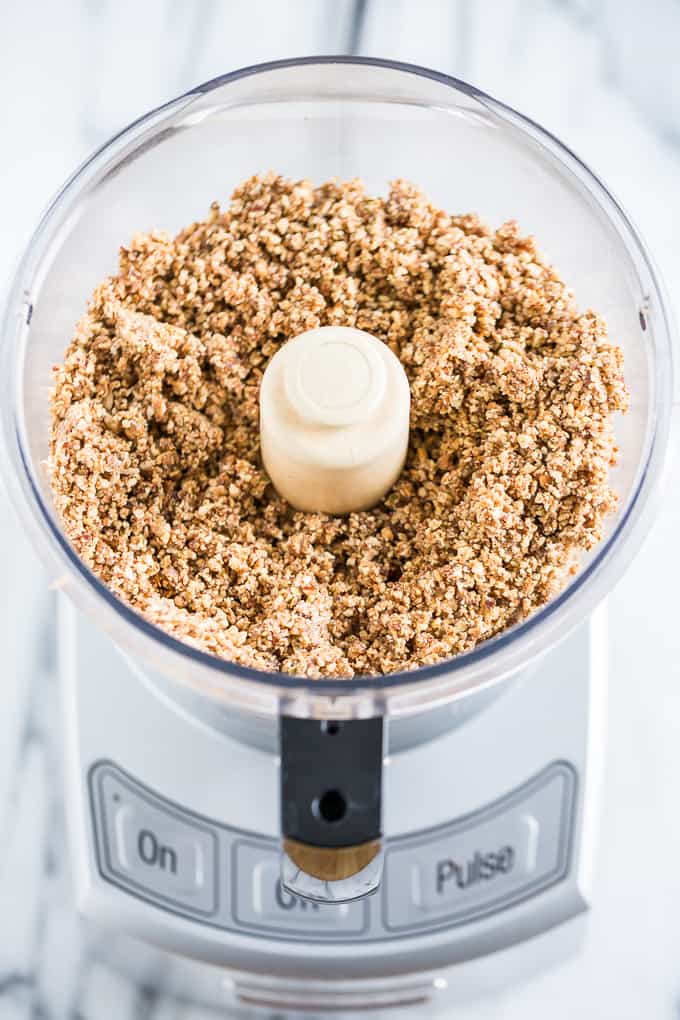 … less than a minute later you have a lot of breakfast cereal!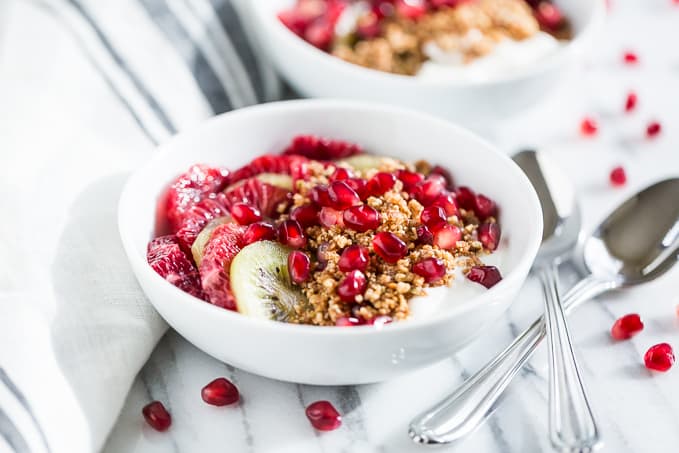 Since I made quite a bit of granola dust over the last little while, I haven't tested out any other flavor combinations. But that's going to be fun to experiment when I finally get to the bottom of all my batches!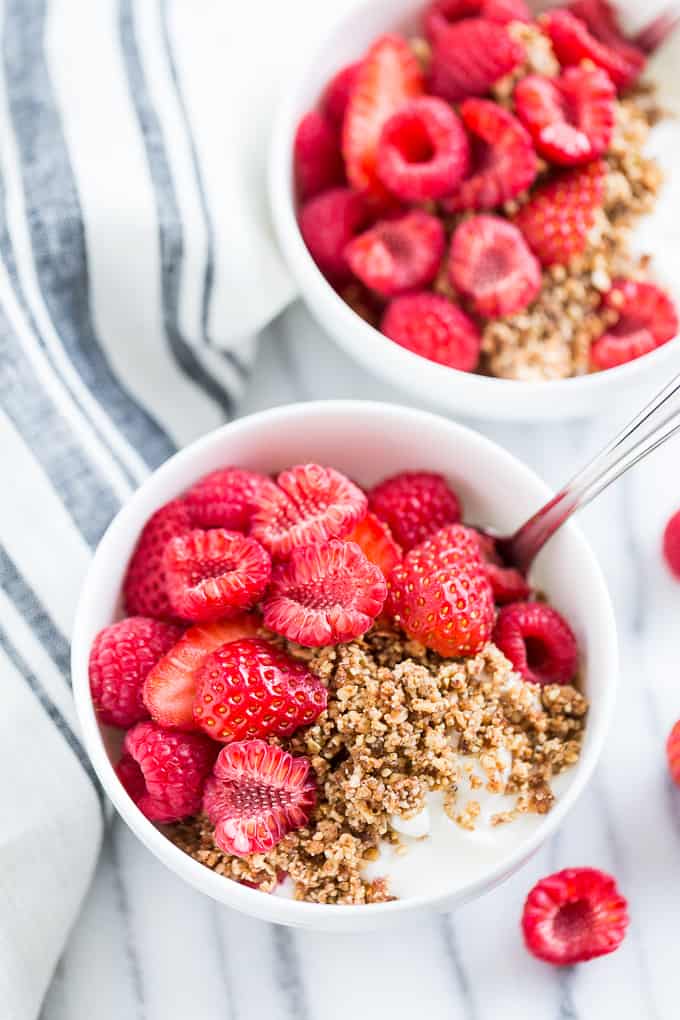 I most excited about taking this along on our overnight hiking excursions in Glacier National Park this summer. I'm always looking for super easy recipes that travel well. And this one is going down as the official breakfast of the year!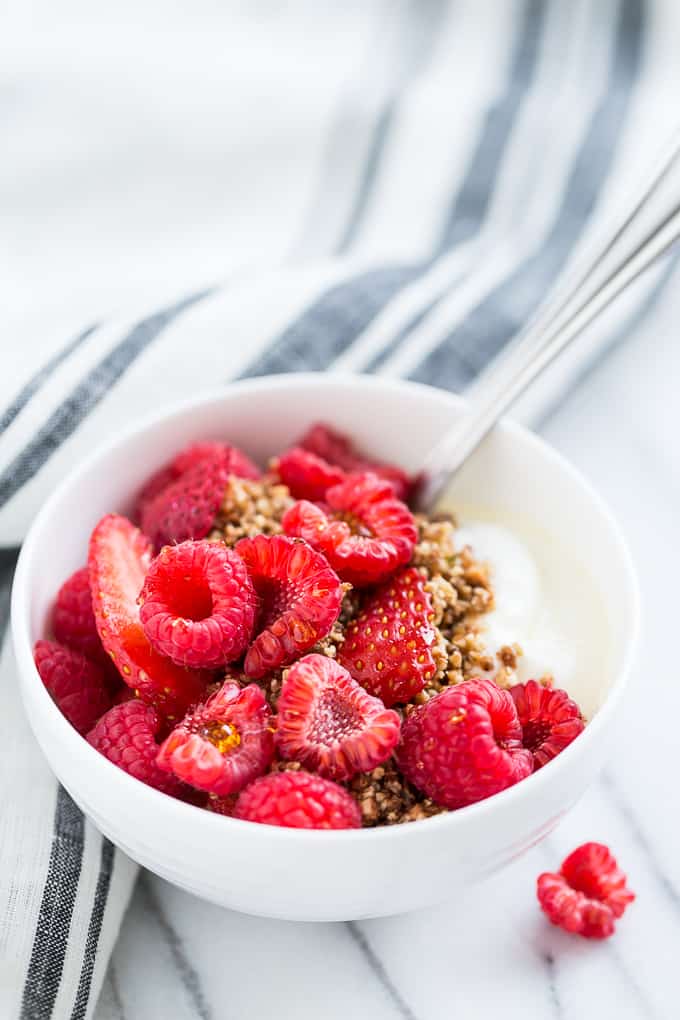 I sure hope you get a chance to make this granola dust soon, and if you do, I hope you'll leave me a comment/rating below. I always love hearing from you here in the comments. And also over on Instagram where you can tag me at #getinspiredeveryday with your photos of what you make.
Print
Paleo Granola Dust
---
Total Time:

30 mins

Yield:

10 cups

granola dust

1

x

Diet:

Gluten Free
3 cups pecans, 12 ounces
3 cups unsweetened big flake coconut, 6 ounces
1 cup pumpkin seeds, 5 ounces
2 cups almonds, 9 ounces
10 ounces total dried fruit, I used 5 dried figs and 8 Medjool dates
1 Tablespoon orange zest
2 Teaspoons Vietnamese cinnamon
Serve with:
Yogurt or almond milk and fresh fruit
---
Instructions
Preheat the oven to 350ºF, and place the nuts, seeds, and coconut on a baking sheet.
Bake the mixture for 10 minutes stirring once. Turn the heat off, open the oven door and stir the mixture again before putting it back in the slightly cooled off oven to sit for another 10 minutes. This helps everything to toast more evenly without burning.
Cool the mixture completely before processing.
When the toasted nuts are cooled, place 1/2 of them in a 12 cup food processor. Cut any stems off the figs and cut them into quarters. Pit the dates and quarter them too before adding half of the dried fruit to the food processor.
Add the half the orange zest and cinnamon before processing for about 30-45 seconds or until the mixture starts to clump and is finely textured. Repeat with the other half of the ingredients.
Place the granola dust into airtight containers and refrigerate for 1-2 weeks or freeze for 1 month.
Notes
You can use any mixture of coconut, nuts, and seeds you'd like, you just need a total of 2 pounds.
Prep Time:

10 mins

Cook Time:

20 mins

Category:

Breakfast

Method:

Baking

Cuisine:

American
Keywords: Granola Dust, Gluten Free Granola Dust, Healthy Granola Dust