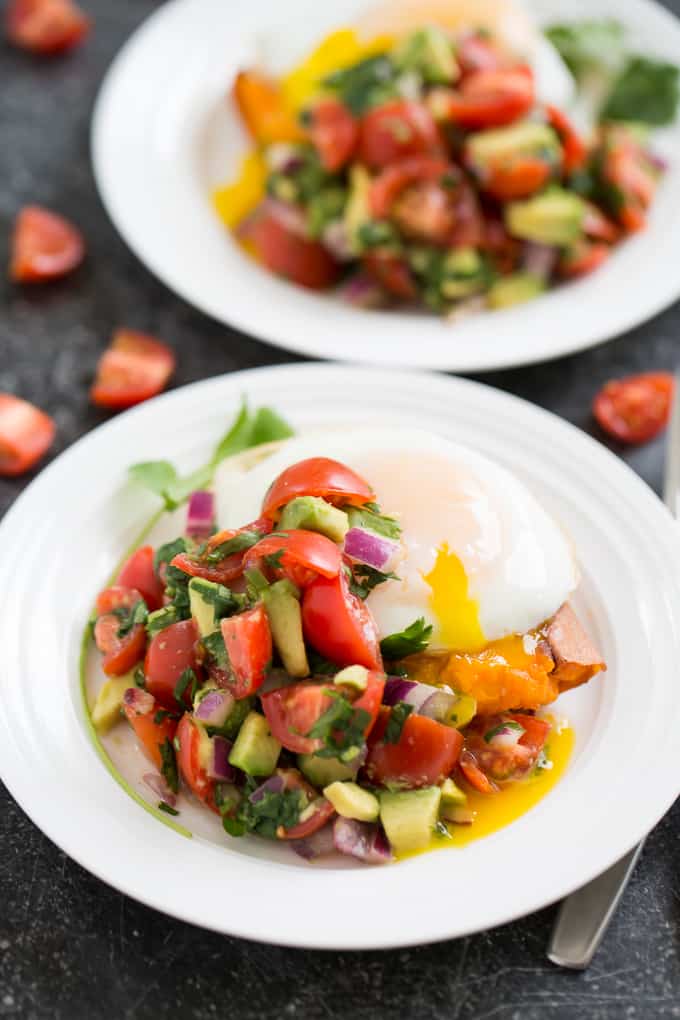 This breakfast has quickly become a new go-to in our house! It's the kind of meal that fills you up just right to power through your day, yet it doesn't bog you down by making you overly full! I'm not usually one for a big breakfast because I don't feel very good when I eat them – just an overall sluggishness and lack of energy. But… this one is truly a powerhouse – I could eat it before sitting down to hours of desk work or I can eat it and hit the trail for a workout – it's perfect either way. I don't know about you, but there aren't that many foods in the 'perfect either way' category for me!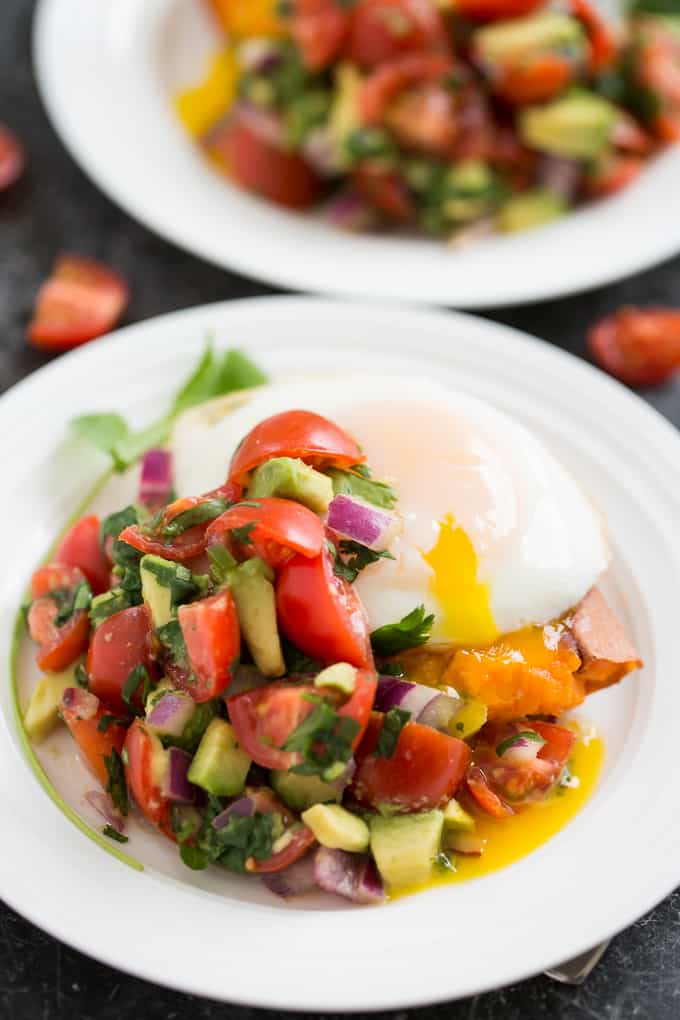 We start off with sweet potatoes (or yams) which are pure energy in a deliciously sweet package, then it's topped off with over-easy eggs, and crowned with fresh avocado salsa! So… you see what I mean, it's quite the power package! And I know the word breakfast is right in the title, but don't let that slow you down, this is dynamite for dinner as well.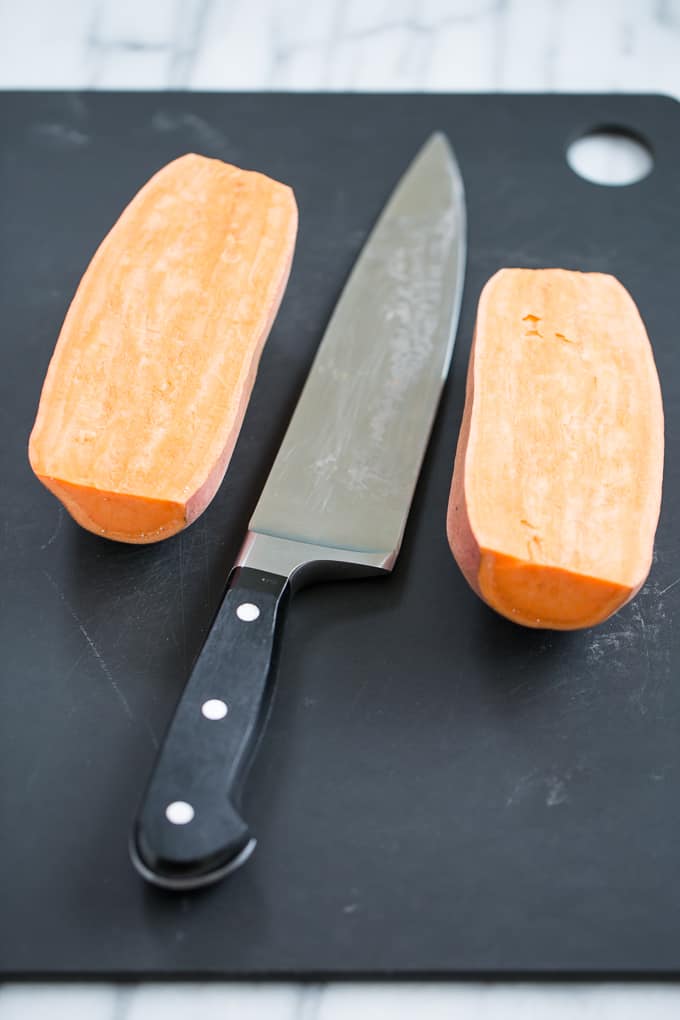 For the sweet potatoes, I start by thoroughly scrubbing them and then trimming the ends and any undesirable spots. Next I cut them in half to speed up the roasting time.
So… you might have noticed that my 'sweet potatoes' look like yams? Well, I really can't make heads nor tails out of this confusing situation – the bag of my orange looking so called sweet potatoes came in, said sweet potatoes on the label so I'm going with it. Are they yams, are they sweet potatoes – who knows? Either way this breakfast is dynamite with either one!
Tip: You can roast a huge batch of sweet potatoes and keep the leftovers in the fridge. With the potatoes already roasted, you can assemble this dish in record time!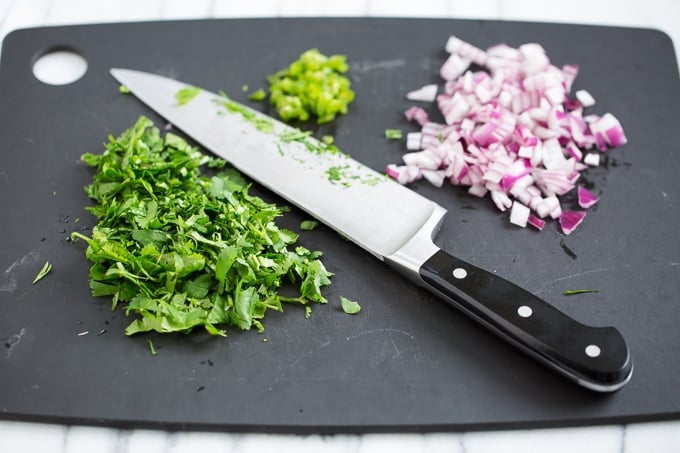 For the salsa, I like the cilantro roughly chopped with some bigger pieces, but feel free to chop/mince the ingredients to your preferred taste!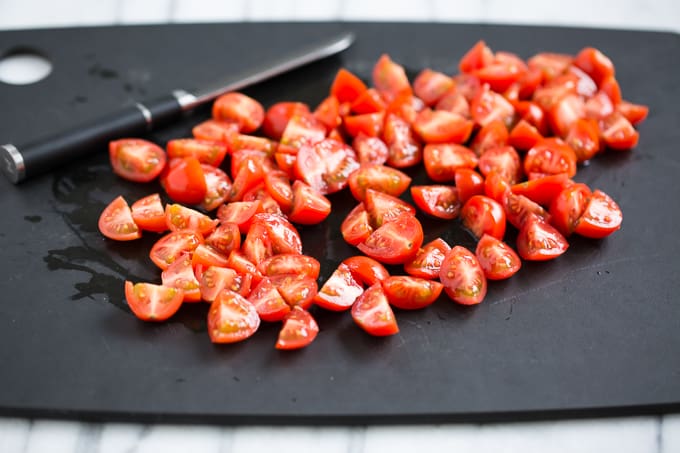 The prettiest/nicest looking way to make the salsa is to cut up the tomatoes by hand into quarters. The first time I made this, I was in a bit of a hurry and I threw the tomatoes whole into the blender with the other ingredients already chopped and blended on low to combine. This makes a salsa with a thinner consistency, where chopping the tomatoes by hand takes a few more minutes and has a more pico like texture.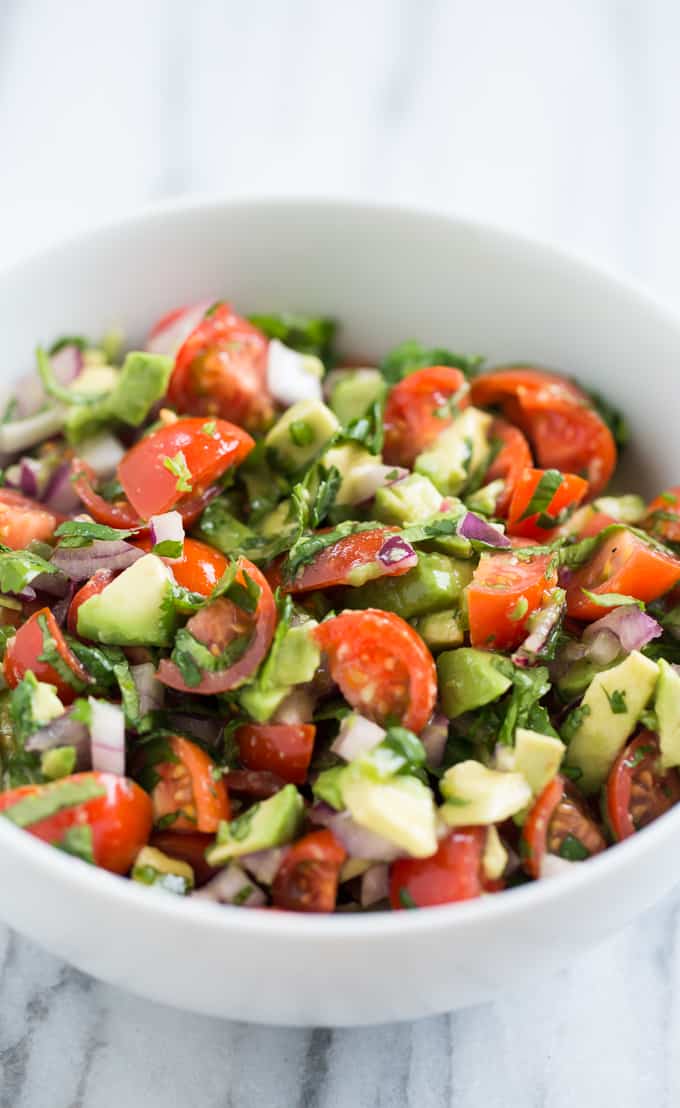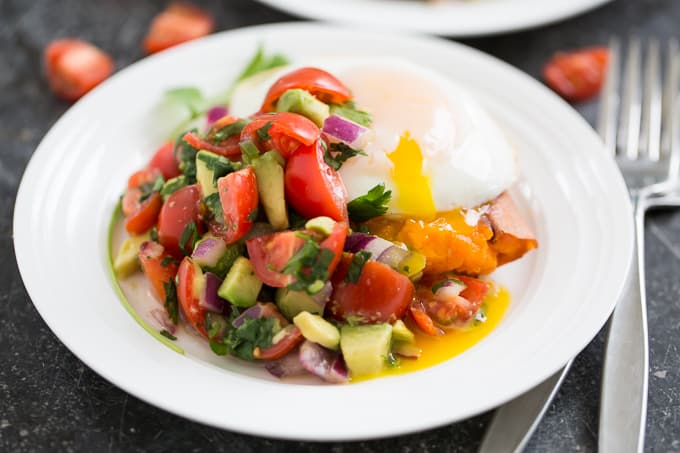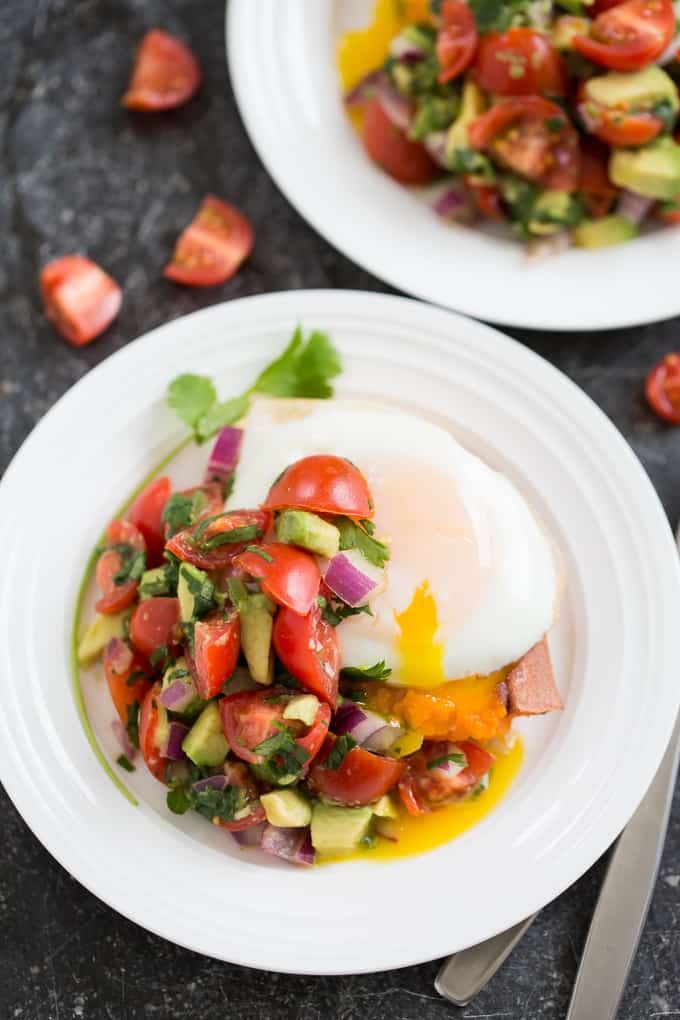 This dish is very simple with just a few ingredients – so it's extra important that each ingredient is good quality for great taste! Another key flavor element in this dish is the way the sweet potatoes are roasted – I split them in half and roast them face down. This creates a caramelized surface all down the face of the sweet potato – caramelized = awesome flavor!
Print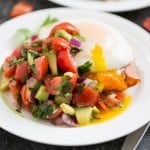 Paleo Power Breakfast
---
Author:

Get Inspired Everyday!

Total Time:

45 mins

Yield:

2

-

4

servings depending on how big of a power breakfast you'd like

1

x
1

pound sweet potatoes or yams

2

–

4

eggs, for

1

–

2

eggs per serving
olive oil or avocado oil for cooking
sea salt and pepper
Tomato Avocado Salsa:
1/4 cup

minced red onion

1/2 cup

roughly chopped fresh cilantro

2 Teaspoons

minced jalapeno

1/2 Teaspoon

sea salt

2 Tablespoon

freshly squeezed lime juice

8 ounces

(about 24) cherry tomatoes, quartered

1

–

6

ounce ripe avocado, peeled, pitted, and cubed
---
Instructions
Preheat the oven to 425ºF, and line a baking sheet with parchment paper.
Thoroughly scrub the sweet potatoes or yams and cut off both ends along with any undesirable spots. Cut them in half lengthwise, and place them face down on the parchment paper. Roast in the oven for 20-25 minutes or until the sweet potatoes are tender and caramelized.
While the sweet potatoes are cooking, make the salsa by combining all the prepped ingredients. Set the salsa aside to let the flavors marinate while the potatoes finish cooking.
When the potatoes are done, turn off the oven and keep them warm while you cook the eggs.
Heat a medium sized skillet over medium heat, and add a small amount of oil for cooking – I used 1 Teaspoon of avocado oil. Add the eggs to the heated pan one at a time, and season with salt and pepper. Place a lid over the skillet for over-easy eggs and cook until the eggs reach your desired doneness. We like our over-easy eggs on the runny side, so the cooking time is usually 2-3 minutes.
Serve the eggs over the warm sweet potatoes and load on the fresh salsa!
Prep Time:

15 mins

Cook Time:

30 mins