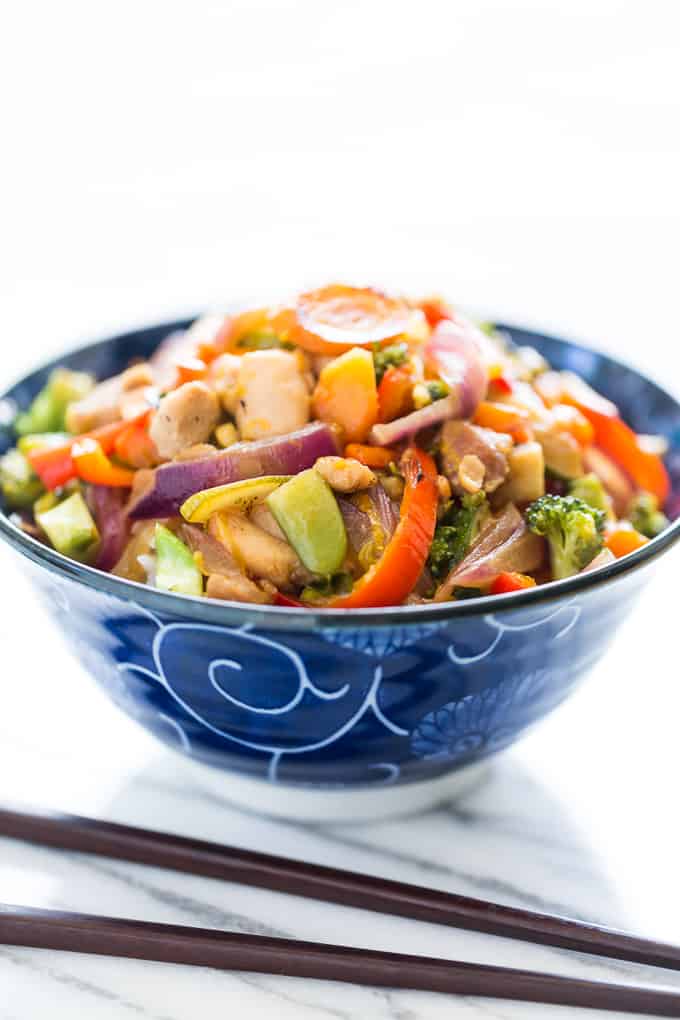 I always know that a recipe is a major hit when my husband starts asking if there's more before he's even finished his first helping! We both love stir-fries of all flavor varieties but this one has definitely stood out above most. So I made sure to get the measurements down so that we (and you) can enjoy it again and again.
I don't know if this happens to you, but I'm perpetually in trouble for not writing down what goes into the things I make for dinner. I just wing it with whatever's in the fridge, and it's usually never seen again! This is a major bummer for Tyler who loves having his favorites again and again, so when I don't write things down, it's pretty hard to repeat it. I thought having a blog where I'm sharing recipes all the time would help, but there are still so many ideas slipping through the cracks that I forget to write down, (I do keep a recipe journal but even still…)!
The one thing I'm not too crazy about with the Chinese food I've been used to my whole life, is how heavy it is. My favorite thing to order is Kung Pao Chicken, and it takes me about 24 hours to recover my appetite after eating it (really not exaggerating)! Speaking of Kung Pao Chicken, there's a healthier version headed your way soon may with zucchini noodles and ingredients you can find in a regular grocery store.
Don't you just love it when you're reading through a recipe and it says, 'you can easily find these ingredients in your local Asian grocery'! I mean… what about all of us who are hours and hours away from an Asian grocery? So, we'll be making a few of my favorite Chinese dishes with substitutions that I can find right here in Montana.
I do miss having an Asian grocery store around though, I really got hooked on fresh rice noodles and such when we lived in Calgary. I think there's at least 3 Asian groceries that are the size of my normal grocery store in Calgary, so it's been a bit of an adjustment not having all of that around anymore! Being from a small town really has it's ups and downs, that's for sure.
On that note, here's a weird fact about me: I've never been to a Trader Joes… let's just let that sink in for a moment before we continue. I mean… can you imagine, all I ever hear about from people is 'Trader Joes is the best, I don't know what I'd do without them!' Well… someday I'll make it there, and I'll check out Whole Foods whilst I'm at it, (never been in one of those either)!
The key to making stir-fries easier is to have all of your ingredients prepped ahead of time, that way when you start cooking over high heat everything goes smoothly.
Mixing together all the ingredients for your sauce is a big part of being prepped ahead. Once everything is cooking, you don't want to be measuring out ingredients while the veggies sit there and overcook.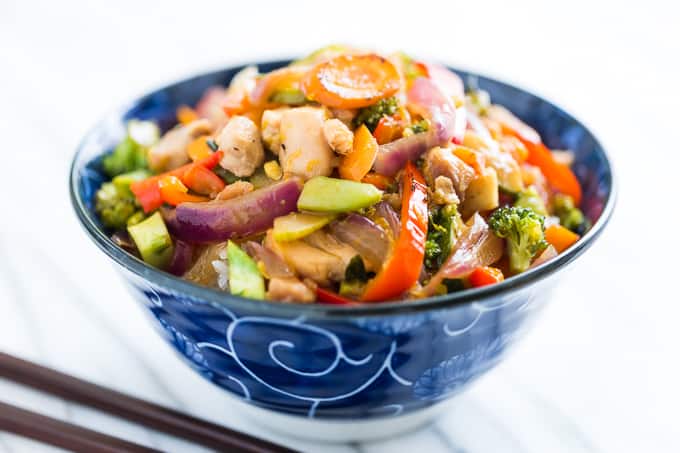 I used a rainbow of veggies for this dish because there's so many beautiful veggies in season right now. In the winter months, I tend to go for something easier on the budget like 1-3 different veggies. Broccoli, carrots, and onions are usually a good bet when produce starts to get scarce.
Print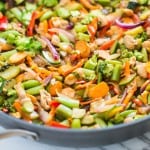 Rainbow Veggie Orange Chicken Stir Fry
---
Description
Loaded with veggies, this Orange Chicken stir fry is way better than takeout! There's no deep frying involved and no refined sugar, just pure delicious flavor and lots more nutrition.
---
Stir Fry:
1 head of broccoli, 1/2 pound
1 medium zucchini, 1/2 pound
2 cups or 4 ounces sugar snap or snow peas
1 red bell pepper, 1/2 pound
3 carrots, 1/2 pound
1 red onion, 12 ounces
1 Tablespoon minced ginger
1 clove garlic, minced
1 package boneless, skinless chicken thighs, 1 1/2 pounds
3 Tablespoons avocado oil
Stir Fry Sauce:
1 Tablespoon tapioca starch
3 Tablespoons coconut aminos, or gluten free soy sauce
3 Tablespoon rice vinegar or apple cider vinegar
3 Tablespoons Grade A maple syrup
1 Tablespoon orange zest
1 cup freshly squeezed orange juice, from 2 large oranges
optional: 2-3 drops of sesame oil for a more authentic taste
---
Instructions
Cut the broccoli florets into bite sized pieces, peel the stem to remove the tough outer layer and slice it into thin slices.
Slice both ends off the zucchini, and cut it into quarters lengthwise. Place the quarters flat side down on the cutting board, and thinly slice them crosswise to create thin triangular pieces.
If you're using sugar snap peas, remove the strings and stems, if you're using snow peas they might be ready to go, or simply remove the tough stem end.
For the bell pepper, remove the core and seeds. Slice the pepper into thin slices lengthwise, and the slice them in half crosswise.
Peel the carrots and slice them as thinly as possible, this is important so that they cook as fast as the other veggies.
Slice both ends off the onion and cut it in half from the top to the bottom. Lay each half flat side down and slice across the rounded top into 1/4″ half moon slices. Set all the veggies aside until you're ready to sauté. Place the minced ginger and garlic together in a small bowl and set aside.
Cut the chicken thighs into small bite sized pieces, about 1/2″.
For the sauce, mix the tapioca with a small amount of coconut aminos until it's completely smooth with no lumps. Whisk in the remaining ingredients and set the sauce aside until the end of the cooking time.
Preheat a very large skillet (15″ or bigger) over high heat.
When the pan just begins to smoke, add 1 Tablespoon of the avocado oil and the chicken. Sauté for 4-5 minutes until the chicken is browned and mostly cooked. Remove the chicken from the pan and set it aside.
Return the pan to the heat and add the remaining 2 Tablespoon oil to the skillet. Sauté the veggies until they're crisp tender, about 6-8 minutes.
Add the ginger and garlic and sauté another minute before adding the chicken back into the pan. Add the stir fry sauce, and cook until the sauce thickens and the chicken is no longer pink, 1-2 minutes.
Serve immediately. The leftovers are pretty great if you're lucky enough to have any!
Notes
You can use whatever combination of veggies you'd like, just shoot for 3 pounds of veggies in total.
You can easily halve this recipe which is easier to sauté especially if you don't have a large pan. The ratio of meat to veggies is 1:2, so you can use 3/4 pound of chicken to 1 1/2 pounds of veggies.
Prep Time:

30 mins

Cook Time:

15 mins

Category:

Dinner

Method:

Stir Fry

Cuisine:

Asian
Keywords: Orange Chicken and Veggie Stir Fry, Easy Orange Chicken and Veggies, Healthy Orange Chicken Stir Fry