These breakfast bowls emerged out of desperation on a road trip more than 10 years ago, and I've been making them ever since! After about a week on the road you're craving nothing more than something fresh, especially if you've been eating out a lot.
So… my friend and I stopped at a grocery store in a small town somewhere in Montana. Selection was a bit limited but we bought a cantaloupe, and asked the man behind the counter to cut it in half for us and scoop out the seeds. We filled the centers with raspberry yogurt (the super processed kind I might add) and topped it with granola. The combination was so good it's withstood the test of time, and I'm still making these delicious bowls (sans sugary yogurt).
My new version involves ultra creamy Greek yogurt with a few fresh raspberries mashed in and drizzled with maple syrup or honey. Then it's all topped off with my favorite Maple Cinnamon Granola.
I've tried this with all sorts of melon and berry combinations, but the original cantaloupe/raspberry combo still remains my favorite.
Right now we're getting the most amazing local melons, and we've been eating these breakfast bowls 4 times a week for several weeks in a row! I always know the truck with melons is at Farmer's Market because you can smell their intoxicating aroma before you ever even see the truck – now that's a melon!
Making a healthier version of raspberry yogurt only takes an extra few seconds. Simply throw a few fresh raspberries in a bowl, give them a squish and then stir in a bit of Greek yogurt before placing the mixture in a hollowed out melon half. For a sweetener, I prefer a little drizzle of Grade A maple syrup which has a really light maple flavor that compliments the granola.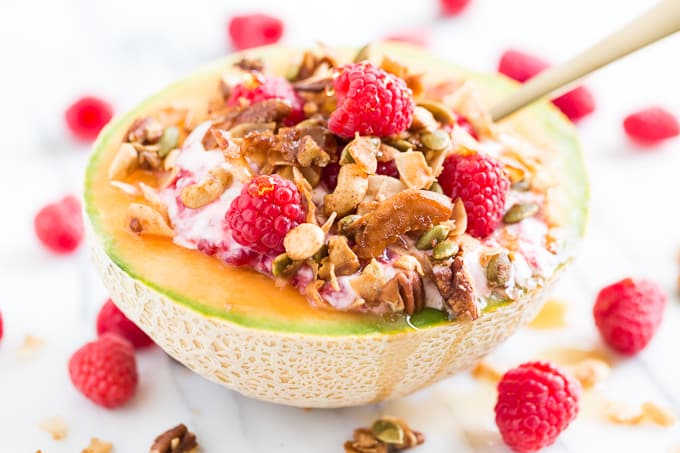 Summer breakfast doesn't get any better than this, and I'm soaking up every moment of melon season!
Print
Raspberry Melon Breakfast Bowls
---
1

ripe cantaloupe, about

2

pounds

1/2 cup

Greek yogurt, or coconut yogurt for dairy free and Vegan

1 1/2 cups

fresh raspberries, 6 ounces

1/2

–

2/3

cup of granola, I used Maple Cinnamon Granola
Maple syrup or honey for drizzling
---
Instructions
Start by slicing the cantaloupe in half, lengthwise is best if it's oblong in shape because it creates a wider bowl. Scoop out the seeds and place each cantaloupe half in a bowl plate.
Mash half of the raspberries with the Greek yogurt, and spoon the mixture into the hollowed out cantaloupe halves.
Top each cantaloupe half with the remaining raspberries and drizzle with maple syrup or honey to taste.
Sprinkle the granola over the top and serve immediately.