We've been making these Rustic Italian Sweet Potato Noodles a lot over the last year. But somehow I've just never written down the recipe before, probably because it barely qualifies as a recipe, it's more like an outline. You can easily change up which type of sausage you use/change up the greens/and use different seasonings.
Everyone who tastes this dish immediately loves it, and can't believe how simple it is to make! So I knew I definitely needed to share it. After all… who can't use another easy dinner recipe?
My first renditions of these noodles were absolutely 'plain jane', but after making these several times in a row, I took to adding a little Italian seasoning and balsamic vinegar to the mix. Don't get me wrong, the original plain version was really, really good. But when you roast the sweet potato noodles with a little balsamic vinegar, that's where the magic begins!
You start off with a sheet pan full of spiralized sweet potatoes coated in a little Italian seasoning and the aforementioned balsamic vinegar.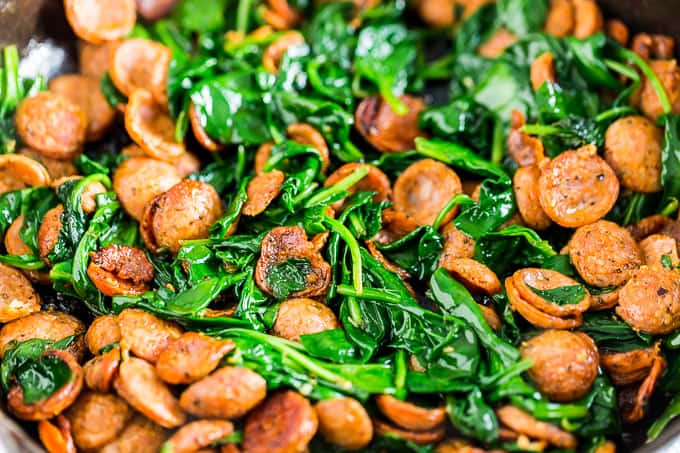 While the noodles roast in the oven, you sauté some Italian sausage and baby spinach.
Once the noodles have softened and started to caramelize… they get tossed with the sausage/spinach mixture – and that's all there is to this recipe!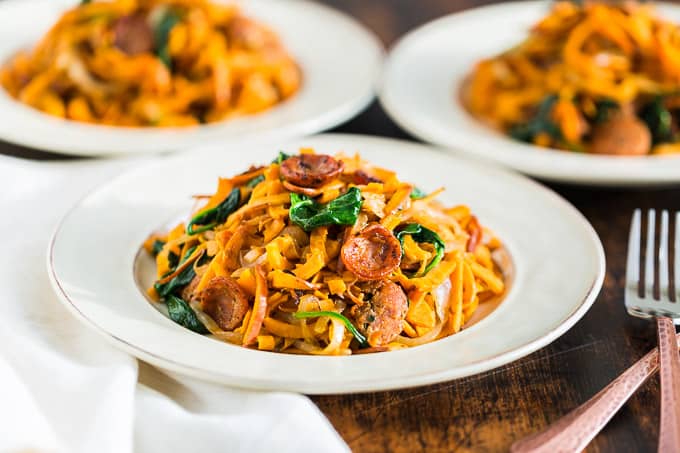 You can serve these noodles as is, or with a sprinkle of freshly grated parmesan because it's just so good!
Print
Rustic Italian Style Sausage Sweet Potato Noodles
---
2

sweet potatoes, 2 1/2 pounds

1

yellow onion, 1 pound

2 Tablespoons

olive oil

3 Tablespoons

balsamic vinegar

2 Teaspoons

Italian seasoning, I used one without salt

1

–

12

ounce package cooked Italian sausage, thinly sliced, see notes

6 cups

washed baby spinach, 6 ounces
Sea salt and freshly ground pepper to taste
Optional: freshly grated parmesan cheese
---
Instructions
Preheat the oven to 450º and line a baking sheet with parchment paper.
Peel the sweet potatoes, and cut both ends off. Cut the sweet potatoes into 3-4″ slices and spiralize them. I used the 6mm blade on the Paderno spiralizer. Place the spiralized sweet potatoes on the cookie sheet.
Cut both ends off the onion and peel away the tough outer layer, then spiralize it using the same blade. Add the onion to the baking sheet with the sweet potato noodles.
Toss the sweet potato and onion noodles with 1 tablespoon of the olive oil, balsamic vinegar, and Italian seasoning. Season with salt and pepper and roast the noodles until tender and beginning to caramelize, about 20 minutes.
While the noodles cook, preheat a 9″ cast iron skillet over medium-high heat. When the pan is hot but not smoking, add the remaining tablespoon of olive oil along with the sliced sausage.
Sauté for 3-4 minutes until the sausage has browned on the edges. Then lower the heat to medium and add the baby spinach. Cook stirring until the spinach has just wilted.
When the noodles are tender, toss them together with the sausage/spinach mixture, and season to taste with salt and pepper.
Serve immediately with parmesan if desired.
Notes
My Italian sausage is a chicken based sausage from Costco that comes pre-cooked. It's easy to slice it up and pan fry it to give a nice browned flavor. You can use bulk sausage, just break it up with a wooden spoon in the skillet as you brown it.
Sweet potato noodles tend to fall apart when tender unlike zucchini noodles which hold their shape.
Prep Time:

20 mins

Cook Time:

20 mins