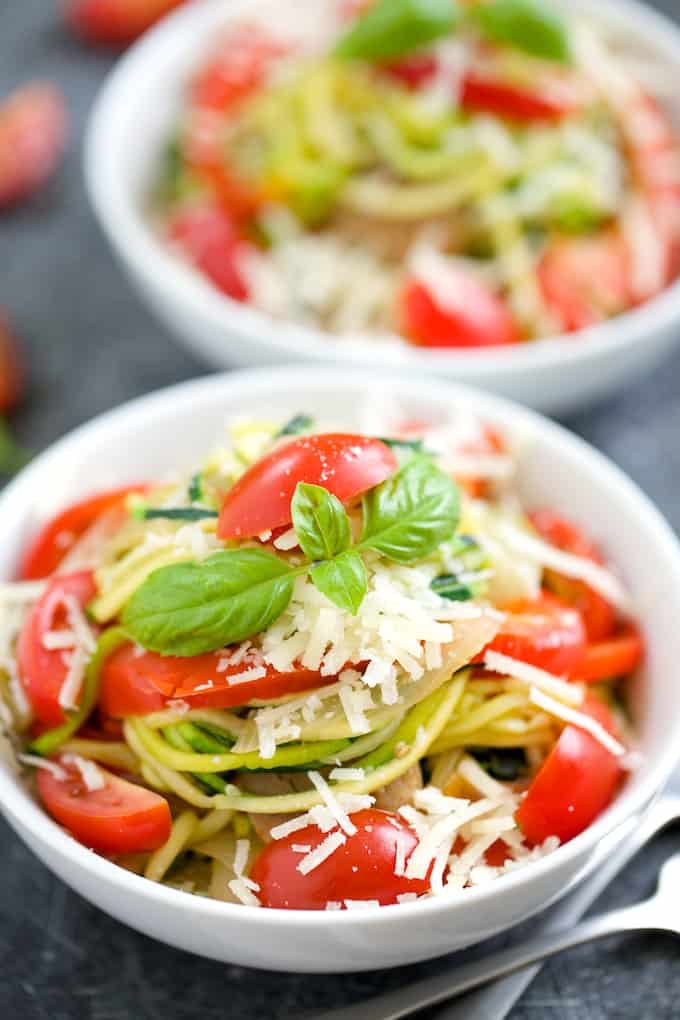 The classic Italian Sausage Pepper Pasta is one of my husband's favorite dinners – you know, the kind of meal you can eat every single week and not get tired of it! This version you see in front of you today has been a long time in the making, I started out making it the classic way with sausage, peppers, and onions – but in an effort to add more veggies, I started sneaking zucchini in there as well!
Eventually I ditched the pasta all together and replaced it with zucchini noodles – and get this, the new veggie packed version is husband approved!!! I always get a bit nervous when I mess with his favorites because it's such a let down when you were expecting one thing for dinner only to have your wife change it up on you. So… you can imagine how surprised I was when I got the thumbs up on this recipe makeover!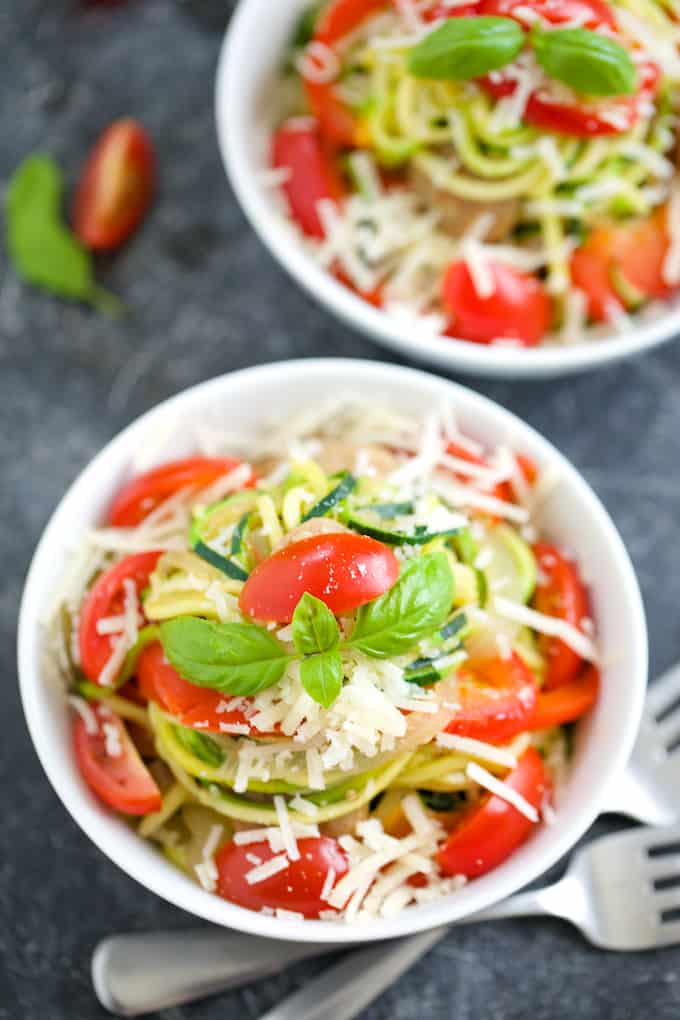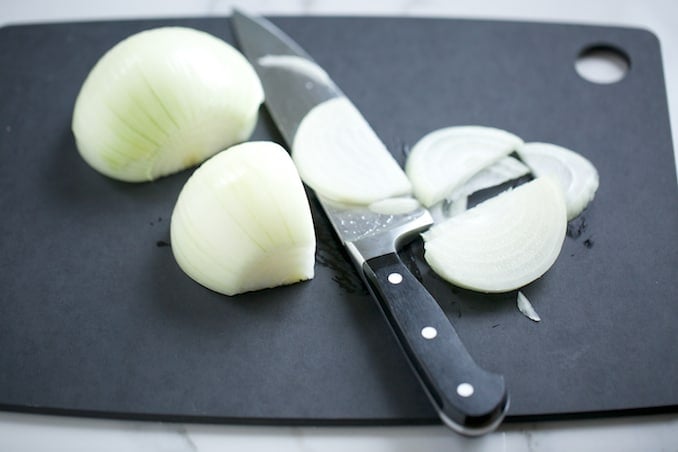 For the onions in this recipe, start by cutting off both ends, and cutting the onion in half from the top to the bottom. Peel each half and lay them flat side down on the cutting board – then slice across the rounded top into 1/4″ half moon slices.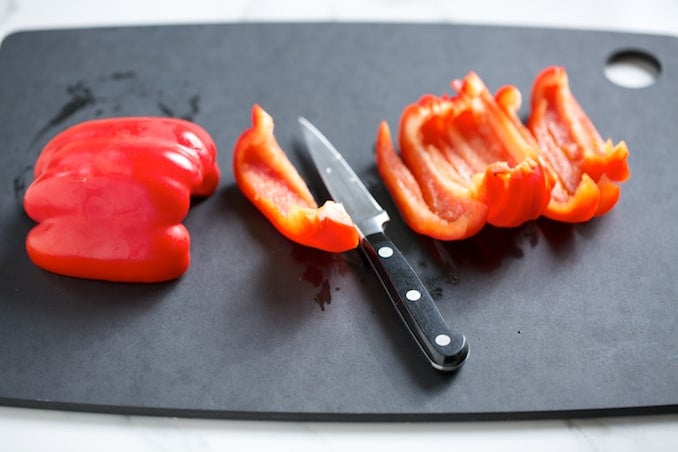 For the bell pepper, first remove the stem and seeds. Then cut the bell pepper in half, and slice it lengthwise into 1/4″ strips. The reason I like to cut the onion and bell pepper this way is because after it's cooked it mimics the shape of the zucchini noodles and they all twirl together nicely – it's just a texture thing so feel free to cut things up however is easiest for you!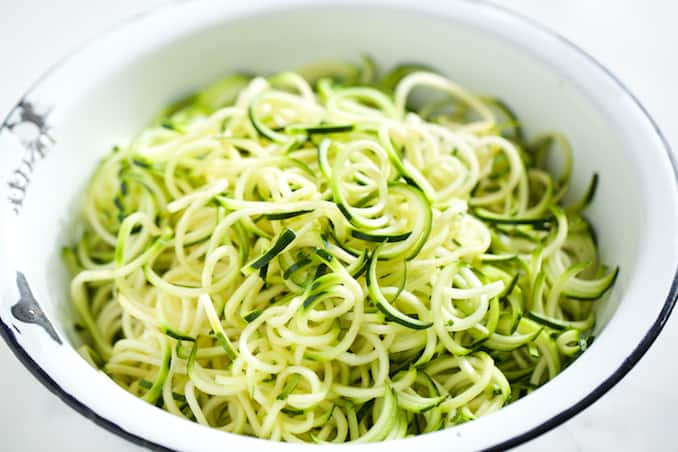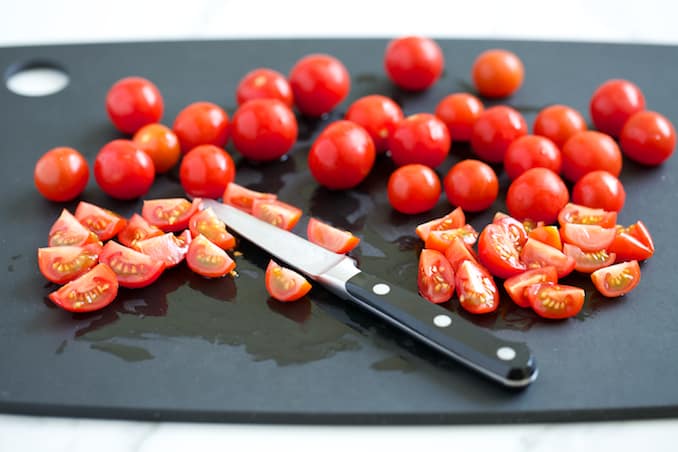 I really love adding fresh tomatoes right at the end of the cooking time, but if tomatoes aren't looking great at the supermarket, I just leave them out. There's more than enough flavor to go around, and styrofoam textured tomatoes don't do much for your dinner anyways!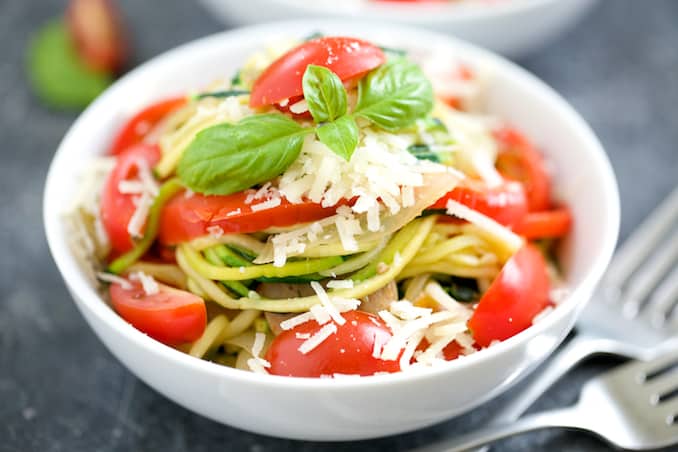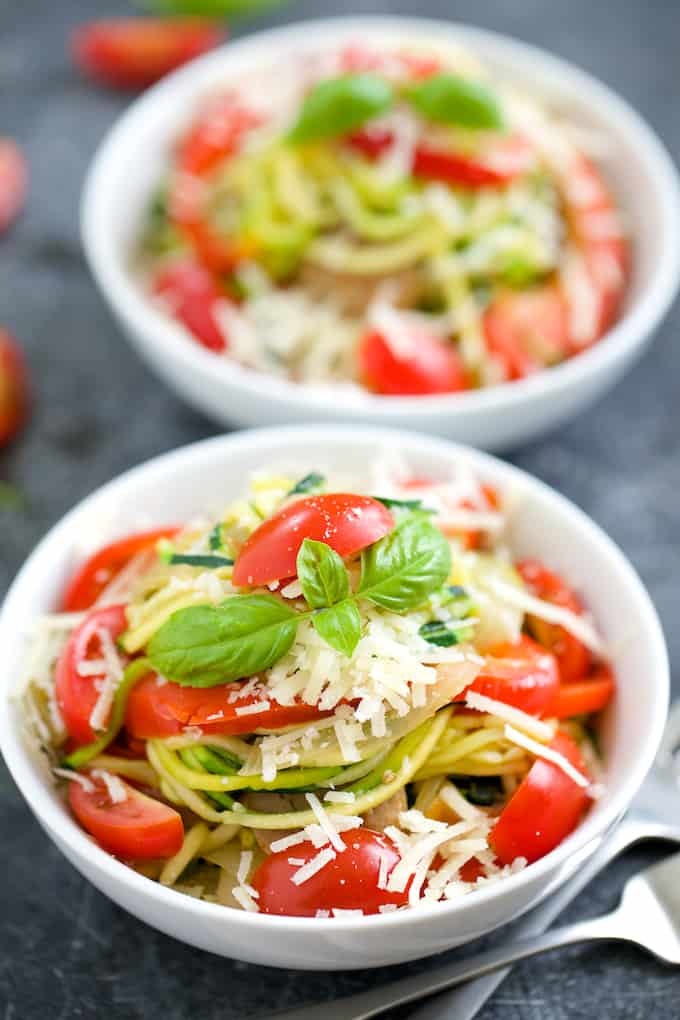 I really do promise not to make every recipe this year a zucchini noodle one, but I'm a bit smitten with them right now so I hope you'll forgive me! They're so fast, fresh, and infinitely adaptable that I could eat them every single night (which is really saying something because I'm not much for the same thing over and over again)! So if you're trying to lighten things up a bit, or just trying to eat more veggies, this bowl of satisfying goodness is a great place to start the New Year!
Print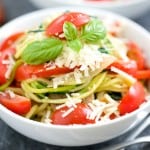 Sausage Pepper Zucchini Pasta
---
2 1/2

pounds zucchini, ends cut off

1/4 cup

extra virgin olive oil

1

–

1

pound sweet onion

2

red bell peppers, weighing 1 pound total

2

cloves garlic, minced

2 Teaspoons

sea salt

12 ounces

Italian sausage, either hot or mild, I used pre-cooked links, thinly sliced

8 ounces

cherry tomatoes, halved or quartered to make bite sized pieces
For Serving:
Freshly grated parmesan
Thinly sliced (chiffonade style) fresh basil
Sea salt and freshly ground black pepper
---
Instructions
Use a spiralizer or a julienne peeler to make 'noodles' out of the zucchini, and set them aside.
Cut off both ends of the onion and cut it in half from the top to the bottom. Peel each half and lay them flat side down on the cutting board. Slice across the rounded top into 1/4″ half moon slices.
Remove the stems and seeds from the bell peppers, and cut them in half. Cut each half into 1/4″ strips lengthwise.
Make sure you have the rest of the recipe prepped before turning on the stove. I used precooked Italian sausage links that I thinly sliced, but if your sausage isn't cooked be sure to brown it before beginning to sauté the vegetables.
When you've prepped the rest of the recipe, place a very large skillet (15″ wide x 4″ deep) over medium high heat.
When the pan is hot, add the olive oil, sliced onion, and the bell peppers. Sauté until the vegetables start to soften.
Increase the heat to high and add the minced garlic and sea salt. Sauté briefly, (about 30 seconds) or until it's fragrant. Then add the Italian sausage and the zucchini noodles, sauté just until the zucchini noodles are tender but not soft and mushy.
Remove the pan from the heat, and toss the cherry tomatoes together with the zucchini pasta.
Serve immediately with the fresh basil and parmesan!
Notes
I like to use a pair of tongs for toss the zucchini noodles as they cook! It's very important to use high heat when cooking a big quantity of zucchini noodles. When you cook them over a lower heat they tend to steam and shed a lot of water, which is why it's so important to keep the pan hot enough that they sauté instead of steam!
Prep Time:

20 mins

Cook Time:

10 mins