I finally found a gluten free pasta that doesn't leave me longing for the days when I could eat anything I wanted! It's as close to the real thing as I've ever had, and I couldn't be more excited! I almost gave up entirely on trying anymore gluten free pasta because there are so many bad ones. You know what I mean right? Crumbly with a gritty mouthfeel and a weird taste is not what I had in mind for dinner! Overall I'd rather have spaghetti squash or zucchini noodles any day, (and that's really saying something given my love of all things bread and pasta)!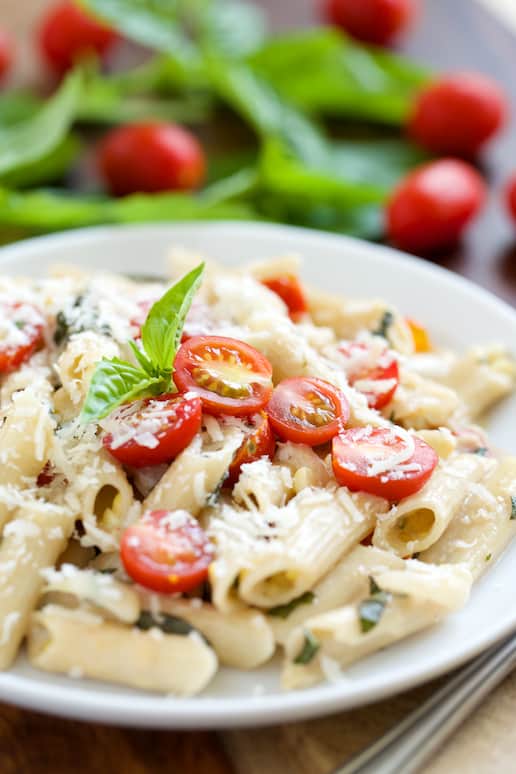 As far as I can figure out, the difference in texture comes from how it's produced. DeLallo uses old world Italian methods to get that al dente bite that seems to be missing in every other gluten free brand I've tried so far! And before you ask… I was not paid in any way to tell you about this pasta – I simply wandered down the aisle in the grocery store one day and decided to give gluten free pasta another chance! I know so many people who are either Celiac or gluten free that I wanted share this discovery with you – anytime you find a great gluten free product you feel like you've found the pot of gold at the end of the rainbow!
If you're uncomfortable cooking and prepping you veggies at the same time – be sure to prep the veggies first before you put the pasta in the cooking water, it really takes the pressure off to bring everything together at the same time!
Halve your cherry tomatoes, or quarter them if they're on the bigger side. To slice basil into thin ribbons, (called chiffonade) stack the basil leaves and roll them up tightly. Using a sharp knife, cut the basil roll into thin ribbons. It's always best to cut or chop your fresh herbs right before you're ready to use them, (they sometimes turn brown if they have to wait awhile on the counter).
This pasta is truly the essence of summer – it's filled to the brim with vine ripe cherry tomatoes, fresh kernels of sweet corn, fragrant with basil in a creamy sauce with piquant crumbles of Point Reyes blue cheese!
If you don't like blue cheese:
1. This is also great with an aged crumbly white cheddar or freshly grated parmesan/
2. Even if you don't like blue cheese, be sure to give it a try sometime with a quality blue cheese – many people change their minds after having the real thing!
The inspiration for this dish comes from a salad I had 2 summers ago at a restaurant in Portland called Cafe Mingo. We had several fabulous dishes there the first night, and we decided to go again on our last night in Portland, (so much good food in that city). My second dinner there, I ordered their Insalatone (big salad) which had fresh corn, heirloom tomatoes, and basil in a gorgonzola dressing – it was so good I'm still thinking about it 2 years later!
This pasta dish is made with that salad in mind – once the pasta is properly sauced, I remove it from the heat to add the vegetables. That way they stay fresh tasting, and the pasta is served warm rather than piping hot.
Since this is getting rather lengthy, leave me a comment and let me know if you'd like to see a post about how to cook pasta restaurant style!
Print
Summertime Penne with Fresh Corn, Tomatoes, and Basil
---
Description
All the best flavors of summer combined together in this creamy pasta, fresh corn and tomatoes pair perfectly with a touch of blue cheese crumbles and basil.
---
12 ounces penne pasta, I used DeLallo brown rice pasta
2 Tablespoon butter
2 Tablespoons olive oil
1 large sweet onion
1 cup heavy whipping cream
4 ears fresh organic sweet corn, kernels cut off the cob
12 ounces cherry tomatoes, halved
1 cup chopped fresh basil
2–3 ounces crumbled Point Reyes Blue Cheese, or gorgonzola dolce
1/2 teaspoon sea salt, to taste
---
Instructions
Bring a large pot of water to boil on the stove.
While the water is heating, melt the butter and olive oil together in a large skillet.
Slice off both ends of the onion and remove the core. Cut the onion in half from the top to the bottom. Lay each half flat side down on the cutting board and slice 1/4″ across the onion to make half moon pieces.
Add the onion to the skillet and sauté until the onion has softened and turned a light golden color. Add the heavy cream and simmer for 3-5 minutes, or until the cream begins to thicken just a bit.
When the water is boiling, add the pasta and 1 Tablespoon sea salt. Cook the pasta according to the package instructions. I personally like to pull my pasta out 2 minutes early and finish cooking it in the sauce. It's a restaurant trick that helps your pasta and sauce come together for a better final product!
While the pasta cooks, prepare your corn, tomatoes, basil, and blue cheese or gorgonzola.
When the pasta is almost cooked, scoop out 1/2 cup of the pasta water before draining it. Drain the pasta and add it to the onion cream sauce mixture in your skillet. Simmer for a couple of minutes to help the sauce 'stick' to the pasta. Add a bit of the pasta water if is seems like you're lacking in sauce – you want the pasta to be nicely coated.
Remove the pasta from the heat when it is al dente. Add the corn, tomatoes, basil, and blue cheese – mix in thoroughly and adjust the salt to taste.
Serve the pasta immediately!
Prep Time:

20 mins

Cook Time:

20 mins

Category:

Dinner

Method:

Stove Top

Cuisine:

Italian
Keywords: Gluten Free Pasta with Tomatoes, Penne with Corn, Pasta with Summer Veggies