This recipe started with a text message from my sister saying, 'what do you think about coconut cream as part of the dressing in a slaw'? To which I responded, 'how does Thai Slaw with Coconut Mango Dressing sound'? And… with that I was off and running, straight off the the kitchen where some perfectly ripe Champagne mangos were begging me to do something with them. I know I'm not the only one who isn't fond of the mayo dressing in coleslaw, so I thought this would be absolutely perfect.
Now I wouldn't want you to think I had something against mayonnaise (especially homemade) or anything, in fact my sister and I ate a full batch (1 1/2 cups) in 1 sitting just a week ago. I'll blame it on the fact that she brought over some wild asparagus she had foraged, and we grilled it up into smoky perfection (asparagus is amazing on the grill). I could blame it on the asparagus, but in fact I may have a slight addiction to homemade mayonnaise!
But getting back on track, for some reason I'm not a fan of mayo based dressings, so that's where this creamy, vibrant version comes in. It's packed with fresh flavor, but it still maintains the requisite creaminess that's all but mandatory in a slaw. I was so surprised by my new found love of all things slaw, that yesterday there was a blue cheese version created as well to go with some buffalo burgers (just some more summer goodness to look forward to).
The fastest way to shred cabbage is probably a food processor, but if you don't have one of these handy machines I can't recommend it enough. I use both my food processor and Vitamix blender daily, and they're invaluable to making healthy eating doable.
Anyways, if you're chopping the cabbage by hand, the best way to start is to cut off the 2 rounds off either side of the core. I turn the cabbage upside down with the core facing up so you can see where to cut. From there I cut across the round into thin strips, and then cut crosswise as thinly as possible for a shred. With the rest of the cabbage remaining, cut the core out and shred the rest by thinly slicing it.
For the food processor, you just need to cut the cabbage away from the core and chunk it up small enough to fit into the food processor which shreds it for you in record time.
For the dressing, I like to blend everything but the cilantro until it's smooth, then add the cilantro and blend just to combine. This really helps keep the cilantro from becoming totally puréed into the dressing.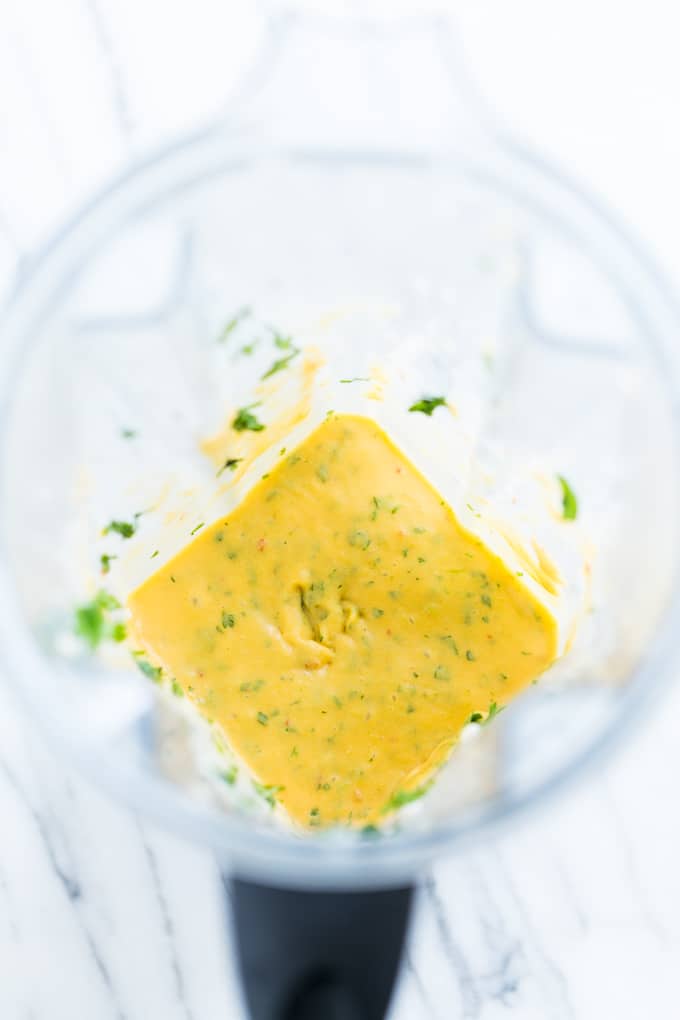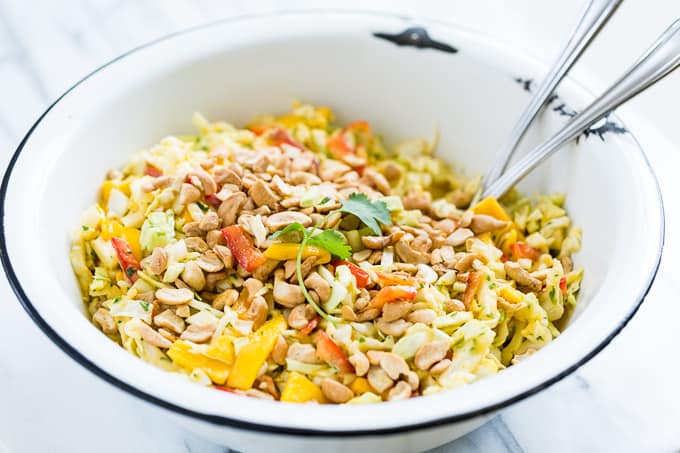 Even though we ate this both times as is, I know exactly what I'm paring it with next. I think this Grilled Saté Chicken from my noodle bowls is going to be a winning partner for many 'no-cooking on the stove' meals to come in this sweltering heat!
Print
Thai Slaw with Coconut Mango Dressing
---
Thai Slaw:
1

green cabbage, weighing 1 1/2 pounds or equal to 6 cups of shredded cabbage

1

red bell pepper

1

–

8

ounce mango – Champagne mangos are nice

1/2 cup

toasted cashews
Coconut Mango Dressing:
1/4 cup

coconut milk from the can

1 cup

of fresh or frozen mango chunks, 8 ounces

1 Teaspoon

Sambal Oelek chili past

1/2 Teaspoon

sea salt

2 Tablespoons

freshly squeezed lime juice

1/4 cup

chopped fresh cilantro
---
Instructions
Cut the core out of the cabbage and shred it by cutting it finely with a knife. You can also cut it into wedges and feed it into a food processor to speed things up a bit.
Cut the bell pepper in half and remove the core and seeds. Cut each half into thin strips, 1/4″ and then cut the strips crosswise in half to make shorter 'matchsticks'.
Peel the mango and cut the fruit away from the pit. You can either cut the mango into strips or into bite sized cubes.
Toss the cabbage, bell pepper, and mango together in a large bowl and set aside.
Place all the ingredients for the dressing except the cilantro in a blender and blend until smooth. Add the cilantro and blend just to combine.
You can store each part of this recipe separately for up to 1 day, but it's best to cut up the mango for the slaw fresh when you're ready to serve. Keep the slaw and the dressing in the fridge, and the toasted cashews on the counter.
When you're ready to serve, toss the finished slaw with the dressing, and top with the toasted cashews. Serve immediately for best results. All slaws start to shed water after they've been tossed with their dressing.
Notes
If you use frozen mango in the dressing, you'll need to use the tamper that comes with your blender to keep the mixture moving because it will be extra thick.