This recipe for The Best Summer Salad is all the tastiest veggies from the end of summer season. This salad is jam packed with fresh corn, tomatoes, cucumbers, and avocado all drizzled with a flavorful white balsamic dressing.
The end of summer really is the most amazing time. With so many varieties of produce available all at once, I tend to lose my head and buy a bit of everything! When you combine that with all the produce we have coming in out of our little personal garden, what you get is a lot of veggies.
This salad is inspired by all of my end of summer favorites including fresh corn, tomatoes (several varieties if you have them), and sweet peppers. Everything else is interchangeable, for instance I've made this with the cucumber listed in the recipe, but I've also made it with chopped up zucchini.
So really anything you can find at Farmer's Market right now is probably a good bet! And since the season for basil is about to come to an end around here, I've been putting it in everything including this salad.
Let's talk about how to make The Best Summer Salad!
For this recipe feel free to chop your veggies the quickest way possible for you, the main idea is to keep them in small bite sized pieces.
For cucumber or zucchini if you're using it, I cut them into quarters lengthwise and then slice across them into thin triangles.
To cut fresh corn off the cob, I stand the ear on the stem end after it's been shucked and carefully (a sharp knife really helps) cut the kernels away from each side of the cob. If you don't care for raw onion, you can sub the red onion for thinly sliced green onion.
You can use any of your favorite dressings that might compliment basil. I used a simple white balsamic vinaigrette that has a nice light flavor which really helps the fresh veggies shine through.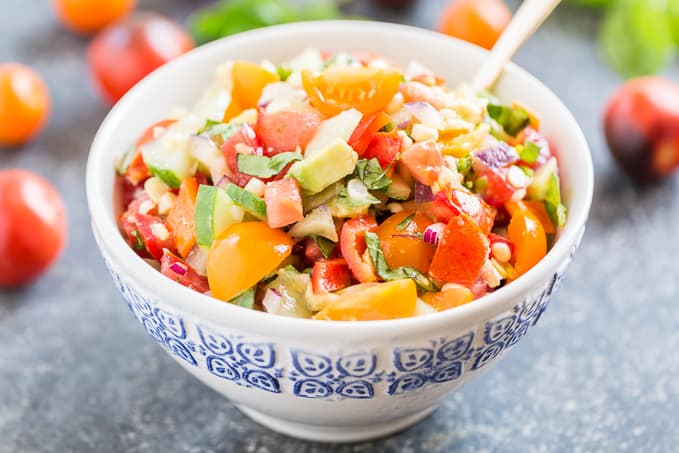 I've always known we're a little behind here in Montana, and most of the time I really like it that way! However, I'm perpetually behind in the seasons because everything here comes 3-4 weeks after everyone else has it.
I mean… people are always talking about tomatoes at the beginning of July, but our tomato season doesn't really hit it's stride until the end of August. This week is going to be our last week for melons at market, but most everywhere else finished up 4 weeks ago! So when I say 'best of summer salad' what I mean is the best of summer right now in Montana!
If your season has already moved on to butternut squash and pumpkin please feel free to type that right into the search bar and you'll find some of my favorites, but for right now you'll find me reveling right in the middle of the abundance of tomatoes!
Print
The Best of Summer Salad
---
Description
This recipe for The Best Summer Salad is all the tastiest veggies from the end of summer season. This salad is jam packed with fresh corn, tomatoes, cucumbers, and avocado all drizzled with a flavorful white balsamic dressing.
---
2 ears of corn, shucked
2 bell peppers or sweet peppers, 12 ounces
1 cucumber, 1 pound
2 tomatoes, or 1 pound mixed tomatoes
1/4 cup minced red onion, 1 1/2 ounces
1 avocado, peeled, pitted, and cubed
1/2 cup chopped fresh basil
White Balsamic Dressing:
2 Tablespoons white balsamic vinegar
4 Tablespoon extra virgin olive oil
1/2 teaspoon sea salt
1/4 teaspoon freshly ground pepper to taste
---
Instructions
To cut the corn off the cob, stand an ear of corn up on the stem end. Using a sharp knife, carefully cut the kernels away from the cob, rotating until you've cut all the way around.
You want to be careful not to cut too far in because you get the tough part of the cob with your corn kernels.
For the peppers I used a mix of purple bell pepper and red mini sweet peppers. Remove the stem and seeds before cutting the peppers into small bite sized pieces.
For the cucumber, slice off both ends and cut it into quarters lengthwise. Lay the quarters flat side down on the cutting board and slice them crosswise into thin triangular pieces.
Remove the stem from larger tomatoes and cut them into bite sized pieces. If you're using cherry tomatoes, cut them in half or quarters to make them bite sized.
Toss all of the salad ingredients together in a large bowl.
Whisk together the white balsamic vinegar and olive oil in a bowl, or shake them together in a jar with a secure lid.
Drizzle the dressing over the salad and season to taste with sea salt and freshly ground black pepper.
Notes
You can also use chopped zucchini in place of the cucumber.
For the tomatoes, I used a mix of heirloom and sungold tomatoes for an orange and red contrast. Sungold tomatoes add a lot of flavor to the salad if you can find them.
This salad keeps well in the refrigerator for up to 3 days in an airtight container, (mason jars with lids work well) as long as you don't season it with salt until you're ready to eat it. The salt will cause the veggies to loose their water and soften when the salad sits.
Prep Time:

30 mins

Category:

Salad

Method:

Chopping

Cuisine:

American
Keywords: Summer Chopped Salad, Summer Veggie Salad, Tomato and Corn Salad