So… I'm officially addicted to zucchini noodles, and I'm putting them in everything (made minestrone with them yesterday)! I've never been the kind of person that's particularly satisfied with healthier substitutions, but over the last couple of years I've really started to love getting creative with veggies! It turns out I had a lot of misconceptions about 'healthy food' – it can be deliciously satisfying after all.
It's hard sometimes not to judge something by it's label(s) – when someone tells me it's gluten free, dairy free, vegan, and paleo – I'm like… 'um… no thanks'! But all label shedding aside, food has to taste really, really good or I'm not going to eat it no matter how healthy it is for me! With these 'noodles' I've taken all my favorite fajita flavors and combined them into a simple and quick stir fry of sorts! It's a super fast, fresh take on fajitas, and my husband ate 3 bowlfuls!
For the onion in this recipe, I cut off both ends and cut the onion in half from the top to the bottom. Then I peel each half and lay them flat side down on the cutting board. Sometimes I take an extra moment to cut out the core at the bottom of the onion, but if I'm in a hurry I just go ahead and slice across the rounded top into 1/4″ half moon slices.
Remove the core and seeds from the bell pepper and cut it in half – then, cut each half into 1/4″ strips. Both the onions and bell peppers are sautéed together because they take a bit longer than the rest of the veggies to cook.
Timing Tip:
I find it easiest to have everything for this recipe prepared before actually turning on the stove – that way you're not overcooking your veggies while you scramble to prep the rest of the recipe!
For the mushrooms, start by cleaning them (either with a damp towel or run them under water to remove the dirt and let them dry a bit in a colander) then slice them into 1/4″ slices.
I like to measure all the spices for this recipe and have them ready to go in a small container.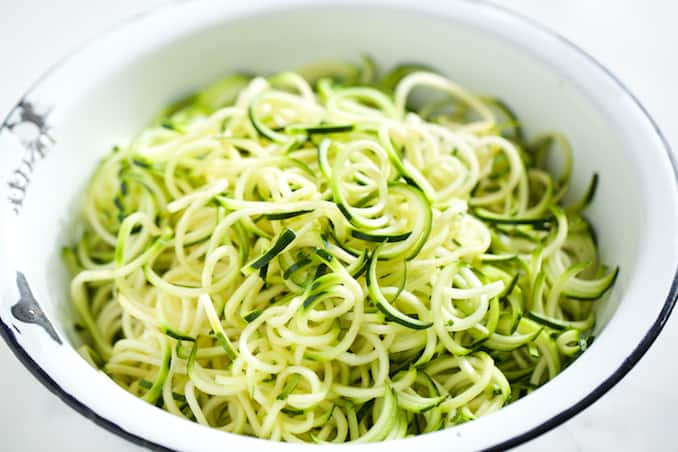 For the zucchini noodles, I've been using a julienne peeler for the past couple of years but recently I finally bought a spiralizer! A julienne peeler works really well and it's pretty fast, but the spiralizer is even faster and you can make noodles out of harder vegetables like butternut squash and sweet potatoes, (so delicious)!
When spiralizing any veggie you need a flat surface on both ends of your vegetable which really helps it stay in place while you're spiralizing. To watch the spiralizer in action, check out this zucchini noodle tutorial!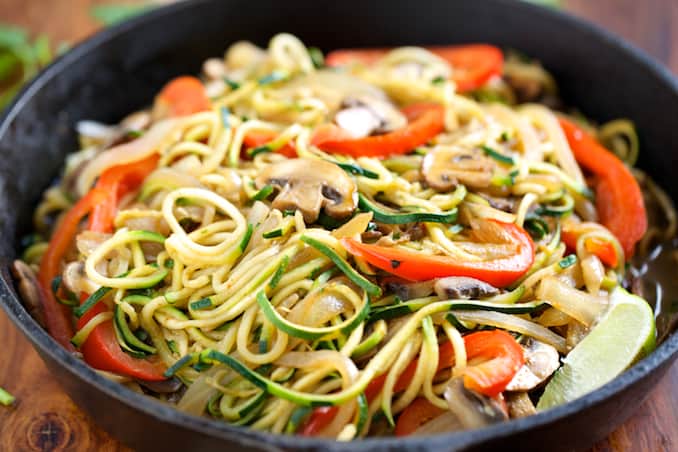 These noodles are really good, but they're over the top with some guacamole! It's just now occurring to me that there isn't a single picture of guacamole, don't know what I was thinking but I just wanted put in an extra plug for the guac!
Print
Veggie Fajita Noodles
---
2 pounds zucchini washed and ends cut off
3 Tablespoons avocado oil
1 – 8 ounce red bell pepper stemmed, seeded, and cut in half
1 – 1 pound sweet onion ends cut off, peeled, and cut in half
8 ounces of mushrooms, cleaned
Spice Mixture:
1 Teaspoon cumin
1 Teaspoon chipotle powder
1 Teaspoon chili powder
Sea salt to taste
For Serving:
1 Recipe of The Best Guacamole
1 lime cut into quarters for squeezing over the top of the finished dish
---
Instructions
Start by spiralizing your zucchini or using a julienne peeler to make veggie noodles, set them aside while you prepare the remaining ingredients.
Cut the bell pepper halves into 1/4″ strips. Lay the onion halves flat side down on the cutting board, and slice across the rounded tops into 1/4″ half moons.
Slice the mushrooms into 1/4″ slices
Mix together all the spices in a small container and set aside.
Make a batch of guacamole and cut the lime into quarters, and set aside until you're ready to serve the meal.
Preheat a large skillet, 15″ wide x 3″ deep over medium high heat.
When the pan is hot, add the avocado oil along with the sliced onions and bell pepper. Sauté until the veggies have softened, then add the sliced mushrooms and the spice mixture.
When the mushrooms have cooked for a couple of minutes and have started to soften, turn the heat to high and add the zucchini noodles. Cook until they just begin to wilt, you want them to still have a bit of texture to them – not completely soft.
I use a pair of tongs with plastic ends to toss the noodles in the pan as they're cooking. I like to turn the heat up to high when I add the zucchini noodle so that they cook fast – on lower heats they tend to leave a lot of liquid behind.
Serve the fajita noodles immediately with the guacamole and lime wedges.
Prep Time:

30 mins

Cook Time:

15 mins

Category:

Dinner

Method:

Stove Top

Cuisine:

Mexican
Keywords: Fajita Zucchini Noodles, Vegetarian Fajita Zucchini Noodles