This Vietnamese Chicken Salad is packed with veggies and protein, and it's easy to make as well. It has a lot of classic flavors from bun vermicelli noodle bowls and it's all fresh flavor. Crunchy veggies pair together with sweet savory chicken and an umami-rich dressing that makes this salad so tasty. It's also naturally gluten-free and dairy-free as well.
This salad is based on my all-time favorite order at a little Vietnamese place we used to go to. It was our favorite spot for quick lunches when we lived in Calgary. I always got B8 off the menu which was a Saté chicken bun vermicelli dish.
I have a version of that exact dish here on the blog with this Vietnamese Saté Chicken Noodle Bowls recipe. But I wanted to do a super veggie-packed salad with all of those addictive flavors, and here it finally is.
So if you find yourself craving comforting deep flavors, but still want to get loads of veggies in, this is your dish. It's also the kind of dish you'll find yourself craving because it's so flavor-packed. And you don't really notice it's mostly a big bowl full of veggies. I've found this to be key for both myself and Tyler, you really have to enjoy your veggies, to consistently eat lots of them day after day.
This recipe is fairly easy to prepare, mostly it's just chopping veggies. The marinade for the chicken uses similar ingredients as the salad dressing. That way you can make both at once while you have everything out of the fridge.
It's definitely best to marinade the chicken for as long as you can for the best flavor. I like to mix mine up in the morning and marinade the chicken for the whole day. But I have marinated it for just an hour after work, so that does work in a pinch.
My favorite way to eat any type of salad based a Vietnamese dish is with 3 fresh herbs. Mint, basil, and cilantro make the most amazing flavor. However, let's talk 'real world' where I rarely have all three on hand. During winter months, I pick just one herb to be more budget-friendly. And I always pick cilantro because it's great with both Asian and Mexican cuisines.
So part of my bunch of cilantro will go into this salad, and the rest will be some type of taco dish or guacamole. But if you have lots of fresh herbs on hand during the summer months, go all out and use the trifecta!
Since the chicken cooks quickly on the grill, I like to have all of my salad ingredients prepped and ready to go.
Once the salad ingredients are ready, you cook the chicken. Grilled is definitely my favorite flavor combination with this salad. But if you don't have a grill, you can sauté the chicken thighs on the stovetop.
If you didn't mix up the dressing when you made the marinade, mix it together while the chicken cooks. The longer this dressing sits, the more heat it will have as the chilis impart their flavor. If you don't like any heat at all, leave them out, or use half the amount called for. If the dressing separates, simply shake it back together right before serving.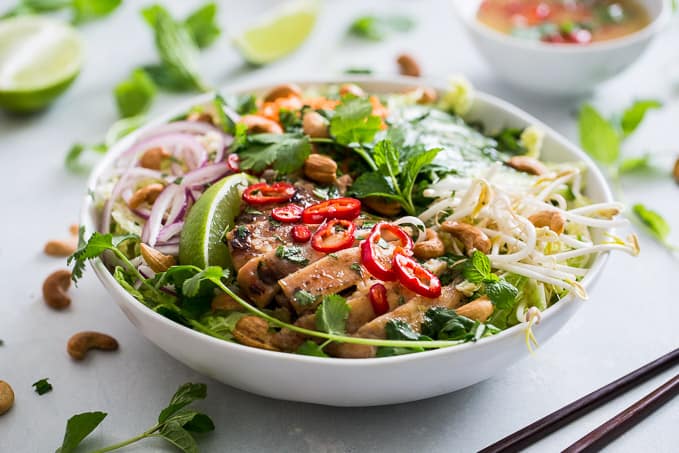 Once the chicken is done, slice it, or cube it into bite-sized pieces, and pile it onto the salad.
Serve the salad with the dressing on the side along, with the toasted cashews, and lime wedges for squeezing over the top.
And be prepared to fall in love with veggies in a big way!
Print
Vietnamese Chicken Salad
---
Marinated Chicken:
1

pound boneless skinless chicken thighs

1 Tablespoon

fish sauce

2

cloves garlic, minced

1 Tablespoon

maple syrup

1 Teaspoon

avocado or olive oil
Salad Dressing:
1/4 cup

fish sauce

2 Tablespoons

maple syrup

1/4 cup

avocado or olive oil

2

cloves garlic, minced

1/4 cup

freshly squeezed lime juice

1/4 cup

thinly sliced serrano chilis, see notes
Salad Ingredients:
10

–

12

cups shredded savoy or napa cabbage, 1 pound

1

bunch carrots, 12 ounces, peeled and grated

1

cucumber, thinly sliced 2-3 cups, 9 ounces

1/2

red onion, thinly slice, 1 1/2 cups, 5 ounces

1 cup

freshly chopped herbs, 1/3 cup each, cilantro, mint, and basil, see notes

1 cup

of bean sprouts, rinsed and dried

1 cup

toasted cashew pieces
Lime wedges for serving
---
Instructions
Place the chicken thighs in a glass container with a lid, and mix the thighs together with the marinade ingredients called for. Seal the container with the lid, and place the chicken thighs in the refrigerator to marinate for 8 hours, (1 hour minimum).
While you have the marinade ingredients out, make the dressing by placing all the ingredients into a jar and shaking the dressing together. If time is short, you can make this later when you're grilling the chicken. Refrigerate the dressing until serving time.
When you're ready to eat, prep all the salad ingredients, and place everything but the cashews into a large serving bowl.
Then preheat the grill over high heat until it reaches 400º-450ºF. When the grill is heated place the marinated chicken on the grill and lower the heat to medium-high, maintaining a temperature around 400º. Cook just until the chicken loosens from the grill, 6-8 minutes depending on the size of your chicken thighs. Then turn them over and cook for an additional 6 minutes, or until done and no longer pink.
When the chicken is done, remove it from the grill, and let it cool slightly on a cutting board. Then cut the chicken into slices, or cube into bite sized pieces. Add the chicken to the salad bowl, and serve with the dressing, toasted cashews, and lime wedges for squeezing over the top.
Notes
The amount of serrano chili called for makes a warm lightly spicy dressing. However chilis vary greatly in heat, so feel free to add as much as you'd like.
I like to make this salad with all 3 herbs when I have them. But during the months when my herb garden isn't producing, I use just cilantro because it's the most budget friendly.
Prep Time:

30 mins

Cook Time:

10 mins