This Whole30 Chicken Stir Fry with 3 Sauces is perfect for easy weeknight dinners because the sauces can be meal prepped ahead and frozen!
Stir fries are one of my favorite dinners to make for so many reasons. Probably the #1 reason is that while they're veggie packed, they still taste amazing. Any way I can eat lots of veggies, but without thinking about how many veggies I'm eating, is a go-to recipe in my book.
Another thing I love about stir fries is how easy they are to change up according to whatever you have on hand. Be sure and check out my stir fry 'formula' below so the next time you need to empty out your vegetable drawer, you're ready to go.
My Stir Fry 'Formula': My personal favorite is 3 pounds of veggies to 1 pound of meat, along with at least 3/4 cup of sauce. You can vary this according to your own tastes, but I do the 3:1 ratio because I like to make sure we're getting in plenty of veggies!
The 3 Stir Fry Sauces:
Ginger Garlic: this one is a simple but classic flavor combo we never get tired of.
Curry: for this one you can use any curry powder you'l like. Or you can use any Asian seasoning blend, or even a bit of Thai curry paste as your flavor.
Lemon Sesame: we both love the flavor of this citrus flavored one because it's light in flavor. But it's still satisfying thanks to the toasted sesame oil.
For the veggies, you can use any combination you'd like. Or get a mix of things to stir fry together that makes for bright rainbow colors. I like to do this to add veggie variety to our diet.
Is fresh or frozen veggies better for stir fries?
Hands down, by far and away, fresh veggies will give you the best texture in a stir fry. However frozen veggies are more cost effective and can be used, just know the texture will always be much softer.
Tips for using frozen veggies in a stir fry:
Thaw the frozen veggies first and drain off any excess liquid.
Add them in towards the end of the cooking time. Frozen veggies need way less time because they've already been partially cooked before they were frozen.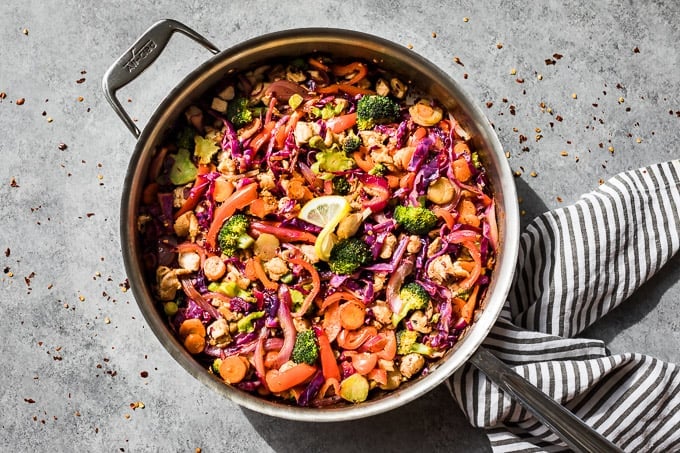 Final Tip for Meal Prepping the Sauces:

I store my stir fry sauces in 1 cup glass mason jars in the freezer. This has worked really well because I can just put them in the basket near the top in my deep freeze where they won't be jostled around.
I hope you'll enjoy these 3 different sauces in your stir fries! If you do make them, I hope you'll leave me a comment/rating below. I always love hearing from you here. And over on Instagram where you can tag me at #getinspiredeveryday with your photos.
Print
Whole30 Chicken Stir Fry with 3 Sauces
---
Author:

Kari

Total Time:

30 minutes

Yield:

6

1

x

Diet:

Gluten Free
Description
A quick and easy weeknight stir fry with no added sugars and 3 different sauces to choose from!
---
Stir Fry:
2 Tablespoons avocado oil
1 pound boneless skinless chicken thighs, cut into bite sized pieces, see notes
3 pounds mixed veggies, cut into bite sized pieces, 14-16 cups, (I used broccoli, carrots, onion, bell pepper, and purple cabbage in the photos)
Ginger Garlic Sauce:
2 Tablespoons minced ginger
2 cloves garlic, minced
1/2 cup coconut aminos, or gluten free soy sauce
1/2 Teaspoon red pepper flakes
Lemon Sesame:
1 Tablespoon finely grated lemon zest
1 Tablespoon fresh lemon juice
1/2 cup coconut aminos, or gluten free soy sauce
1 Tablespoon minced ginger
2 cloves garlic, minced
2 Teaspoons toasted sesame oil
Curry:
2–3 Teaspoons curry powder, see notes
1 Tablespoon minced ginger
2 cloves garlic, minced
1/2 cup coconut aminos, or gluten free soy sauce
---
Instructions
Prep your choice of meat and veggies, and set them aside.
Next choose one of the sauces, and if you're going to use the sauce right away, keep the garlic and ginger separate. If you're prepping the sauces to go into the freezer, mix all the ingredients for each sauce together, then portion out and freeze for up to 3 months.
To make the stir fry, heat a very large skillet, (15″) over high heat. When the skillet is hot, add 1 tablespoon of oil and sauté the meat. When it's browned and done, remove it from the pan and set it aside.
Next add the remaining tablespoon of oil to the pan along with the veggies. Stir fry until the veggies are crisp tender, 6-8 minutes. Then add the garlic and ginger if you've kept them out separate to sauté for about 1 minute. And finally add the remaining sauce ingredients of whichever one you've chosen and cooked chicken. Then cook for 1-2 additional minutes and serve.
If you're using a sauce you've prepped ahead and frozen, pour the thawed sauce into the pan and cook stirring to combine for 1-2 minutes.
Serve immediately with your choice of sides!
Notes
You can use any tender cut of meat here in place of the chicken. Also if you're short on time, try ground chicken, turkey, pork, or beef instead of a whole cut of meat because then you don't have to cut up any raw meat.
Curry powder really varies in heat, so add a small amount and then add more to taste if it's not too spicy.
The nutrition analysis is for the garlic ginger sauce, but may vary slightly depending on which veggies and meat you choose to use.
Sauce Meal Prep: I store mine in 1 cup glass containers because they're about 3/4 cup sauce giving them plenty of expansion room as they freeze.
Prep Time:

20

Cook Time:

10

Category:

Dinner

Method:

Stir Fry

Cuisine:

Asian
Keywords: Gluten Free Stir Fry, Whole30 Stir Fry Sauce, Whole30 Stir Fry, Whole30 Chicken Stir Fry, Stir Fry Sauce Recipe