This Homemade Hand Sanitizer is super easy to make and non-toxic too!
Important Note: Always check with your healthcare provider before using a home remedy as this has never been tested in a lab. Also This hand sanitizer recipe does not include the 60%+ alcohol content that the CDC and other health organizations recommend for hand sanitizer to properly kill coronavirus.
I have never been a fan of hand sanitizers, you know the usual kind in dispensers everywhere! I've always had sensitive skin and they don't agree with me at all. In fact whenever I've been forced to use them, within days my skin cracks and bleeds everywhere. And when I took a food safety course, they taught us that proper hand washing methods are often more effective.
My worst experience with it was when we went on a cruise for our honeymoon. They wouldn't let use into any restaurant area without hand sanitizer first. And while I understand they were just trying to prevent a ship full of sick people, I didn't do well with it.
In fact after a couple of days, my hand were cracked and bleeding so bad, I knew I had to come up with something to do to make it through the trip. So what I would do is let them put it into the palm of my hand, then proceed into the restaurant area and find a place to dump if off.
It was after that experience I had the idea to make my own. However somehow years went by, (as in 9 to be exact) and I didn't do anything about it. So I guess that's about how interested I've been in hand sanitizer!
But over the years when we've traveled and done some road trips, I started thinking more and more about it. For quite a while, I just used straight Witch Hazel which has done very well for me. However I finally got down to business to add some essential oils and do the thing right!
How to make hand sanitizer without alcohol?
In place of alcohol as a base, you can use Witch Hazel which is great for killing off germs. It's probably not quite as potent as say Vodka, but it does do some good! Also most people who want to use a homemade hand sanitizer for children prefer to use Witch Hazel rather than alcohol as a base. And while I'm not here to tell you what should/shouldn't be used for your child, you might also check out the Germ Buster Essential Oils blend from Plant Therapy which is formulated for children. Not all essential oils are considered safe for children, so it's nice to have an blend already made up.
Why use alcohol as a base rather than Witch Hazel?
Alcohol like Isopropyl (rubbing alcohol) is very effective at killing most germs. Witch hazel is effective but not as much so. Studies suggest that alcohol is 60-90% more effective which sounds pretty good to me. Especially when you think about traveling situations from the plane to rental cars.
Why make your own hand sanitizer?
It's non-toxic as my number one reason for making my own. There are a few good brands on the market you can find in health food stores. But the usual brands in the supermarket are full of toxic chemicals.
Cost – it's very cost effective to make your own, and super simple as well. I can make a batch that lasts months in just minutes.
Sensitive skin – I personally have very sensitive skin, so I like to know exactly what goes into the products I use.
Traveling – this pretty much doesn't even need an explanation! Having something to kill off germs while you're traveling is super convenient.
Cold and flu season – while even alcohol isn't 100% effective on all germs, Isopropyl alcohol is 99.9% effective on non-spore forming bacteria, and fights against some viruses and the common cold.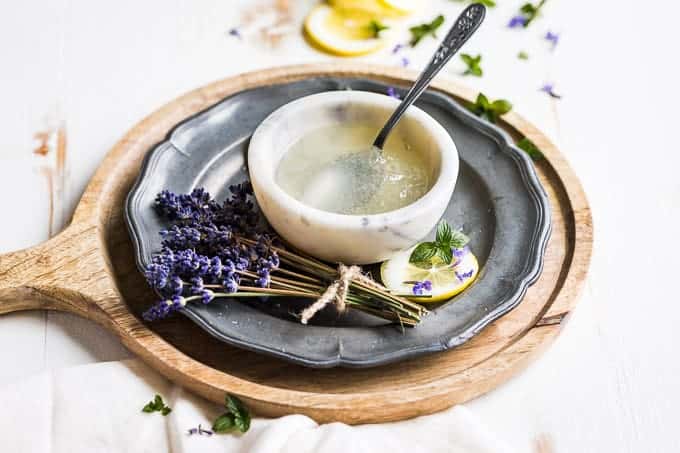 What to store your hand sanitizer in?
Any squeeze or small spray bottle you have. The 2 you see pictured here used to be hand sanitizer bottles from the store. EO makes a good brand and I'm just reusing the same bottles from when I bought it. You can also check the travel bottle section in stores like Target, although these types of bottles aren't as good of quality and will leak over time. Also REI has a great selection of small containers to take backpacking that I find useful for homemade bath & body products.
Consider using an opaque dark colored container to preserve the essential oils, (they are sensitive to light) if you can find one. Overall I don't worry about this too much because my hand sanitizer bottles are always in a dark place like my purse or glove compartment of our truck.
What essential oils are best for homemade hand sanitizer?
Lemon essential oil – antiseptic, disinfectant and anti-fungal properties.
Lavender essential oil – anti bacterial, antiviral, and I love the smell too!
Tea Tree essential oil – Anti-fungal, antimicrobial, antiseptic, antiviral, and antibacterial – whew… that's a lot!
Others to consider – eucalyptus, clove, cinnamon, orange, peppermint, rosemary, sage, and sage all have antibacterial properties as well.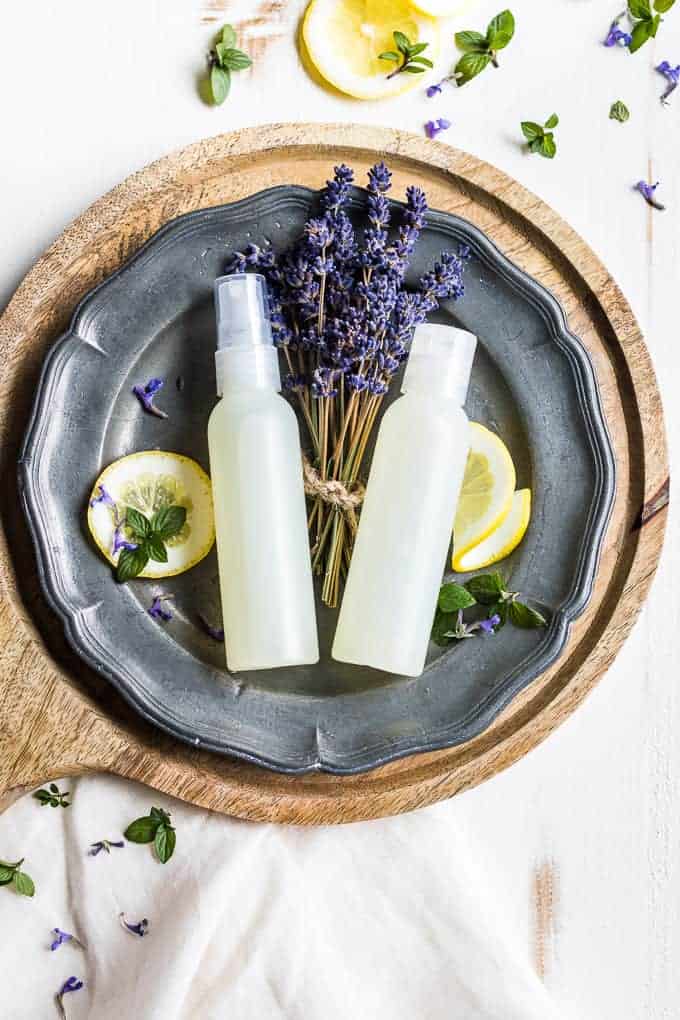 If you make this Homemade Hand Sanitizer, I hope you'll leave me a comment/rating below. I love hearing from you, and please don't hesitate to ask questions! And of course you can always tag me over on Instagram #getinspiredeveryday, I really enjoy seeing all your creations!
Print
Homemade Hand Sanitizer
---
Author:

Kari

Total Time:

10 minutes

Yield:

3 ounces

each

1

x
Description
An easy to make non-toxic hand sanitizer perfect for traveling or running errands alike!
---
For a spray bottle:
3 Tablespoons aloe vera gel
3 Tablespoons witch hazel, isopropyl alcohol, ethanol, or vodka
15 drops lemon essential oil
15 drops lavender essential oil
15–30 drops of tea tree essential oil, see notes
For a squeeze bottle:
1/4 cup aloe vera gel
2 Tablespoons witch hazel, isopropyl alcohol, ethanol, or vodka
15 drops lemon essential oil
15 drops lavender essential oil
15–30 drops of tea tree essential oil, see notes
---
Instructions
For either the spray or squeeze bottle recipe, combine all the ingredients together. You can do this by using a funnel to put them directly into your container. Or you can mix them together in a small bowl then funnel, (or very carefully) pour them into your container of choice.
If you're using a clear container, be sure and store it in a dark place to help preserve the properties of the essential oils.
Essential oils can separate over time, so I recommend shaking up your hand sanitizer before each use.
Notes
The more tea tree oil you use, the more effective it is in killing germs. However I personally have some sensitivities to this particular oil, so I use the small amount which seems to work fine for my skin. Also as an essential oil disclaimer, these are generally considered to be safe oils for most people. However keep in mind they may not work for you and you should always seek the advice of a medical professional/discontinue using them if you have any reactions at all! Also some of these oils can have a photosensitivity in some people where you could have a reaction when your skin is exposed to the sun. I've personally not had this problem, but just wanted to mention it.
Also this recipe makes about 3 ounces each – spray or squeeze bottle.
Keywords: DIY, Hand Sanitizer, Homemade