I love making lip balms because they're the perfect balance between a chapstick and a lip gloss. Don't get me wrong there's definitely a place and use for all 3, but lip balms are my most used lip product.
They have plenty of deep conditioning properties, but they leave a nice gloss behind as well. In the depths of winter you might be better off with the really intense conditioning of a chapstick. But for most of the year, lip balms are my favorite.
I hope you'll feel free to change up the different scents in this recipe because you could really use any essential oil you'd like. Since it's still technically summer and I have an abundance of lavender, that's the direction I went today.
Honey and lavender are great together and this lip balm smells like a dream. And even better it leaves my lips soft and nicely conditioned, because let's face it… even when you do you best to stay hydrated, sometimes it gets away from you, and that's where lip balm comes in!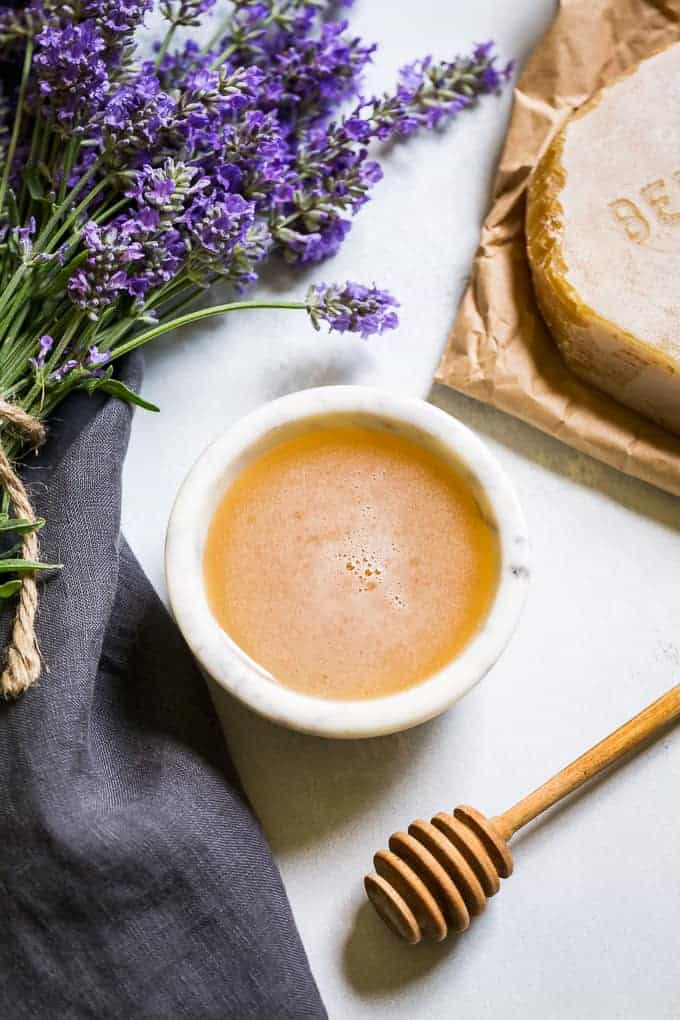 This recipe is easy to make, you simply melt everything together in a small saucepan. Then there's one easy but crucial step to make sure it emulsifies. Since this recipe contains honey, it's essential after the ingredients have been melted together to whisk the lip balm over an ice bath until it thickens. This ensures that the honey emulsifies into the lip balm. Without the ice bath step, it will separate into a chapstick layer with a honey layer on the bottom.
For this reason, I like to portion out this lip balm into small containers as opposed to chapstick tubes. Since you can't pour it into the containers in liquid form, you want to use a small container you can spoon it into.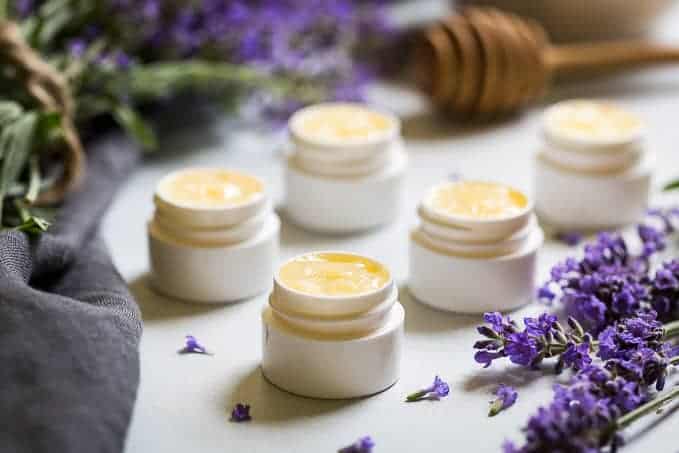 This recipe is quite small, but it still makes 6-8 lip balms. Since it will keep for quite a few weeks, you can easily use a couple, and the rest make for great gifts!
Homemade Honey Lavender Lip Balm:
Ingredients:
2 Tablespoons coconut oil
2 Tablespoons jojoba oil
1 Tablespoon + 1 Teaspoon grated beeswax, 4 grams
2 Teaspoons honey
10 drops lavender essential oil, or to your smell preference
Directions:
In a small saucepan melt together the coconut oil, jojoba oil, beeswax, and honey over medium heat until the beeswax has completely liquified.
When the lip balm is melted, remove it from the heat, stir in the lavender essential oil, and set it aside.
In a large bowl, add 2-3 cups of ice cubes and fill the bowl halfway with water. Place the saucepan over the ice bath and stir vigorously with a spatula until it becomes thick, but not solid, (be careful not to splash any water from the ice bath into the lip balm). Don't worry if you over chill the lip balm, simply remove it from the ice bath and wait for it to warm up enough that it's no longer solid.
When the lip balm has become thick and emulsified, remove it from the ice bath, and portion it into 6-8 small containers of your choice. I used small containers about 1″ wide by 1″ deep.
These lip balms will keep 4-6 weeks.