I used to put away most of my vases after the summer season had ended, and they wouldn't come out again for another 8 months. But then I started thinking that I really should do something with them, (well that and I needed the closet space) so this is just one of the ways I've started using my vases year round!
Placing decorative branches in your vases can fill in the gap in a room like nothing else. I was given the gorgeous crystal vase in the above picture as a wedding gift, and I have to admit I was a bit stumped on what to do with it at first. Because it's so gigantic, it takes a lot of long stemmed flowers to fill it which can get pretty spendy when there aren't free flowers blooming outside in the garden.
Every spring I fill that vase with apple blossoms for one short week of the most intoxicating scent you've ever had in your home. And that's what gave me the idea to purchase some decorative branches for a less messy and more long lasting approach.
For the springtime I have a few branches of cheery yellow forsythia, and for the fall I have some copper colored slightly glittery leaves. And now I've finally brought my vases into year round use with these snowy/sparkly branches.
I used a mixture of white half marbles and clear ones to create the filler in this vase. You can definitely go with any color scheme, I just find it easiest to match to white for whatever season it is.
This is definitely the simplest 'craft' project you'll ever take on, and I used quotes because it barely qualifies as a project as it only takes a few minutes with no glue/sewing machine/or tools involved. If you're thinking 'alright this is right up my alley' then we're the same kind of craft people (i.e. nothing too involved)!
You start by choosing a vase, half sized marbles, and some decorative branches. Fill the vase with 1-2″ of marbles…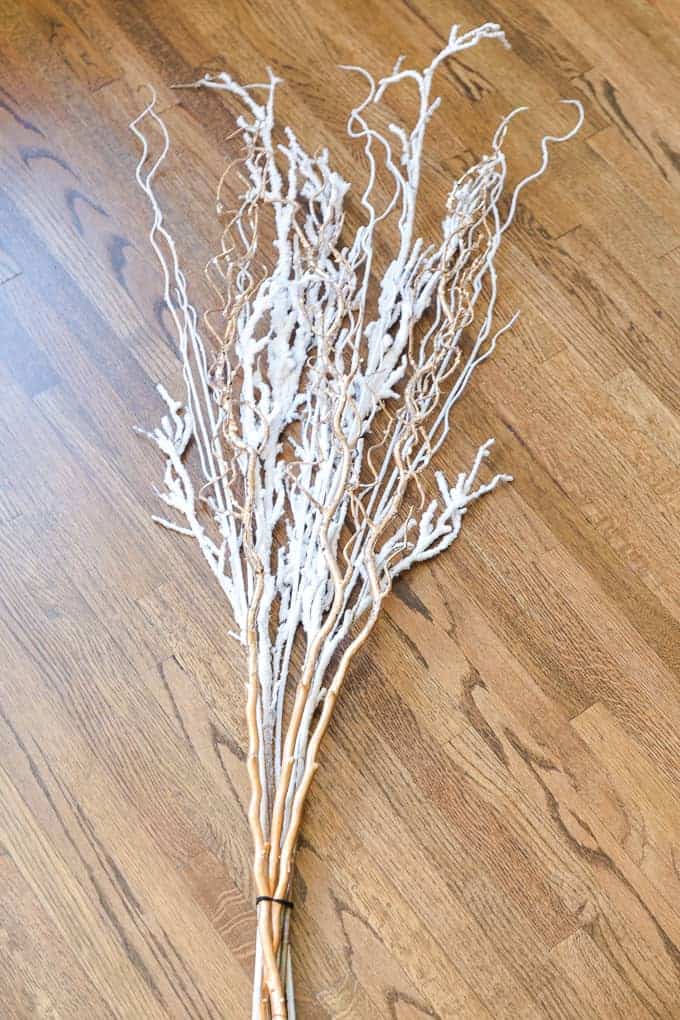 …then lay out your branches, arranging them so that they look balanced without anything sticking way out to the side. Next it's time to secure them together because they rarely stay looking nice in the vase all by themselves. I use hair ties to secure my branches together, and I also use them in the summertime on live bouquets of flowers. The great thing about hair ties is the elasticity which allows the branches to bend out naturally while still holding them together. The only thing you want to watch for is making sure the hair tie is placed low enough on the branches that the marbles will cover it up when you fill the rest of the vase.
Finish by placing the branches in the vase and filling up around the branches with a few more inches of marbles being sure to completely cover the hair tie.
You can vary this as much as you'd want with colored vases, different colored marbles, and different heights of branches to correspond with whatever vase you've chosen.
A few other things I like to do with my vases in the off season is to fill them other knick-knacks like pinecones for a winter theme or even sea shells for summertime in between batches of flowers. The other thing that looks great, is to place battery operated candles in your vases, especially if they're on a timer so that they come on every night at a certain time. It really gives a wonderful glow to any room!