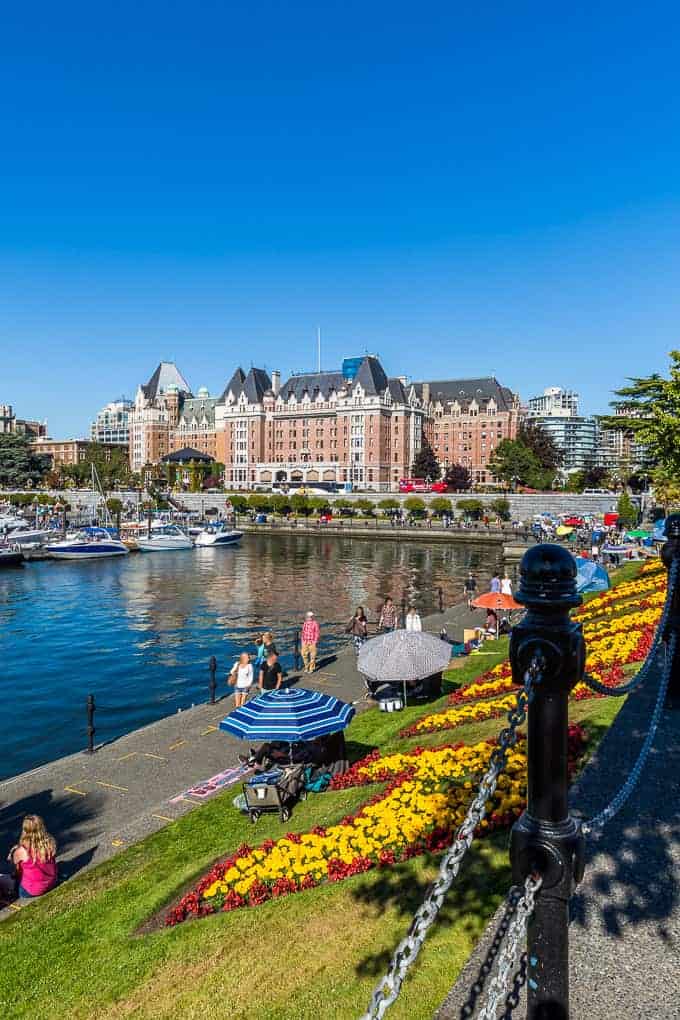 We absolutely loved both our visits to Victoria, and I feel like I could go on forever about this quaint city. It's situated right on the water, and it's simply stunning.
There's lots of places to visit and even more great places to eat at. So you'll have a hard time narrowing it down when you visit. The Butchart Gardens are definitely worth a tour if you love plants, or love to admire nature.
It can be quite busy during the summer months, so it's always nice to go early or late. During the summer, they have outdoor live music where you can spread out a blanket and have a picnic. The summer evenings finish with a fireworks show as well if you decided to stay late.
The British Columbia Parliament building is located here too, and provide stunning views as you walk along the water. This city is definitely vibrant and full of life with people out playing frisbee, and street performers everywhere.
Walking along the waterfront is always fun, even if it is a touristy thing to do.
My favorite part of the wharf is Red Fish Blue Fish, where you can get the best fish 'n' chips. I love eating fresh seafood right on the wharf, and it's always something we look for when traveling to the ocean.
Many people told us the best fish 'n' chips was a short water taxi away in a quaint little area. (You can see the cute colored houses in the last photo of this post.) But after visiting it, I can say without a doubt that Red Fish Blue Fish is way better!
Both times we visited Victoria, we took the ferry back to the States, and that's always a fun ride as well. The scenery out on the ocean is gorgeous, especially if you happen to catch a sunset!
And if you're ever in Victoria, be sure to plan a little time to head up island to Tofino which is another magical town on Vancouver Island!