Corona Arch Hiking Trail is a popular trail in Moab. It's one of the largest arches near Moab and it's absolutely spectacular! It's not within Arches National Park so there's extra recreation in this area as well. You'll have a blast on this hike and it's mostly family-friendly as well, (see details below).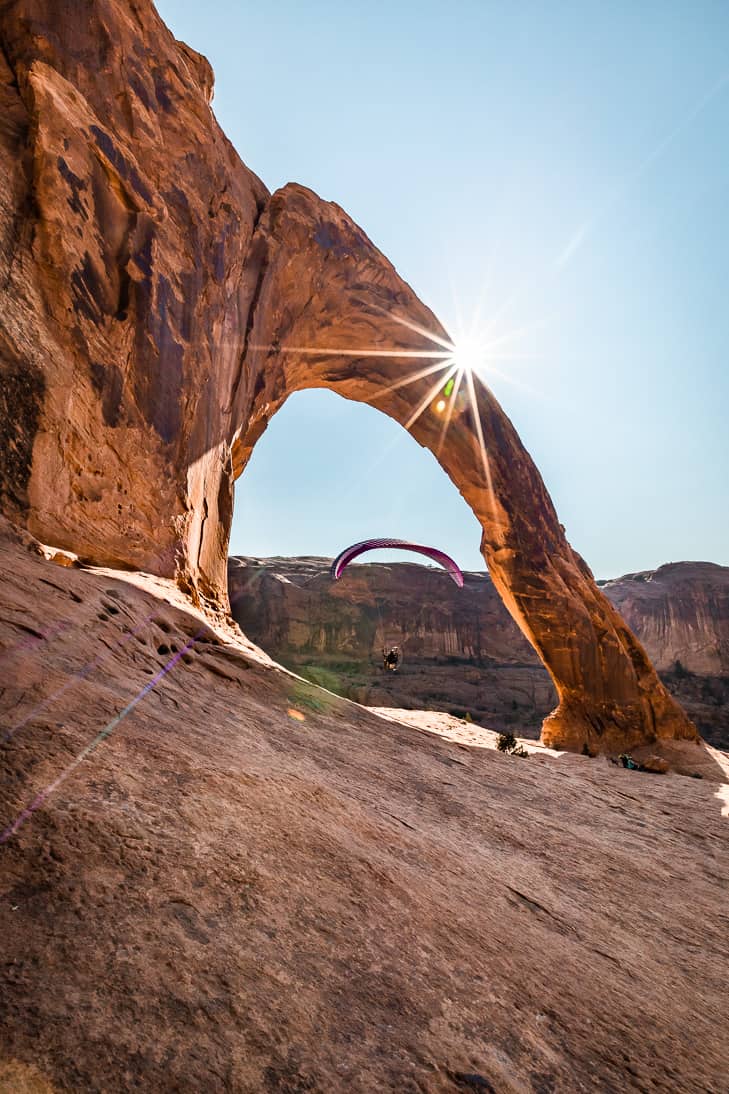 Corona Arch was one of our favorite hikes from our time in Moab. Even though we usually prefer really quiet trails, this one wasn't too busy! We also got super lucky and arrived at the arch just in time to see some paragliders come through.
The other bonus on this trail is you pass by Bowtie Arch right before you reach Corona. And there's a side trail you can take to see Pinto Arch as well. We ran out of time to take that side trip, but we were camped in the Gold Bar Campground below that area 2 nights later when a hiker stayed out too late and got lost in the dark.
We were making dinner and didn't initially hear his shouts. By the time we figured out his SOS signals, someone else had headed off to his rescue!
(Read our story of this hike at the end after all the tips!)
Everything you need to know about Corona Arch Hiking Trail in Moab
Length – 3 miles roundtrip
Elevation gain – 440 feet
Trailhead – is located just north of Moab. Turn onto UT 279/Potash Road (1.3 miles west of the Colorado River Bridge). Drive for 10 miles until you reach the signed trailhead on your right.
Trail – is a mix of sand and slickrock. It's well marked with cairns and with paint in the slickrock sections.
FAQ's:
Is Corona Arch in Arches National Park?
No, it's on BLM land located off Potash road.
Are there bathrooms at the trailhead?
There are pit toilets available at the trailhead.
Are dogs allowed on this hike?
Yes! But there are a few people who have had trouble with the 5′ ladder and the steeper sections. Either you can carry your pet up the ladder if that's an option. But we also saw a couple take a large dog around the ladder on the way down.
What is the best time for photos at Corona Arch?
Just before sunrise for sky color or after the sun goes down. Or mid mornings after the sun has past the arch are best here for photos. You may even get a nice starburst as the sun comes around! The sun isn't directly on Corona Arch for either sunrise or sunset.
When is the best time to hike Corona Arch?
Mornings! The mornings are the best in the desert. By the end of the day all the rock is quite hot, so even though the sun is going down, it still seems hot. Corona Arch is an all year round hike, but I can only imagine how hot the summer would be. We went in October in the 'off season' so it was quieter and it only hit 90º once during our trip.
Is this hike family friendly?
The answer is yes and no. We saw lots of families with young children having a wonderful time. But they also kept a close eye on them and were able to help/carry the smaller ones through the steep sections. It just comes down to what you and your family are used to. Also definitely come with sun screen and layers along with plenty of water and snacks!
Is there cell phone service?
No, we didn't pick up a signal.
Tips for hiking Corona Arch
Hike through the arch to the other side. The view looking back is wonderful as well!
There are some places that might be cause for concern if you don't like heights. I wouldn't say it's anything drastic, but if you come to the first cable and feel uncomfortable, it's a good place to stop. Don't worry though you will still have a distant view of the arch.
Bring plenty of water and salty snacks! This goes for pretty much any dessert hike. But since we're used to hiking in the Rockies, we were constantly surprised by how much water we drank. We always brought lots, and we always drank up our supply by the time we were done.
Be sure to check out Driving Shafer Trail because you can tie that in with this hike! If you start in Canyonlands earlier in the day, you may still have time to hike Corona Arch on your way back to Moab.
Story time
We started our day camping on BLM land outside Canyonlands National Park. After brewing some pour-over coffee, we started driving for Potash Road. We had a slow start this morning because we had hiked Syncline Loop in Canyonlands the day before. And yes… it's just as hard as they say it is!
So it was late morning around 9-ish before we actually got it together and started up the trail. By 10 am we had already reached the arch, and just in time! I was just pulling the camera out of my backpack when I heard a loud buzzing. I turned around just in time to get a few photos of some people paragliding through the arch!
After that, we spent way too much time taking photos, (like usual!) then had some lunch before heading back down. From there the day really was just getting started because next we headed into Arches National Park.
We spent some time looking at what you could see near the road. Then we settled into time-lapse the sunset before heading over to take some star photos of the famous Delicate Arch.
That's a whole different story for another day because we ended up having quite the adventure. From there we moved on to Double Arch and spent hours laying under it watching the stars go by.
Then we ended up pulling an all-nighter in Arches because we had no legal place to camp. And the next morning with double coffees after no sleep we did the famous and really incredible Double O Arch in the Devil's Garden hike.
I'll be sure to post the links to each adventure as I get them written! But for now, I'll just leave you with one final shot of the 2nd paraglider sailing through the arch. It's a 140′ by 104′ wide opening, and it's wonderful to spend some time laying under it if you can. You really get a sense of the magnitude when you're just a dot in the landscape!