Observation Point is one of our top favorite picks from our time in Zion National Park. The views are incredibly stunning in every direction, and there are a few interesting attractions along the way to the top as well. This trail is also perfect for those who want similar views to the popular Angel's Landing hike without the threat of a 1,000′ drop-off.
That's not to say there aren't drop-offs on this hike, but you're not so close to them. The trail is quite wide wherever there's a drop so it's easy to stay on the inside, far away from the edge. This trail is also considered one of the more strenuous hikes in the park, and I can see why with the significant elevation gain. There's also the element of the sun, whenever you go to Zion be sure to start early because that desert sun can really get to you.
We visited in late October and it was still cooking hot for a few days, but then again we're Northerners, so neither one of us handles the heat all that well. Regardless of what you're used to, the temperatures here soar over 100ºF regularly, and you can quickly become dehydrated, so it's super important to carry even more water than you normally would. We found ourselves drinking almost twice as much water while hiking in Utah than we would normally drink while hiking in Montana!
Observation Point starts from the Weeping Rock trailhead which is the 7th shuttle stop just before the Temple of Sinawava and the entrance to the Narrows. The trail gains 2,100′ over 4 miles to the lookout point. There are a few precious spots of shade when you get to the top that you might be able to eat your lunch in if you get there early enough.
You can also hike to the Weeping Rock and Hidden Canyon all from this same trailhead, and we'll talk about both of them in greater detail in further posts. If you're a really (emphasis here) strong hiker, you can probably do all 3 in 1 day if it isn't the heat of summer. Hidden Canyon is a wild card because there's no exact distance it's just as far as you're comfortable scrambling, and I do mean scrambling, it's hands on canyoneering that gets more serious the further you progress. But if you're only doing a small amount of Hidden Canyon, (we spent about 2 1/2 hours in there) you can definitely squeeze them all in, especially if you're on a tight time schedule.
One of the parts of this hike I really enjoyed was the short stretch of the canyon that you go through, which was one feature I thought set this hike above even Angle's Landing for overall variety. Although that being said, you can't beat Angle's Landing for sheer amazing views if you don't have problems with heights. Can you tell I can't even make up my mind which hike I loved the best because they were so incredible!
Right about here, we stopped to set up for a photo and Tyler stepped to the edge of the trail to make room for some passing hikers, only to step right into a cactus completely by accident, (obviously). Let me tell you what, you want to be careful about those little guys lurking right next to the trail. Once they offload their little stickers into the side of your barefoot minimalist shoes (um… ouch!), it's really hard to get them all back out!
There were a couple of things new to us hiking in Zion, for one, most of the trails have sections that have been paved to help with erosion. This can really get to your knees, especially when you're doing more than one hike per day. The other thing was all the sand, sometimes you were 'hiking' in 3-4 inches of sand which wears you out over time. The sand is powdery fine, and I'm still trying to get it out of my shoes!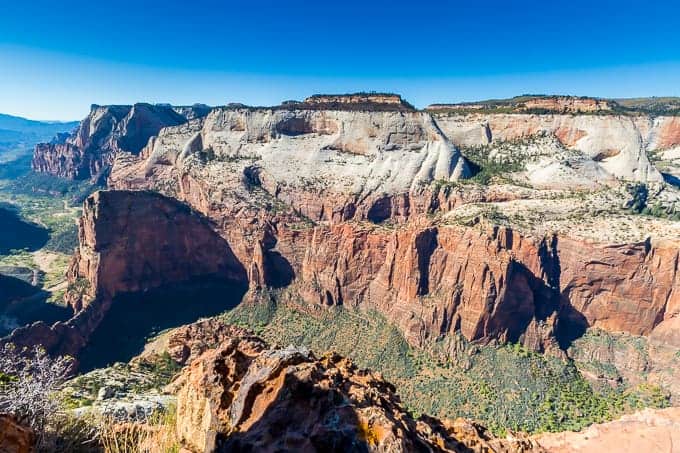 From the lookout point, you can see Angle's Landing which is the curving bit of rock jutting into the canyon on the far left side of the above photo.
And just in closing, I was wondering if you've ever been hiking in Utah? We loved our time there so much that we can't wait to plan another trip, and we're looking for recommendations.