The Sun Point Nature Trail in Glacier National Park is a truly underrated trail. It rarely makes anyone's 'top 10' list, but it has non-stop views, and can be combined to see 3 spectacular waterfalls along the way. It's also the perfect trail for families because you can make this hike as short as you'd like. The trail gives you lots of views of the beautiful Saint Mary Lake with rugged peaks surrounding it. Take time to stop and enjoy the views at the different overlooks along the way. This entire hike has so many photography opportunities.
There's a lot of confusion about what the 'Sun Point Nature Trail' is and how long it goes. Most will tell you begins at the Sun Point parking lot and runs past Baring Falls ending at the Sunrift Gorge parking area. But according to the current park service website, it's a 0.8-mile short walk to Sun Point and back to your car.
However, we're going to dive into all the ways these trails interconnect so you can select the best option for you! The 'hike' to your destination of Sun Point from the Sun Point parking area is basically a 10-minute stroll with a spectacular viewing area. This is a great option for families because this parking lot has a picnic area and bathroom facilities as well.
So if you're looking for something short, or a place to watch the sunrise or sunset, this is a great option if you're in the area. The views over Saint Mary Lake with the surrounding mountains are truly stunning.
From Sun Point, you can continue along the trail leading you around Saint Mary Lake towards Baring Falls. The trail passes through an area that burned in a wildfire in the 2015 Reynold's Creek Fire. This has left the trail much more open with great lake views.
Or if you're up for a bit more, continue on to St Mary Falls which is glacially colored and incredibly beautiful. The trail is more treed and not as interesting in this section. But if you continue on to Virginia Falls, the trail passes by different 'mini falls' in the creek next to the trail which is really gorgeous.
I definitely recommend doing the whole route if you're able because it's a stunning and varied trail overall. And it doesn't hurt you get to see 3 separate waterfalls as well! Each one is a beautiful waterfall with its own unique characteristics.
What you need to know to hike Sun Point Nature Trail in Glacier National Park
Distance – 1.8 miles one way from Sun Point to Sunrift Gorge
Elevation Gain – 213′
Difficulty Rating – easy to moderate depending on how far you go
Trailhead – is located just over 9 miles from the Saint Mary's entrance station at Sun Point parking area, (there will be signs). You can also get here from the west entrance by driving up to Logan's Pass and about 10 miles down the other side as well. As a bonus, there is a large parking area for this hike compared to most areas in the park.
Bathrooms – pit toilets are located at the Sun Point parking lot but not at the Saint Mary Falls parking area if you hike this as a thorough hike. There is another pit toilet located near Virginia Falls as well.
Shuttles – check with the park service for the most up-to-date information. Normally you can park at Sun Point and hike past Baring Falls exiting on the Siyeh Pass trail to the Sunrift Gorge shuttle stop. But in the last couple of years they're changing the shuttle schedule and stops all the time! 'Know before you go' so you don't get in too far and end up doubling your hiking distance.
Clearing up the confusion
The reason there are so many different distances for this trail is because it connects to other short hikes. This creates a lot of confusion, so it's best to know your options before going. Below I'm including 3 different ways to hike the Sun Point Nature Trail so you can choose which one is best for you.
How to hike the Sun Point Nature Trail 3 Ways
Shortest hike – starting at the Sun Point parking lot, follow the trail signs up to Sun Point and loop back for a roundtrip of 0.8 miles. You can also just hike the very short 0.1 miles from the parking lot which takes about 10 minutes. From there don't take the loop, just head back the way you came.
Medium hike – starting at the Sun Point parking lot, hike to Sun Point, then follow the signs to Baring Falls and exit on the Siyeh Pass trail to Sunrift Gorge. There are signs along the way to help you know which way to turn. This hiking option is 1.8 miles one way. If the shuttles aren't stopping at Sunrift Gorge you'll need to hike back making this 3.6 miles. This is also the route listed on AllTrails, although they don't calculate the distance from the parking lot to Sun Point into their total.
Longest hike option – starting at the Sun Point parking lot, hike to Sun Point. Next, follow the signs for Baring Fall with views of the lake along the way. And from there you'll want to follow the trail signs to Saint Mary Falls and then Virginia Falls. Virginia Falls is the furthest point of this hike. Simply return the way you came, and enjoy how much different the Saint Mary Lake views look on the way back out. This option is 6.5 miles and 775′.
How to hike the '3 falls hike' from Sun Point to Baring Falls, Saint Mary's and Virginia Falls
Distance – 6.5 miles roundtrip
Elevation Gain – 775′
Trailhead – start at the Sun Point parking area, hike to Sun Point, then follow the signs for Baring Falls. And finally from there follow the signs to St. Mary and Virginia Falls before returning the way you came.
This version of the Sun Point Nature Trail hike is referred to as the '3 falls hike' because you get to see Baring Falls, Saint Mary's Falls, and Virginia Falls. The grade is moderate and this hike is simply gorgeous from start to finish.
Even as you make your way back from Virginia Falls to Sun Point where you started, you'll find yourself stunned by the views. It's very much like a whole new hike on the way back which makes this one extra enjoyable.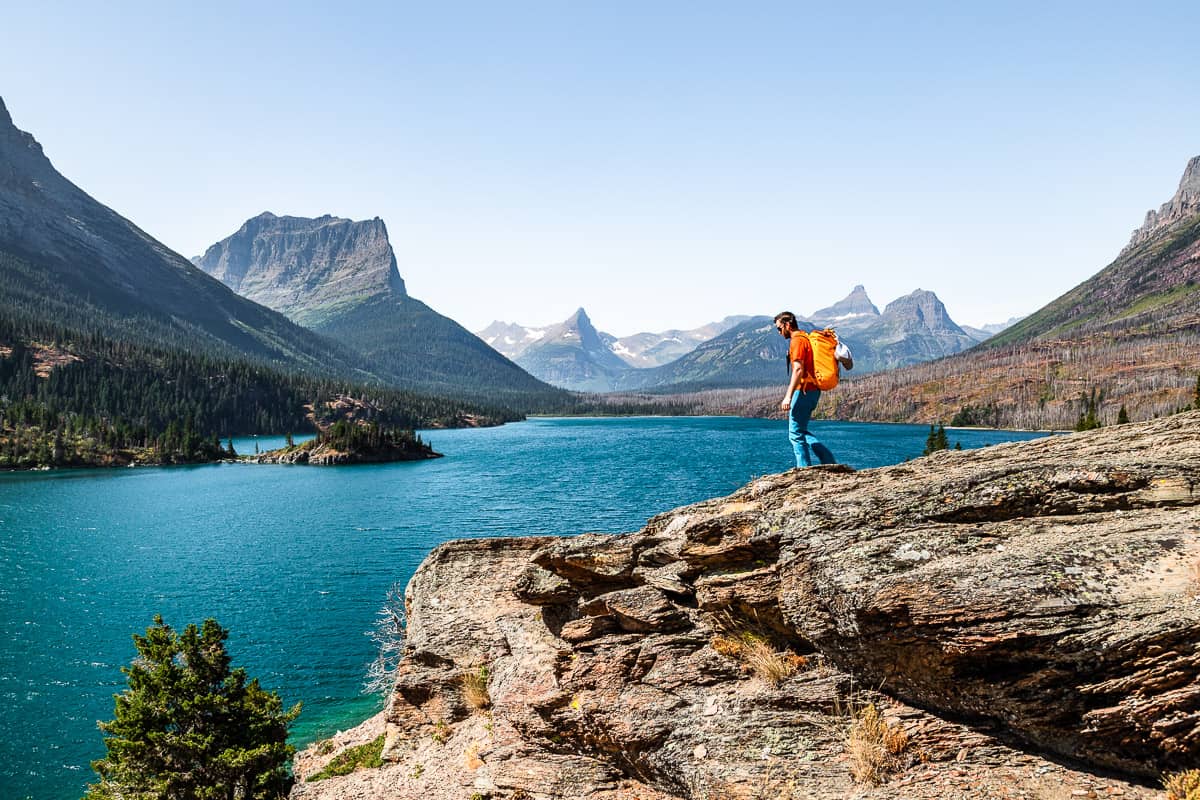 FAQ's
Is the Sun Point Nature Trail good for kids?
Yes, this is one of the easier trails in Glacier National Park and great for kids. If your children are young, consider just going as far as they'd like to go. Even if you go 10 minutes to Sun Point from the parking lot, the views are still worth it and great for very young children.
How long is the Sun Point Nature Trail?
According to the Glacier National Park website, it's a short hike, a 0.8-mile loop from the Sun Point Parking area. It can also be the short distance of a 0.1-mile spur from the parking lot to Sun Point and then head back out. Or you can extend the hike to all 3 waterfalls for a roundtrip of 6.5 miles.
What's the best time of day to hike the Sun Point Nature Trail?
Morning is generally the best for the direction you'll be heading. Catch the sunrise at Wild Goose Island, then head over to Sun Point for your hike. It can also be very beautiful in the evening as well with everything being well lit with an alpen glow on your way back. However, hiking in the late evening brings more chances of running into wildlife. It's always recommended to hike with bear spray in Glacier National Park.
What is there to see on the Sun Point Nature Trail in Glacier National Park?
In the shortest option, 0.1 miles to Sun Point you will come to a stunning overlook where the vastness of Saint Mary Lake is all around you with rugged peaks surrounding it. If you add the extras to this trail you will also see up to 3 waterfalls as well.
Tips to have the best hike on Sun Point Nature Trail in Glacier National Park
Choose the right lunch spot or snack spot. Depending on the time of day you're hiking there are several options for great spots. If you're arriving a bit later, try having lunch at Sun Point which is spectacular but often windy. Otherwise, just after Baring Falls, you'll come to a place where the trail is right next to Saint Mary Lake. Take the visible side path a few feet down to the water's edge, and enjoy the beautiful views for lunch. Otherwise, Virginia Falls makes the perfect lunch/snack spot as well!
Swimming! You can find a good spot to take a dip in the lake just after Baring Falls. Saint Mary Lake is one of the colder lakes in Glacier, so be ready! It's definitely worth it on a hot day, the cold water is incredibly refreshing.
Parking problems – avoid the typical national park congestion problems by getting an early start. Also, the parking lot at Sun Point is much larger than the parking area for Saint Mary and Virginia Falls. You can start at either parking lot. But I think this hike is best done starting at Sun Point and hiking to Virginia Falls as the furthest out point and back again.
Be aware this is a very popular hike that can get crowded! Since it's moderate and can be done in smaller sections, this hike is very popular, especially with families. We had to wait in a small line-up for a chance to go up the ledge to get closer to see Baring Falls pictured above. Just know there are certain areas of this trail that get crowded at times. But overall the trail is long enough that everyone spreads out pretty well.
More amazing hikes in this area of Glacier National Park
I really hope you'll find this helpful in planning your trip to Glacier National Park! If you have any questions, let me know below and I'd be glad to try and help.