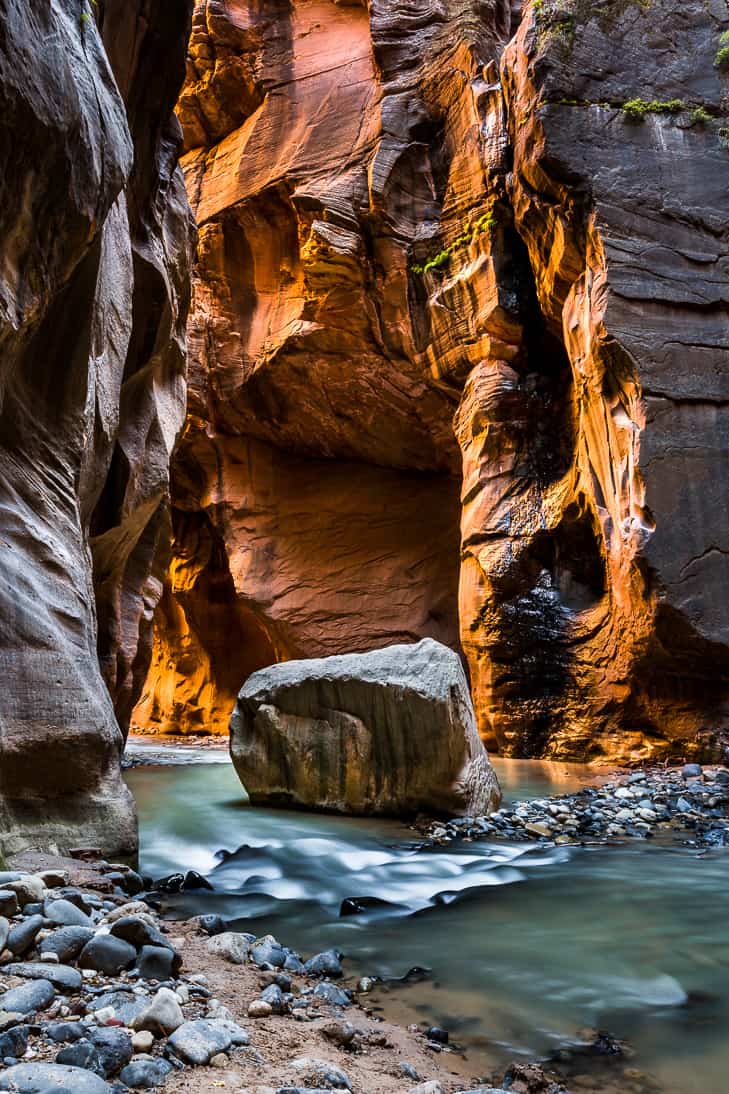 There is no possible way to over exaggerate the beauty of The Narrows hike in Zion National Park! It's rated as one of the top, if not the #1 hike in all of the United States. With those kinds of words to live up to, you might expect you'd be disappointed, but instead you'll find yourself looking up at the most beautiful and mysterious canyon you've ever seen.
That's not to say you're not going to deal with some challenges, along with fame comes a price – this is a busy and often crowded hike. Some of these photos took me 45 minutes or more to get without a steady stream of people in them, and we went in the off season.
There's also the delicate topic of the smell along the first part of the Narrows which comes from the fact that this hike is incredibly popular and there are no bathrooms. So it would seem that people just go anywhere along the trail, and well… it really smells at points.
Despite the amount of people and other factors we faced including 40ºF water, this is still one of the most amazing hikes I've ever done. It doesn't seem to matter what you're going to do in life, there are always drawbacks, so if you just choose to ignore some of the issues, you'll have a much better day.
We stopped to set up for a photo right in this very spot (above photo). And no sooner did I get my tripod set up and my camera ready, (note that I'm squatted down in 40ºF rushing water trying to keep my footing and not dump my camera in the river) than a girl with her iPhone steps right in front of me and the guy next to me who has been trying to get the shot for a while now. She then proceeds to spend at least 5 minutes standing right in front of our cameras. While I know we all want a shot, maybe we can stand next to each other to get it, instead of being so pushy?
Anyways… I started laughing at the absurdity of it all, but the guy next to me was mad, so mad I thought he might just strangle her. She eventually wandered off and I got my photo. But while she was blocking our cameras, I started talking to him and found out that he had traveled all the way from Italy to get photos of the famous Narrows. Which really got me thinking that often we've all come a long ways to see something, and it would just be so much nicer if there was a little respect offered to those around us.
But for every disheartening experience you can find so much good ones around you that it's really not worth dwelling on, I just want to add a little reality into the magic of this place. On a positive and fun note, we met a group of three guys hiking along, 2 of them were brothers living on opposite sides of the United States.
And they were hiking with their father who had flown all the way from India to spend a vacation with his sons. The father asked me to take a picture to commemorate their trip, so I gladly took their picture, and emailed it to them later when we got back home.
The early section of The Narrows looks a lot like this photo and the next one…
… but be sure you start early in the day so that you can get to the best part – Wall Street.
The section of The Narrows called Wall Street is where the walls start closing in, and it all becomes dark and mysterious. Towards the second half of the day, the light starts refracting around the canyon, and it's pure magic!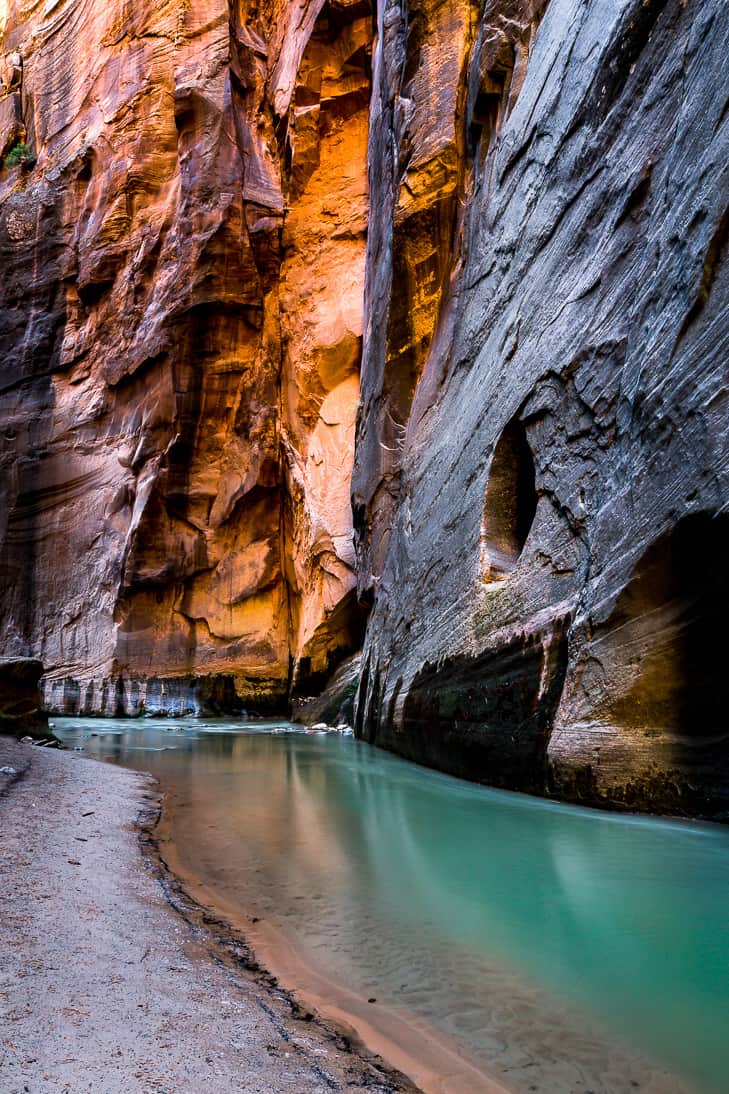 This photo was taken as we were right at the end of the hike. I looked back and actually gasped out loud, there was a rock wall that was covered with moss and algae I hadn't paid any attention to early that morning, and it had suddenly turned to gold with the last rays of sunlight. Which really proves you'll never have a bad view all day long!
No post about The Narrows would be complete without mentioning the dangers of this hike. Because it's a narrow canyon, flash flooding is a serious concern, and it's recommended not to go in without checking with the authorities.
There's 2 places in the town of Springdale, (located at the entrance of the park) that rent out gear to go into the canyon with, and they can give you current conditions. Since we went really late in the season, we needed to rent canyoneering shoes and pants because the temperature of the water was so cold.
We did see some people trying to hike without gear, but they didn't make it even 1/4 of the way. They also rent out hiking sticks which will be really helpful for the constant river crossing you'll be doing.
If you're going to be renting gear, it's nice to go into town the night before to secure your rental and get sized for what you need. They also require you to watch a safety movie, so with that in mind, it's good to have it all out of the way so you can have the full day hiking The Narrows!
And finally, if you're visiting Zion, you may enjoy reading about the popular Angel's Landing Hike.