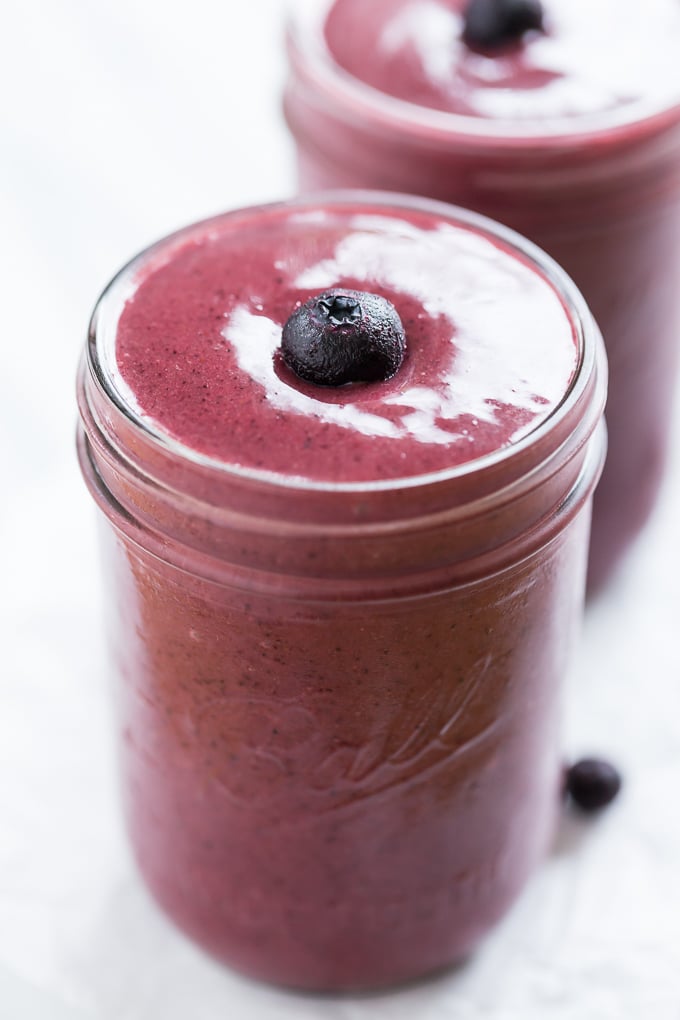 We drink smoothies almost everyday of the week, it's our secret to staying as healthy as possible year round! It's the most convenient way I've found to amp up our daily serving of fruits and veggies because it's quick to make and portable! Whenever we're travelling, I pretty much fall right off the healthy wagon, and I start to notice I'm not feeling well within just a couple of days. So… the last couple of times we've gotten away for the weekend we've made sure to keep drinking smoothies, and we've both felt way better! Turns out I'd rather cut back on some indulgences rather than feeling sluggish on my time off!
I've never been a big fan of restaurant chains, but the one thing they have going for them is that they're pretty much everywhere! So, when we're traveling it's pretty easy to find a smoothie chain and stay on track in the fruits and veggies department! Today's smoothie inspiration comes from one of those chains where they sell a smoothie called Abundant Acai. Right away I knew I was hooked and that I'd be making an at-home version! Acai berry doesn't taste super fabulous on it's own, but it adds a distinctive flavor when combined with other fruits that I find completely addicting!
In the original smoothie, they used cranberry juice as the liquid but I love using kombucha in my smoothies because it comes loaded with probiotics! Probiotics are another one of our favorite ways to keep healthy, we've both managed to go an entire winter season without a cold since we started taking a good quality probiotic daily! The G.T. brand of kombucha comes in several flavors, I used the cranberry one for this recipe to keep true to the original smoothie, but you could use the citrus flavor or the unflavored original.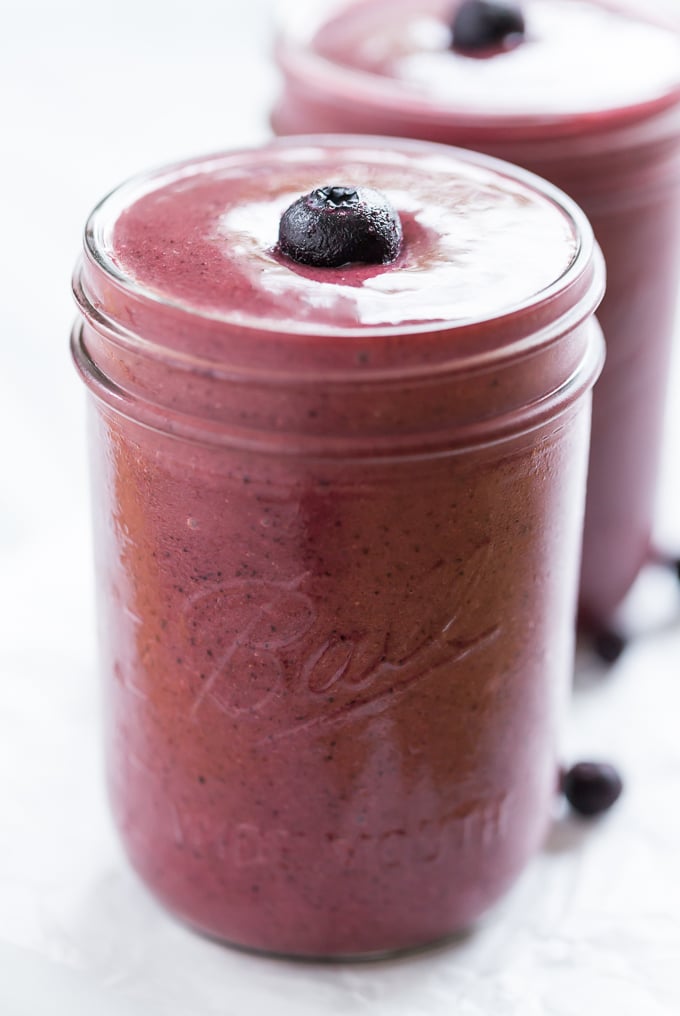 Acai berry is most commonly sold in small frozen packets already puréed and ready to use. Sambazon is the most common brand to look for, it's available for us in both the local health food stores, and Costco carries it on and off in the frozen fruit section as well!
Print
Acai Berry Smoothie
---
2 cups

of mango chunks, fresh or frozen, weighing 8 ounces

1 cup

blueberries, fresh or frozen, weighing 5 ounces

2

ripe bananas peeled

1

packet of frozen acai berry purée, weighing 3.5 oz or

100 grams

1

–

16

ounce bottle cranberry kombucha
---
Instructions
Place all the ingredients into the blender in the order listed.
You can run the acai berry purée under warm water if it sticks to the package. Break it into 3 pieces as you put it in the blender.
Secure the lid on the blender and blend starting on low and working up to high speed. If you're using frozen fruit the smoothie will be very thick, and you'll need to use the tamper that comes with the blender to keep the mixture moving.
Serve immediately, or refrigerate and serve within the day you make it!