You'll love taking these Almond Butter Chocolate Chip Cookie Energy Bites everywhere from work to road trips!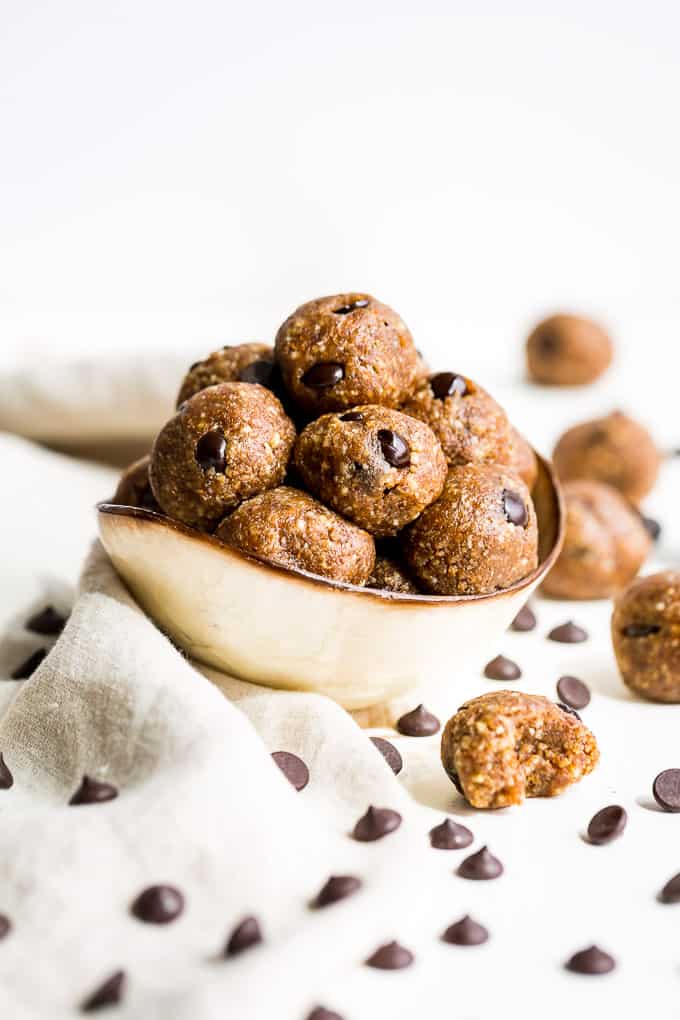 My mom and I are always looking for new yummy things to take hiking when we're grocery shopping. And the idea for these energy bites came from a chocolate chip energy bar she bought a while back. The combination sounded really good, but when I tasted it, I have to say it tasted terrible.
Not to be deterred I decided to try and make a homemade version. The combination of almond butter and chocolate chips shouldn't ever taste bad in my opinion. But really all bets are off with anything packaged. And sure enough not only is the homemade version super easy, it's so good too!
I guess the search for healthy packaged snacks that taste actually good will continue. But in the meantime, these are beyond delicious even if they do require refrigeration. (Which that really is the main reason I buy packaged bars when we're on the go – no refrigeration required.)
I made quite a few of these energy bites while testing out the recipe. So we've been taking them with us everywhere we go lately! They're been our breakfast along with pre-cooked sausages for something quick before hikes on the last 3 weekends.
They've also been the perfect sized snack on a regular workday afternoon. And while they taste amazing at home, they taste even better when you're in the middle of the wilderness.
Although to be fair, I guess that's the case with pretty much anything! The photo below is some of these very energy bites being devoured along the trail to Two Medicine Pass in Glacier National Park.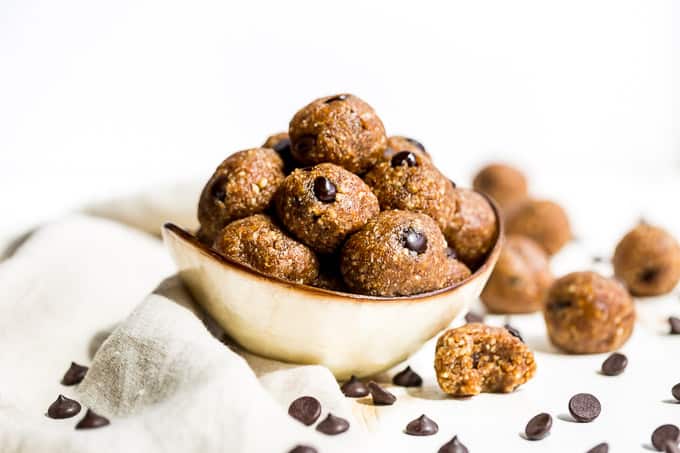 Energy bites are one of my favorite things to make for weekly meal prepping. I tend to make a batch about 1x per month, and then freeze them so they're ready to go. That way if I need something quick to add to Tyler's lunch, they're ready. Also when the weekend rolls around, again they're in the freezer all ready to go!
How to make these Almond Butter Chocolate Chip Cookie Energy Bites:
First up you want to put all the dry ingredients into a food processor.
Then process until the desired texture is reached, (see photo below). I like a fairly fine texture to mimic cookie dough, but with some good sized pieces of almond left in for crunch.
Finally you add all the wet ingredients and process until it's starting to clump together. Then add a bit of water a little at a time until the mixture becomes softer and like cookie dough. Last of all, mix in the chocolate chips, adding as many as you'd like.
The easiest way to portion these out is with a cookie scoop, but you can use a spoon as well. Once they're all portioned out, (about 1 ounce / 1 1/2 Tablespoons each) place them all on a tray. From here you can use your hands to roll them into smoother rounds, or just place the tray straight into the freezer.
I like to put a few energy bites into the refrigerator, (they last for about 1 week). But the rest I freeze right away to eat over the next few weeks. Once they're frozen, remove them from the tray and store them in an air-tight container in the freezer. That way you're always ready to go with a quick healthy snack!
Print
Almond Butter Chocolate Chip Cookie Energy Bites
---
Author:

Kari

Total Time:

20

Yield:

2

0

1

x

Diet:

Gluten Free
Description
A super easy healthy homemade snack!
---
1/4 cup collagen powder, or protein powder of choice for vegan/vegetarian
1 1/2 cups almonds, (raw, not toasted)
1/4 cup ground flax meal
1/2 cup shredded coconut, unsweetened
6 Medjool dates, 4 ounces, pitted
1/4 Teaspoon sea salt, or to taste
1/2 cup almond butter
2 Teaspoons vanilla extract
1/2 Teaspoon almond extract
2–4 Tablespoons water
1/4–1/2 cup chocolate chips, see notes
---
Instructions
Place the collagen powder/protein powder, almonds, flax meal, coconut, dates, and sea salt into a 12-cup food processor and process until the desired texture is reached. (Refer to the photos in the post for texture.)
Add the almond butter, and vanilla and almond extracts. Process until the mixture is starting to barely clump together. 
Add the water 1 tablespoon at a time until the mixture is soft like cookie dough.
Then remove the mixture from the processor into a large mixing bowl. Add the chocolate chips, starting with 1/4 cup and adding more if desired. Mix together with a spoon or with your hands. 
Portion out the energy bites with a spoon or cookie scoop. I used a #40 scoop which makes 1 ounce energy bites. Place them all on a cookie sheet, then roll them with your hands to smooth them out if desired. Then place as many as you'd like in an air-tight container and refrigerate for up to a week.
Freeze the remaining energy bites on the cookie sheet, then remove them and store in an air-tight container in the freezer for up to 3 months.
Notes
You can use either morsels or mini chips for this recipe. I personally prefer morsels for chocolate in some bites and not others, but mini chips definitely spread the chocolate flavor further!
Prep Time:

20

Category:

Snacks

Method:

Food Processor

Cuisine:

American
Keywords: Energy Bites, Energy Bites Recipe, Energy Bites No Bake, Energy Bites Recipes, Chocolate Chip Energy Bites