This in depth run down of How I Meal Prep for the Week takes you through all my simple tips, plus my favorite recipes to help you eat healthier through each week.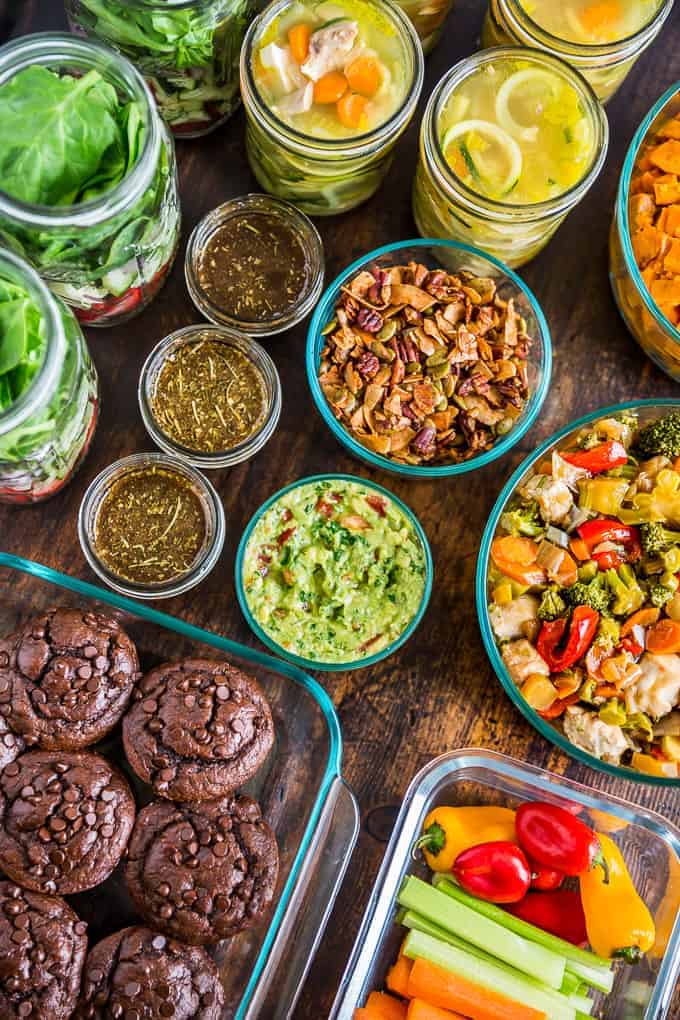 Food prepping is a real lifesaver for busy weeks, which come to think of it, seems to be every week. I always notice a distinct difference in how well the work week goes depending on whether or not I've prepped anything ahead.
It doesn't have to be much, but just a few things prepped ahead keeps our household running much more smoothly. It's also great for keeping us on track with healthier eating habits.
I usually don't prep too much ahead in the way of dinners, mostly just breakfasts, lunches, and snacks. Some weeks all I can manage is a snack to put in the freezer. And even though I just prepped 1 thing, it's definitely still super helpful. In this case 'something' is infinitely better than 'nothing'!
So first off… how does meal prepping work?
The basic principle is make something -anything- ahead of time to have something healthy ready to eat.
I love to prep what I call 'building blocks' to be turned into quick and easy meals. For instance in the photos, you'll see roasted cubes of sweet potato. I love putting these together with eggs, salsa, and avocado for a quick version of my Paleo Power Breakfast.
I do best with some protein in the morning, but the combination that best powers me up for the day is protein + carbs + healthy fats. However, there's no way I'm going to be roasting sweet potato on a normal workday. So having our breakfasts partially prepped, really makes all the difference.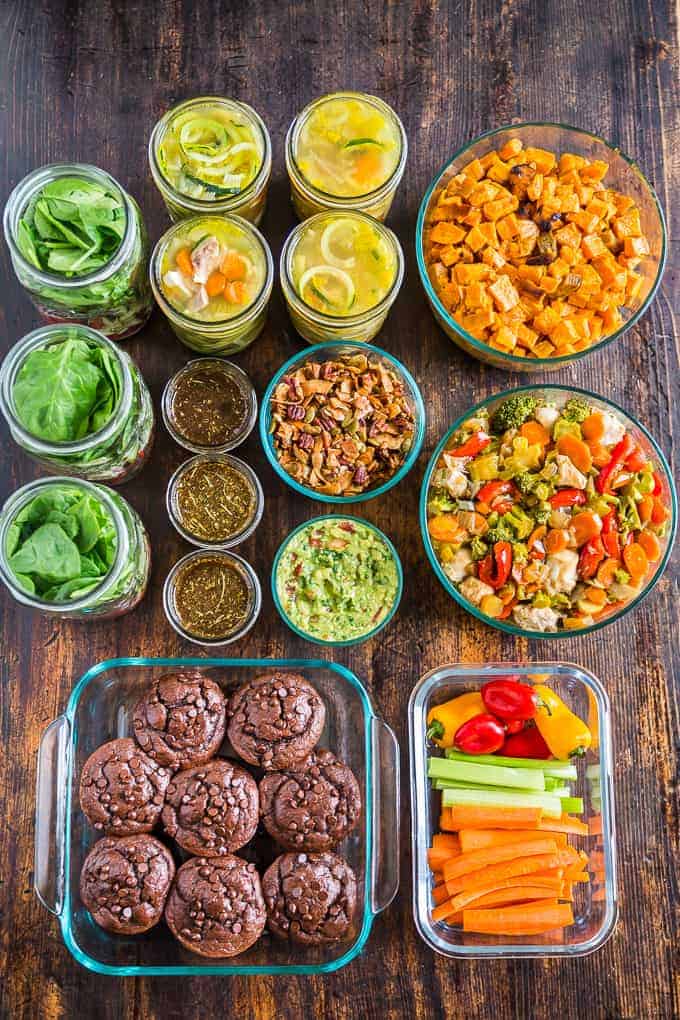 Here's the breakdown of what's pictured for How I Meal Prep for the Week:
From the top left there's Mason Salad Jars with sliced strawberries, cucumbers, red onion topped with spinach. The dressing is the balsamic from my recipe for Spinach Salad with Pomegranates. Berries don't last as long in salad jars, I only keep mine for 2-3 days. So if you want salads all week long, try using drier ingredients like whole cherry tomatoes and chopped carrots.
Moving clockwise, next is my Homemade Chicken Zucchini Noodle Soup. I love making a huge batch of soup about once a month. From there I keep some in the fridge for the week, and then freeze the rest to use throughout the month. I usually freeze it without the zucchini noodles and add those whenever I decided to defrost a package.
Then there's the roasted sweet potato cubes. You can make these by cubing up sweet potatoes, and tossing them with a little olive oil. Then sprinkle with sea salt before roasting at 450ºF until tender with caramelized edges. These are awesome to go along with breakfasts like my Paleo Power Breakfast. (I use jarred salsa instead of the Pico de Gallo during the work week.)
Sometimes I prep 1 dinner ahead when we're having a busy week. The next container on the far right hand side of the photo is my Honey Garlic Sheet Pan Stir Fry. I like to eat this within the first couple of days, because broccoli never tastes as good the longer is sits.
In the bottom right corner, I have a container of cut up veggies that I like to snack on.
On the bottom left hand side are my Flourless Chocolate Peanut Butter Muffins. A batch of these makes 12, so I can make one batch that lasts 2-3 weeks in the freezer. We both work 4 – ten hour days, so I usually send him 4 snacks per week. So batches of snacks last for a while in our house. The Maple Cinnamon Granola pictured in the middle usually lasts 4-6 weeks per batch. But if we're camping a lot on the weekends, we clear through it pretty fast!
And finally in the middle there's some Homemade Guacamole pictured which is great with eggs for breakfast. Or I love eating it with the cut up veggies for a healthy snack. The best way to keep guacamole for more than 1 day is to pack it into an airtight container. Then lay a bit of plastic wrap on the surface. Cover it with a lid and place it in the fridge. Another great hack is to just buy guacamole cups from the store when you know your week is going to be extra crazy!
Hopefully you'll find this rundown on some of our food prepping helpful! We prep more or less depending on the week. The busier it's going to be, the more I like to have prepped ahead.
But to keep things simple, I usually just prep a small amount. Often I barely manage to prep breakfasts and snacks. And then I just pack a bit of leftovers from dinner for the next day's lunch. From there we make dinner fresh from scratch most nights.
Also to see what I like to prep for each season + lots of recipe inspiration, check out my season meal prepping guides!
More Inspiration:
And finally let me know below if you found this helpful, and what kinds of meal prep tips/recipes you'd like to see next.