I had the best lunch last week at a local Thai place that serves incredibly flavorful food. It was one of those meals that you just keep thinking about, and I knew I was going to need to recreate what I had to share with you too.
So the thinking about lunch turned into an obsession, and I cancelled the recipe development I had in mind to get going on this immediately! Instead of looking up recipes online to see if I could find something similar, I decided to challenge myself to work from memory, which turned out to be a good idea.
There were 3 parts to my Saté Gai lunch: grilled chicken skewers which were topped with a delectable creamy peanut sauce, (with a side of rice) and a refreshingly zippy cucumber salad. As you can see, we're starting with the cucumber salad today, but I promise the chicken skewers with peanut sauce are coming later this week.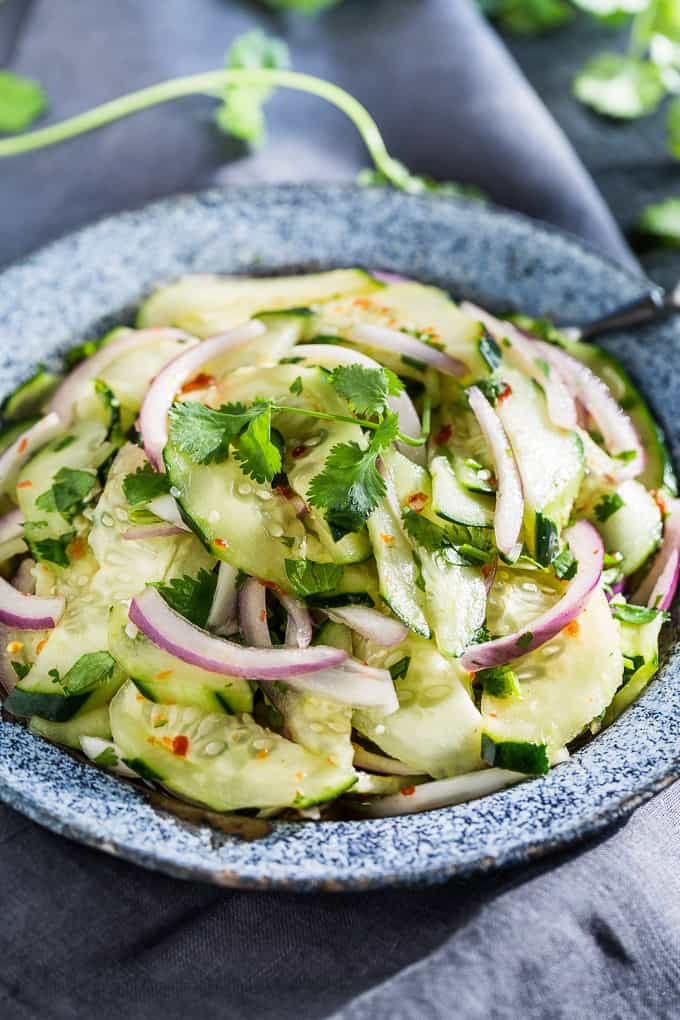 One of the best things about this recipe is that it keeps for up to a week in the refrigerator. The cucumbers do look more saturated with dressing and soften slightly over time, but the flavor is still incredible and I love the texture of this salad as it sits. The flavors also seem to intensify with time which isn't something you can say about most salads.
I sliced the cucumbers for this salad on the bias, which just means that you cut the thin slices on a diagonal instead of straight. It's fun to mix up the look of your veggies sometimes, but feel free to cut the cucumber into bite sized pieces the easiest way for you.
For the red onions, I like to give them a little extra attention to make sure they're sliced as thinly as possible. That way you don't get too much onion punch in one bite.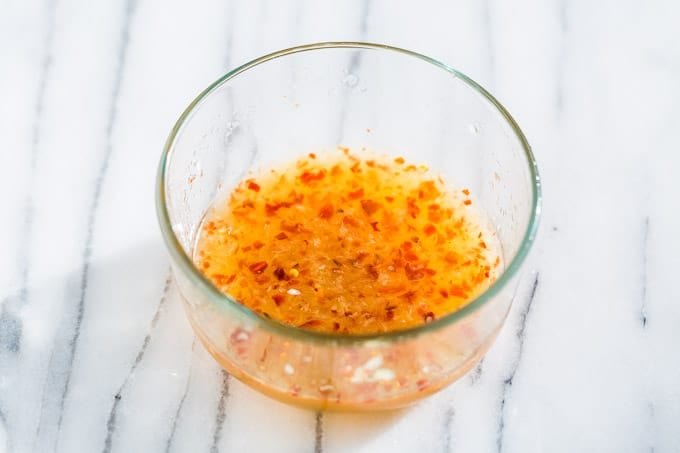 For the dressing, I used freshly squeezed lime juice, but rice vinegar also works well if you don't have any fresh citrus around. I like a bit of heat to this salad, but you can vary how much chili paste you put in to suite your tastes.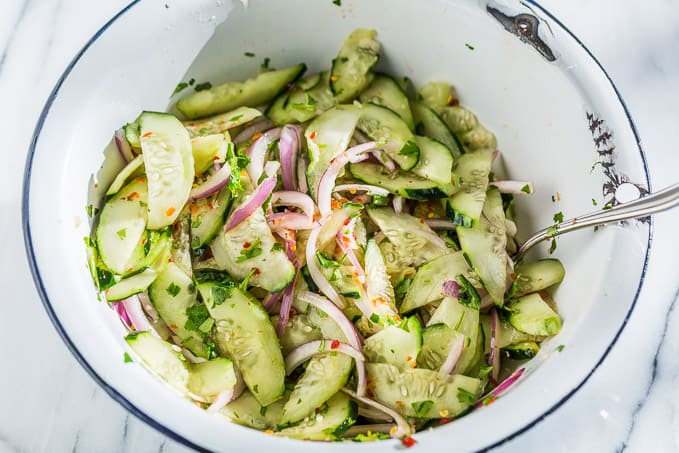 Once the salad is tossed together, the cucumbers will immediately begin to shed water. So for the crispiest/crunchy salad, serve it immediately. If you do choose to keep some for another day, it becomes more like the Asian type of pickled salads that are so common among many different cuisines. The cucumbers still retain a crispness, but they do soften to more of a pickle like texture. (And don't let the word pickle sway you, my husband does not like pickles, and he loves this salad!)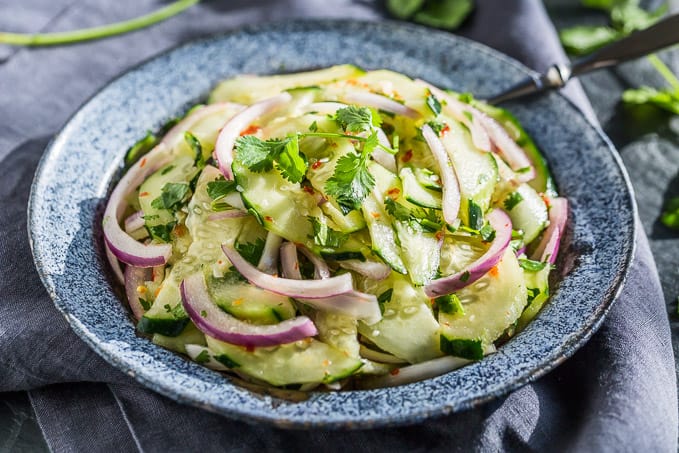 This salad is so versatile because it balances the hot, sour, salty, and sweet flavors that are so common in different Asian cuisines. I've been pairing this with pretty much anything Asian influenced for the last week and we've both enjoyed it with a stir fry, my butter chicken, and with the saté chicken that's coming later this week.
Print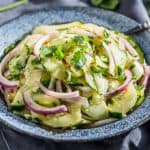 Asian Sweet and Sour Cucumber Salad
---
2

cucumbers, 1 1/2 pounds

2 cups

slivered red onion, 1/2 medium, 5 ounces

1/4 cup

chopped fresh cilantro

1 Teaspoon

sambal oelek chili paste, or

1 Teaspoon

red pepper flakes, see notes

2 Tablespoons

maple syrup

1/4 cup

freshly squeezed lime juice, or rice vinegar

1 Teaspoon

sea salt, or to your taste
---
Instructions
Slice the ends off both cucumbers, and peel a few strips of the skin away with a vegetables peeler. Then cut the cucumbers in half lengthwise, and lay each half flat side down on the cutting board. Cut the halves, 1 or 2 at a time, into thin slices. On the bias looks nice: to do this, hold the knife at a 45º angle to the cucumber and slice into thin diagonal shaped pieces.
Add the sliced cucumbers to a serving bowl along with the slivered onions, and cilantro.
Mix the dressing together by whisking the chili paste, maple syrup, lime juice, and sea salt together until completely mixed.
Pour the dressing over the salad and toss to combine.
Serve immediately, or refrigerate and serve within one week.
Notes
If you're not much for spicy food, start by adding a smaller amount and working up to your taste. I would classify this salad as warm to medium, but it can be made as mild of hot as you'd like.