Did you know you can make hummus out of zucchini instead of beans? I know I would've never thought of this awesome idea in a million years, but open any raw foods cookbook, and you will find all sorts of good ideas like this.
Usually raw foods also tend to be very low in fat, so you'll find my recipe is a bit different. This hummus is made ultra creamy with 2 healthy fats which help you absorb nutrients better: 1) a whole ripe avocado and 2) a touch of olive oil for authentic flavor.
Normally I'd tend to be a bit purist when it comes to such classic dishes, but we're in the midst of prime zucchini season here. I have 4 zucchini plants bringing on a harvest so abundant, I don't know how we're going to keep up!
Also please don't throw things at me, but I think I like this zucchini version even better than the classic! I love the lighter texture and clean hummus flavor. It also keeps just as well as the regular version which was a relief because I was afraid the avocado wouldn't stay green over a few days.
For the zucchini in this recipe, just giving it a rough chop into 1-2″ pieces is all you'll need to do, and the food processor or blender does the rest.
Tip: You can make this hummus in a food processor or blender. The food processor will give you a slightly textured hummus, while a high powered blender will give you the smoothest results.
Simply add everything to the food processor…
… and process until smooth with a small amount of texture.
If you want an ultra smooth hummus, place everything in a high powered blender, and blend slowly using the tamper to keep the mixture moving until it's completely smooth.
To enjoy right away, scrape the hummus into a wide bowl and drizzle with olive oil for serving. Or you can scrape the hummus right into an airtight glass container and store in the refrigerator. I've found mason jars to be the perfect for keeping the hummus for 5-6 days.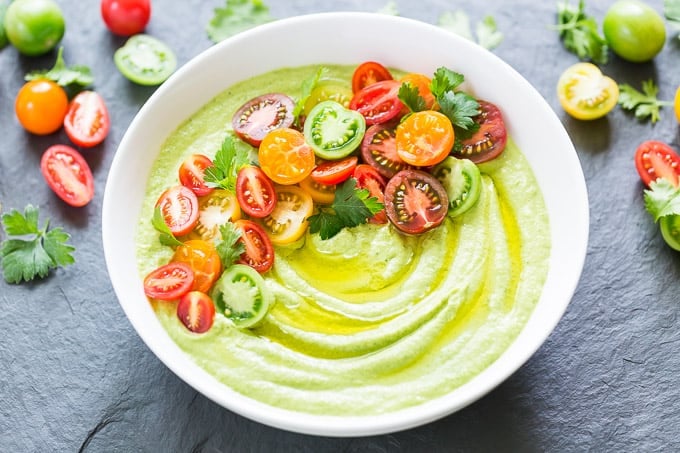 Toppings are completely optional, but since it's tomato season I topped mine with heirloom tomatoes and some fresh herbs, (cilantro, basil, or parsley are all great).
And… if you're looking for ways to use up tons of zucchini, check out my 5 Ways to Use up Large Amounts of Zucchini!
Print
Avocado Zucchini Hummus
---
2

medium zucchini, 1 pound

1

clove garlic, minced

1/2 Teaspoon

ground cumin

2 Tablespoons

freshly squeezed lemon juice

2 Tablespoons

olive oil, plus more for drizzling

1/4 cup

tahini, (sesame seed paste)

1

ripe avocado, peeled and pitted

1 Teaspoon

sea salt, or to your taste
Toppings:
anything you'd like on hummus
I used

2 cups

cherry tomatoes, halved and chopped fresh cilantro with a drizzle of olive oil
---
Instructions
Slice the ends off the zucchini and cut them into chunks, about 6 pieces per zucchini. Place the zucchini pieces along with the rest of the ingredients into a 12-cup food processor. Secure the lid and process until smooth, scraping down the sides 2-3 times.
For an ultra smooth hummus, prepare the zucchini and place all the ingredients in the order listed into a high powered blender. Secure the lid and blend starting on low and working up to medium, using the tamper to keep the mixture moving.
Remove the hummus from the machine and place it into an airtight container. The hummus will keep for 5-6 days in the fridge.