We're pretty big into Caesar Salad around here, in fact, it's one of the only things that we eat on a regular basis! It's also our favorite date-night recipe to make because it's so easy, and we never get tired of it! After you make a recipe with someone many times, it starts to become easy enough to do in your sleep – which is perfect for those nights when you're completely exhausted at the end of the week but still wanting something healthy and ultimately satisfying!
I first came across the idea for switching the traditional romaine in a Caesar Salad for kale over at The Roasted Root, and I was captivated by the idea instantly! I don't know how the winter season goes at your grocery stores, but in Montana the lettuce can start looking a little peaky in December and that can last right up to springtime. Kale on the other hand remains fresh looking year round, so it's a natural choice for salads and smoothies.
So… of course, right about the time I got totally addicted to a Kale Caesar, they stopped carrying the baby kale I was so attached to! But that's alright because instead I discovered this thing called Power Greens which is a mix of baby kale, spinach, and baby beet greens. We've been buying a couple pounds of Power Greens each week and absolutely loving them! The mixture of different greens has a great balance of flavor, and they do double duty as a perfect mix for green smoothies as well!
Pine nuts become bitter when they're toasted to a dark brown, so it's best to toast them to a nice golden color. Over many batches of pine nuts, I've discovered that low heat in a cast iron skillet works best – almost every time I turn the heat up, I end up burning them, so low and slow is definitely the way to go!
One of the best parts of this salad is the bacon bits (of course)! They act as a crouton of sorts, and the bacon flavor is perfect with the hearty mix of greens.
You can use whichever kale you're partial to for this recipe – we're obviously a bit partial to the power greens mix I mentioned above!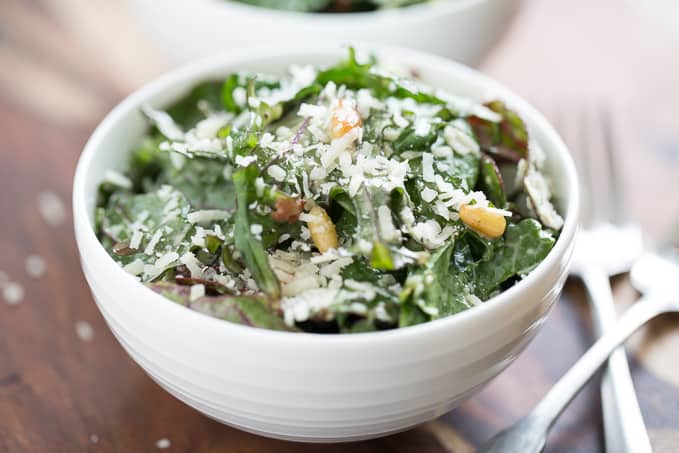 And for more Caesar Salad fun, check out our variations below:
Creamy Basil Chicken Caesar Salad
Print
Bacon Kale Caesar Salad
---
1

pound Power Green Mix (pre-washed) or Baby Kale – about 16 cups of greens

6

strips or

8 ounces

of bacon

1/2 cup

pinenuts

1/2 cup

freshly grated Parmesan cheese
Dressing:
1

farm fresh egg

2

cloves of garlic, minced

3/4 Teaspoon

sea salt

1/2 Teaspoon

freshly ground black pepper

1 Teaspoon

Dijon mustard

1/2 cup

freshly grated Parmesan cheese

1/4 cup

freshly squeezed lemon juice

3/4 cup

extra virgin olive oil
---
Instructions
Place your greens in a large serving bowl and set aside.
Cut the strips of bacon into 1/2″ pieces and fry them in a medium sized pan over medium-high heat until crispy, 2-3 minutes. Set the pan aside while you finish the recipe.
Toast the pinenuts over low heat in a cast iron pan, this will take around 15 minutes so you'll have time to make the dressing while they're toasting.
To make the dressing, add the egg, garlic, sea salt, black pepper, mustard, and Parmesan to a blender. Add the freshly squeezed lemon juice and blend immediately on a low setting just until combined. Start adding the olive oil in a thin stream to the blender while it's running. Increase the speed as you add the oil (I end up at speed 5 on a Vitamix). Continue adding the oil and blending until the dressing becomes thick and light yellow in color.
To serve the Caesar Salad, sprinkle the remaining 1/2 cup of Parmesan over the greens, reserving a Tablespoon or two for a garnish if you'd like. Next add the toasted pine nuts and bacon bits with a little of the bacon grease (1 Tablespoon) added in for extra bacon flavor!
Toss the salad with the dressing and garnish with the reserved Parmesan cheese. Serve immediately for the best flavor and texture.
We always have leftovers when we make this for just the two of us, but it does keep relatively well for lunches the next day!
Notes
This dressing is made in the traditional way with raw egg, so if this is of concern you'll need to find a substitute. There really isn't another ingredient to change out for the egg with same results, but I know some recipes use a good quality mayonnaise or some Greek yogurt for the creaminess.
Prep Time:

25 mins

Cook Time:

5 mins