Bacon wrapped… those are some tasty sounding words! Lately I've been wrapping just about anything with bacon and grilling it, but this recipe is my favorite so far. Bacon and barbecue sauce is a great combination. The smokiness of the bacon brings out the best in barbecue sauce and it's all amped up with the searing heat of the grill. Bacon does double duty in this recipe because it keeps the chicken extra moist and we all know that barbecue sauce and chicken is a classic. So, put it all together and it's a win-win kinda situation!
A couple of days ago, I grilled the bacon wrapped chicken without the barbecue sauce and served them with Caesar Salad – SO GOOD! I'm usually a bit of a purist about my Caesar Salad, but bacon turned out to be a great idea. Is there anything that bacon doesn't improve?
I like to spread the sauce on one side, place it on the grill, and then coat the backside. I use a two spoon method: one spoon for scooping the barbecue sauce out of the bowl and a different spoon for spreading the sauce on the chicken. That way, I don't contaminate the sauce bowl – can't be too careful with chicken. I have a really cool silicone brush for doing these sorts of things, but it's currently lost in the boxes since we moved from Calgary. Anyways, the spoons do a really good job and they're much easier to clean!
When I turn the chicken over, I spread an additional coating of sauce over the cooked side, (don't use the same spoon from the raw side). I use my remaining spoon to put a dollop of sauce in the middle of each piece, and then spread it around. After this final coat don't put the spoon back in the sauce container. This might be a little over the top but I like to be careful with cross-contamination. The basic principle is not to touch uncooked meat and then put the utensil back in the sauce.
This is a super simple recipe, especially if you already have barbecue sauce on hand. I like to make a big batch of barbecue sauce every so often and freeze it in small portions for future yumminess. I've been making the Quick Barbecue Sauce from Cooks Illustrated, and it's really good. My one complaint is how messy it is to make barbecue sauce. After cleaning barbecue sauce off of my ceiling and everywhere around the stove within a 5 foot radius, I wasn't about to simmer without a lid anymore. Simmering for the first half of the cooking time seemed fine, but as the sauce started to thicken, it started splattering everywhere! I changed the ingredients a little so that the sauce started out thick and I could put a lid on it to catch the splattering while the flavors melded. Now, with my new method, I still get the goodness of Cook's Illustrated recipe without making so much mess.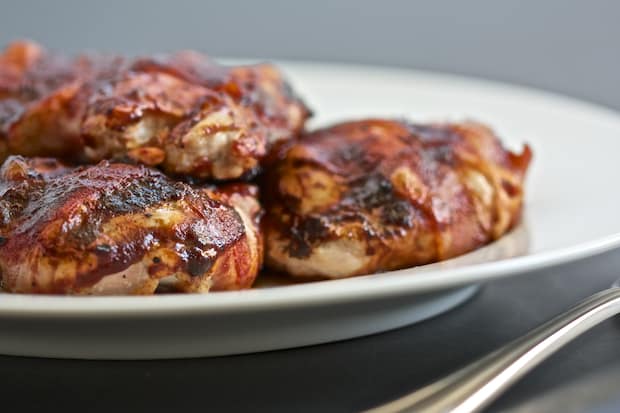 I'm looking forward to making this all summer long, and it's going to be really easy because now I have a big batch of barbecue sauce ready to go!
Print
Bacon Wrapped Barbecued Chicken
---
Description
All the classic cook-out flavors coming together with this bacon wrapped chicken brushed with bbq sauce and grilled into juicy perfection. Simple American grilling flavors that the whole family will love.
---
4 chicken thighs
8 pieces bacon, thinly sliced bacon works the best
1/4 cup barbecue sauce of your choice, plus additional sauce for serving
---
Instructions
Preheat the grill on high.
Wrap each chicken thigh with 2 strips of bacon and place on a plate.
Spoon a little barbecue sauce onto the middle of each chicken thigh, then use the spoon to spread the sauce around. Do not put the spoon back in the sauce!
Turn the grill down to medium and place the chicken thighs, barbecue sauce side down on the grill. With a clean spoon place a small amount of barbecue sauce on the other side of the chicken. Use your spreading spoon to spread the sauce.
After 5-10 minutes (depending on the size of your chicken thighs) turn the chicken and let cook another 5-10 minutes. Use your clean spoon to place just a little more barbecue sauce on the cooked side if desired.
Prep Time:

5 mins

Cook Time:

20 mins

Category:

Dinner

Method:

Grilling

Cuisine:

American
Keywords: Bacon BBQ Chicken, Bacon Wrapped Chicken, BBQ Bacon Wrapped Chicken Thighs
Print
Quick Barbecue Sauce
---
1

medium onion, peeled and cut into chunks

1/2 cup

water

6 ounces

tomato paste

2 Tablespoons

apple cider vinegar

2 Tablespoons

Worcestershire

2 Tablespoons

Dijon

5 Tablespoons

molasses

2

–

3

Tablespoons honey or maple syrup

1/4 Teaspoon

black pepper

1 Tablespoon

olive oil

1

clove garlic

1 Teaspoon

chile powder

1/4 Teaspoon

cayenne optional
---
Instructions
Purée the onion with the water in a food processor. Press through a fine mesh sieve to obtain the onion water, discard the solids.
Place a saucepan over medium heat. Add the oil, garlic, and chile powder and sauté until fragrant. Add the onion water, tomato paste, vinegar, worcestershire, dijon, pepper, and cayenne.
Whisk together and place a lid over the pan. Simmer on low for 20 to 30 minutes, stirring occasionally until the flavors meld.
Prep Time:

10 mins

Cook Time:

25 mins