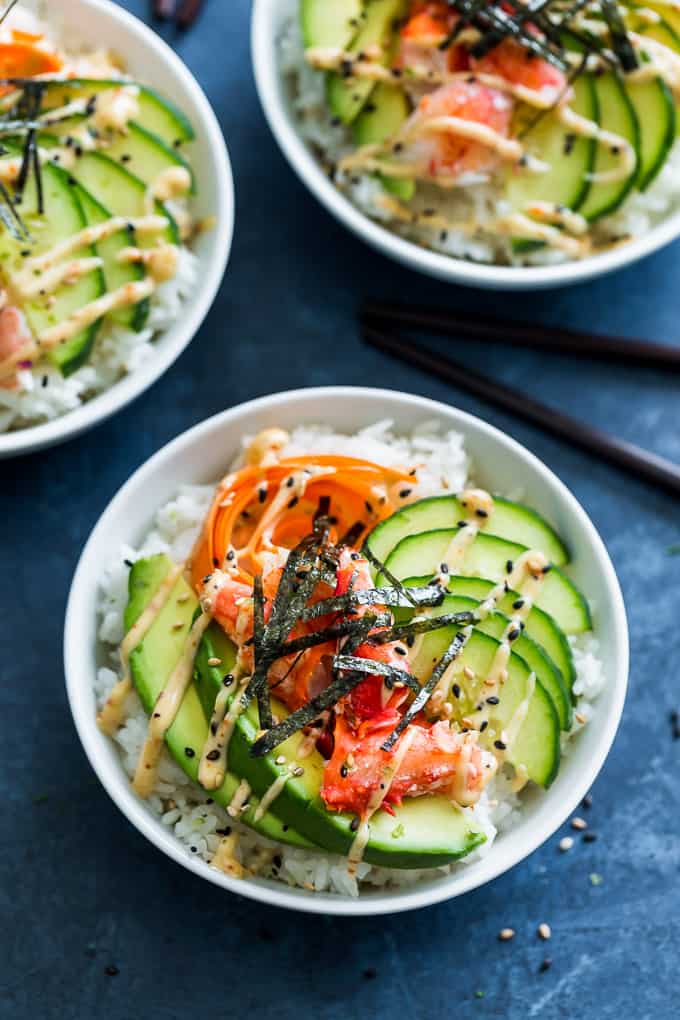 Over the last couple of years, I've been working on branching out with different spice combinations. And today is just one of those days – we're now having a moment with Japanese Togarashi. If you're not familiar with that spice mix, well we're in the same boat, because it's new to me as well.
So what you really need to know is it's a spice mix involving chilis. It's deep, earthy, with varying amounts of heat depending on the brand you use, and it has savory hints from sesame seeds. Basically if you love chilis, sriracha, chipotle or anything along those lines, I think you're going to love having this spice mix in your life. But if you don't happen to have it around, you can always use a sriracha mayo on these sushi bowls because it's awesome that way too.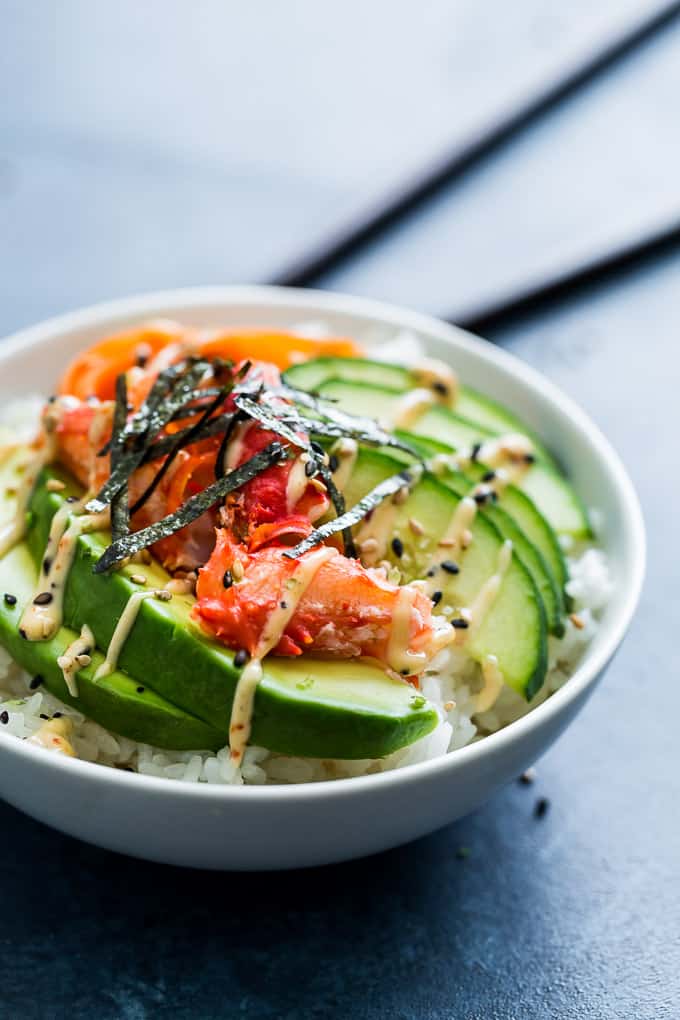 You'll want to make your sushi rice first for this recipe, so it has time to cool a bit after cooking. Sushi bowls are really best if the rice is room temperature, or warm – not hot.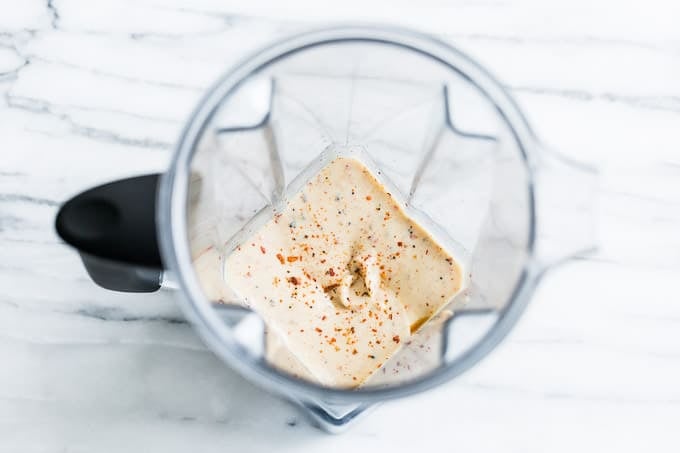 Togarashi spice mix takes the homemade mayo in this recipe, and elevates it into everything you could ever want topping your sushi bowl. It's plays off the cool cucumber and creamy avocado while complimenting the briny crab. And speaking of crab, you can sub in shrimp if crab is hard to find where you live. It's definitely a process to find good crab meat here in Montana, and you'll only catch me putting in the effort a couple times a year.
Note: If you make the homemade mayo in this recipe, it makes between 1 – 1 1/2 cups which is a lot of mayo. Either plan on using it in another dish, or use a good quality mayo and mix in a bit of rice vinegar, coconut aminos, and togarashi spice mix to taste to make less. Since I don't mind using up the whole batch of mayo in this case, I definitely recommend making it from scratch because it's unbelievably good!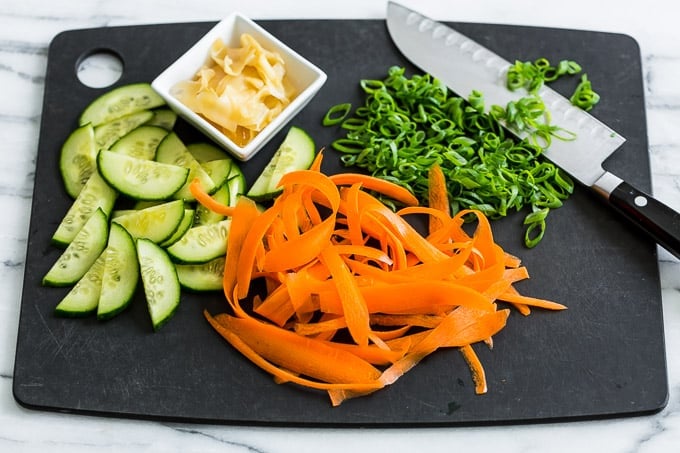 Then prep the rest of the topping ingredients and set them aside. When everything is ready, assemble the bowls to your liking with as many of the toppings as you'd like.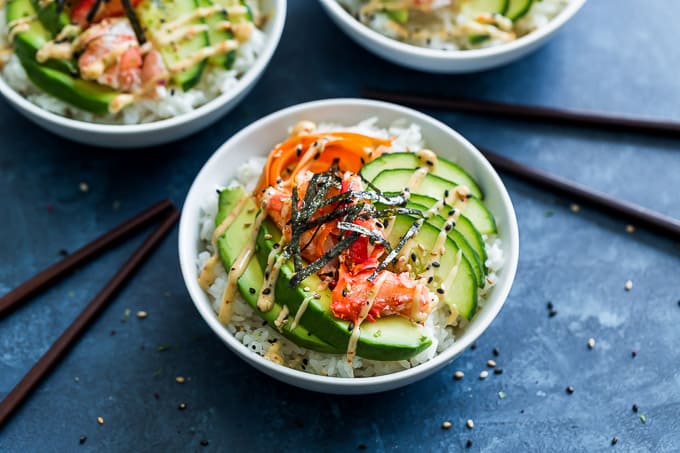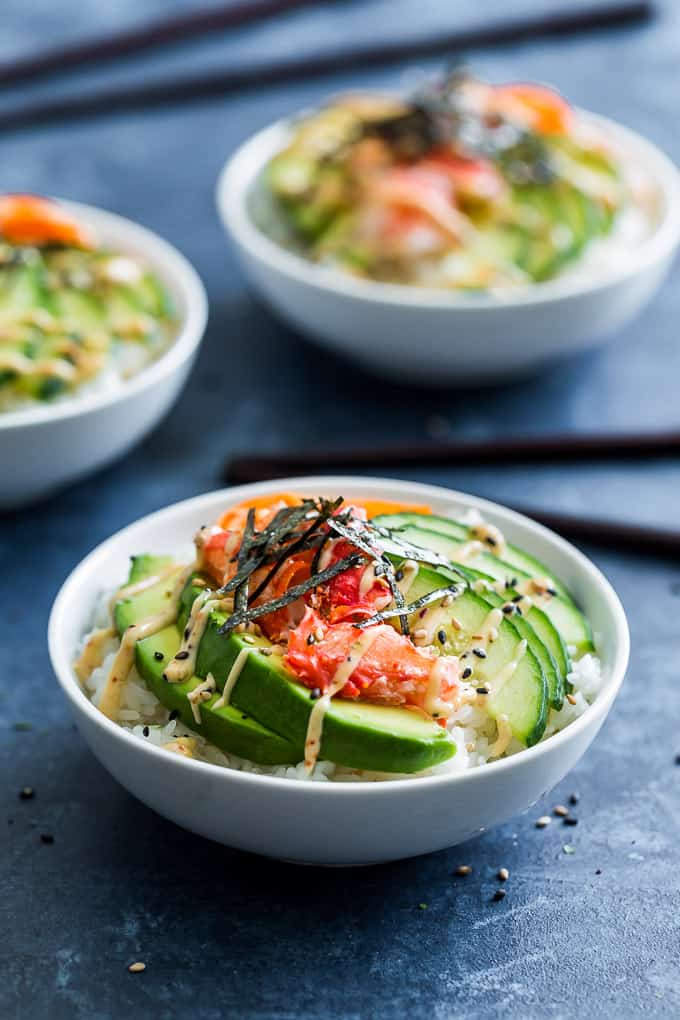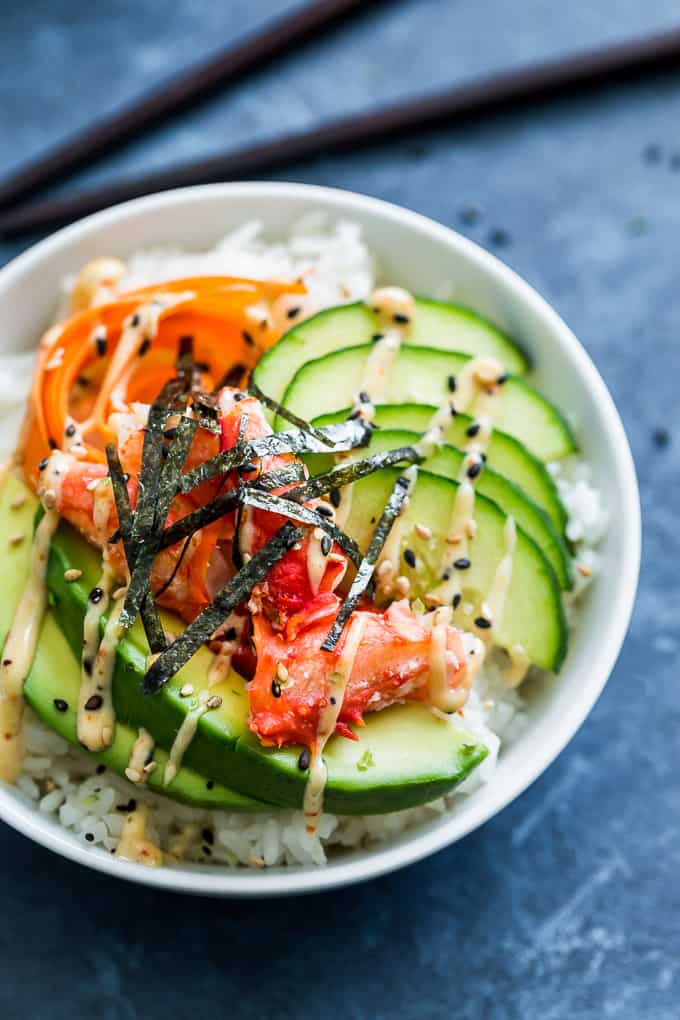 Also it's worth noting if you're not a seafood lover, you can make these with chicken. Tyler isn't all that fond of seafood, so I always make another version for him. In this case, I kept everything the same except the crab. I sautéed bone in and skin on chicken thighs until the skin was crispy, and they were done in the center.
Then I assembled these bowls the same way, but with crispy chicken thighs. And I'll tell you what, even though I adore crab, the crispy chicken thigh version rivals the seafood version!
You can also serve these sushi bowls with my Sriracha Mayo in place the Japanese Togarashi version listed below.
Print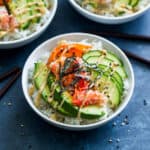 California Sushi Bowls with Japanese Togarashi Mayo
---
Description
All the flavors from the classic California sushi roll piled into a super easy to make sushi bowl with no rolling required.
---
Sushi Rice:
1 1/2 cups sushi rice
2 Tablespoons rice vinegar
1 Tablespoon Grade A amber maple syrup
1/2 Teaspoon sea salt
Japanese Togarashi Mayo:
1 farm fresh egg, at room temperature, see notes
1 Tablespoon coconut aminos
1/4 Teaspoon sea salt
1 Teaspoon rice vinegar
1 Tablespoon Japanese Togarashi spice mix, see notes
3/4 cup avocado oil, or light flavored oil of your choice
Toppings:
12 ounces to 1 pound lump crabmeat, see notes
1/2 cup pickled ginger, drained
1 1/2 cups grated carrot, or carrot ribbons made with a vegetable peeler
1/2 cup thinly sliced green onion
1 large ripe avocado, pitted, sliced and peeled
1 1/2 cups thinly sliced cucumber, about 1/2 small English cucumber
1 sheet of toasted nori, thinly sliced, see notes
1 Tablespoon sesame seeds
Soy sauce/ coconut aminos
---
Instructions
Start by by rinsing the sushi rice 3 times, draining it each time until the water becomes clear. Then add 2 1/4 cups water over the rinsed sushi rice. Place a lid on the pan, bring the rice to a boil, then lower the heat to a bare simmer.
Simmer the rice until all the liquid is absorbed and the rice is tender. Remove the rice from the heat and spread it in a thin layer on a baking sheet. Mix together the rice vinegar, maple syrup, and sea salt, then drizzle the mixture over the rice.
Use a spatula to combine the vinegar mixture into the rice, being careful not to smash the rice. Let the rice cool to room temperature as you prepare the rest of the ingredients.
Place all the ingredients for the Japananese Togarashi mayo, except the avocado oil, into a blender. Secure the lid, and start blending on low speed. Slowly add the oil in a thin steady drizzle, increasing the speed incrementally, letting the oil be incorporated as you go.
When the mayo has thickened and completely stopped moving in the blender, turn the motor off, and transfer the mayo to a container, or squeeze bottle. Refrigerate the mayo until you're ready to use it.
Prepare all the toppings, and when you're ready serve them with the cooled rice and Japanese Togarashi Mayo, letting each person assemble the sushi bowls according to their taste.
Notes
Homemade mayo is made from raw eggs. If this is of concern to you, choose a store bought mayo instead.
Togarashi spice mixes can vary in heat, so start with less and work up to your taste. The 1 Tablespoon called for in this recipe gives the mayo a bit of a kick, but not so much that your mouth is on fire.
You can also substitute 1 pound shrimp or 4 chicken thighs bone in and skin on for the lump crab meat.
To slice nori sheets into thin ribbons, you'll need a sharp knife. First carefully tear/cut the nori sheet into strips lengthwise following the perforated lines. Then turn those strips crosswise, and slice into thin ribbons. This is easy with a sharp knife, and tedious with a dull one.
Prep Time:

30 mins

Cook Time:

20 mins

Category:

Dinner

Method:

Stove Top

Cuisine:

Asian
Keywords: Sushi Bowls, California Sushi Bowls, Healthy Sushi Bowl