Cheesy Mashed Cauliflower is not a replacement for mashed potatoes by any means, it's an awesome side dish that can rival potatoes any day! This recipe is adapted from the wonderful Tupelo Honey Cookbook that a friend gave me a while back. And… by the way, the Tupelo Honey Cookbook is an absolute goldmine of great recipes and full of unique ingredient combinations.
But… back to the topic at hand: Cheesy – Mashed – Cauliflower. This stuff is insanely delicious – I mean, it's so good that the two of us ate all 4 servings in one go! The crazy part is, neither one of us is super enthusiastic about cauliflower. This side dish has got me thinking that cauliflower could be one of those totally underrated vegetables – like squash. I'm pretty excited to work on some more cauliflower based dishes. My next project is a creamy coconut cauliflower 'rice' to go with our favorite Indian Curry.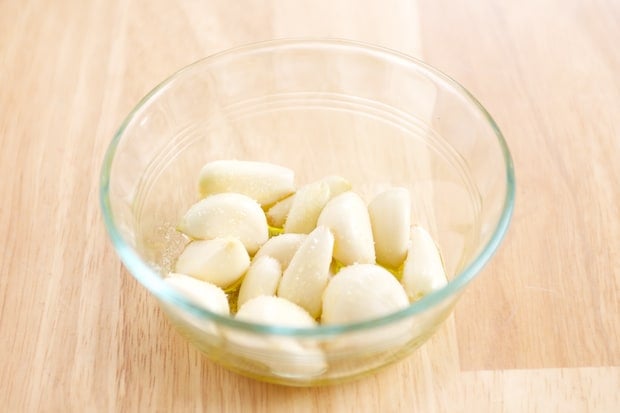 To make the roasted garlic for this recipe, place a few cloves of garlic in the bottom of a small custard cup, drizzle with olive oil and sea salt. Cover the dish tightly with aluminum foil and bake at 400° F in the oven for 30-45 minutes until they look like…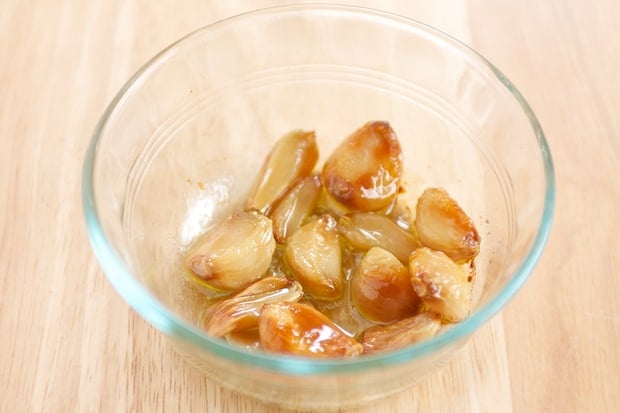 …this! When they're golden brown, soft and totally wonderful, they're done. I like to make a big batch of roasted garlic to use in other things. I keep mine for 2 weeks at a time in the fridge, and it tastes good in pretty much everything!
After I trim the leaves and stem from the cauliflower, I cut my florets into 3 inch pieces. This takes a little longer to steam, but it's less chopping, so that's good. While the cauliflower is steaming, I prep the rest of the ingredients. When the cauliflower is tender, you're ready to throw everything in the food processor, and a minute later, you're done!
If you don't have a food processor, you can try an electric mixer with a whisk attachment. I tried hand-mashing this with a potato masher, and the result was quite lumpy. Still delicious, but with a lot more texture going on.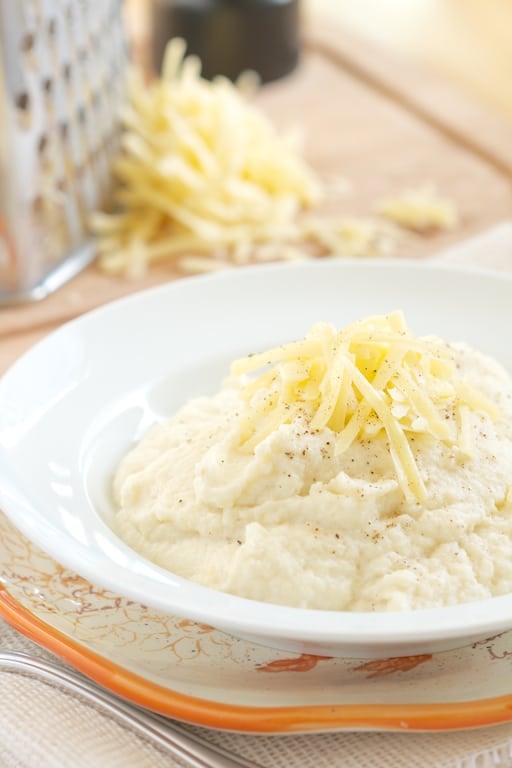 I originally tried this out for a Thanksgiving recipe, but I've found a new favorite that's easy enough for year-round dinners as well as holidays!
Print
Cheesy Mashed Cauliflower
---
Total Time:

25 mins

Yield:

4

1

x
1

head of cauliflower, (2 lbs,

4 oz

)

2 ounces

cream cheese

1 cup

grated cheddar cheese, (

3 oz

)

1 Tablespoon

roasted garlic

1 Teaspoon

sea salt

1/4 Teaspoon

freshly ground black pepper
---
Instructions
Trim leaves from the head of cauliflower and cut into big florets, about 3 inch pieces.
Place in a steamer and steam until tender, 15 minutes for big pieces.
While the cauliflower is steaming, assemble the rest of your ingredients.
When the cauliflower is tender, pour off any extra liquid from steaming, and place the cauliflower in a food processor with the rest of the ingredients. Process until smooth, and adjust salt and pepper to your taste.
Serve immediately or refrigerate and re-heat in a double boiler when you're ready to serve. You can also place it in a casserole dish, sprinkle with additional cheese and bake it at 350° F until heated through.
Prep Time:

10 mins

Cook Time:

15 mins