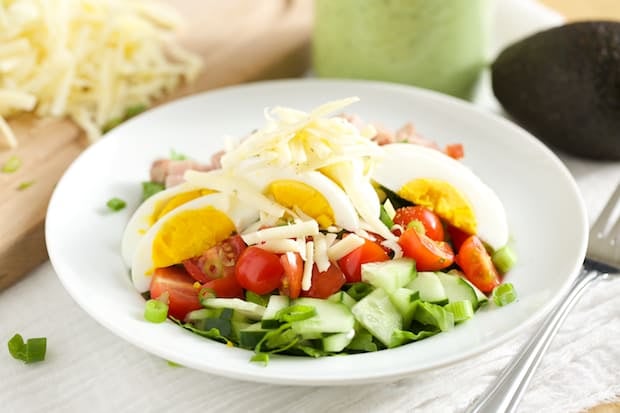 I love classic salads: after all, they have to be pretty good to stand the test of time! Caesar Salad is probably our favorite of the classics, but the chef's salad has it's own merits (namely ham and cheese – you just can't go wrong with that combo).  We've topped our version of this salad with an avocado ranch dressing, but you can drizzle it with the classic French dressing if you so desire. That's the great thing about a chef's salad – it's literally whatever you the chef would want to put in it!
We like ours with a grilled chicken and ham combo, but anything from roast beef to bacon could appear in your's! Psst… I don't think bacon is traditional, but bacon can go in anything right?
For the cucumbers, I like to peel a few strips of skin off my cucumbers unless they're english cucumbers which have a softer skin. Then, cut off both ends and cut them into quarters lengthwise. Finally, cut across the quarters to make little triangular slices, (see top left photo). Thinly slice your green onions and quarter the cherry tomatoes. For the hard boiled eggs, you can either dice them, or cut them into wedges by halving them, and cutting each half into 3 wedges.
Whatever I'm putting into my chef's salad, I like it to be bite sized so that it's easier to eat.
Chop the fresh herbs for the dressing and set them aside.
Blend everything for the dressing but the herbs until it's smooth, you may have to use the tamper to keep the mixture moving -it's fairly thick. Add the herbs and blend just until combined – this incorporates their flavor without completely pulverizing them.
I'm thinking a Cobb salad might be our next classic to tackle – which salad would you like a recipe for?
Print
Chef's Salad with Avocado Ranch Dressing
---
2

romaine hearts, washed and cut into bite sized pieces

1/2

bunch of green onions, thinly sliced

8 ounces

cherry tomatoes, quartered

1

cucumber, quartered and sliced (

8 ounces

)

5 ounces

fully cooked ham, cut into bite sized pieces

5 ounces

cooked chicken, cut into bite sized pieces

2

hard-boiled eggs, peeled and cut into

6

wedges each

1 cup

grated aged white cheddar
Avocado Ranch Dressing:

1

ripe avocado, peeled and pitted

1/2 cup

Greek yogurt

1/4 cup

water

1 Tablespoon

white wine vinegar

1

clove garlic, minced

1 Teaspoon

sea salt

2 Tablespoon

chives, thinly sliced

1 Tablespoon

Italian flat-leaf parsley, minced
---
Instructions
For the nicest presentation of this salad, place the romaine in your serving bowl and arrange all the prepared veggies, meats, eggs, and grated cheese over the top.
For the dressing, place the avocado, Greek yogurt, water, white wine vinegar, garlic, and sea salt into a blender or food processor and blend until smooth. You may need to use the tamper with the blender to keep the dressing moving because it's pretty thick.
Add the chopped fresh herbs and blend just to combine.
Transfer the dressing into a clean container – a pint mason jar works really well as the dressing makes about 1 3/4 cup.
Serve the salad and the dressing together. Any leftover dressing will keep in the fridge for a few days.
Notes
For the cooked chicken, I prefer mine grilled. If you're short on time, don't bother arranging the salad just toss it all together!