I made this stuffing 2 different ways because I couldn't decided which way was better, so I figured I'd give you both options and let you choose depending on your dietary needs. First off lets discuss what's awesome about each one, shall we?
In the first version it's straight up sweet potatoes with all the usual stuffing ingredients added. It has a perfect soft texture with browned edges much like a traditional stuffing. In the second one I mixed in some cooked wild rice which adds a nice chewy texture and a lot of body to the stuffing. So you see it's pretty difficult to decide!
Either way you go, I think you're going to love this one. I had my mom who is a stuffing fanatic taste test this for you as the ultimate test of whether or not it could pass under scrutiny, and I'm happy to say it passed with flying colors! I always get nervous when I redo a traditional recipe to make it healthier, it's hard to mess with the classics and not upset some people, but as long as you like sweet potatoes, you're going to love it.
All good stuffings start with onions sautéed in butter, but if you need this to be dairy free, I'd try avocado oil because it has a great buttery flavor.
Normally you'd add both celery and carrots to the onion, but since we're using sweet potatoes in lieu of bread I left the carrots out with so much orange already going on.
You want to sauté the onion and celery until it's translucent and golden but not brown.
For the sweet potatoes you want to dice them into 1/2″ cubes. Since sweet potatoes are difficult to cut perfectly even this is just a suggestion, the main idea is to keep the pieces the same basic size.
Next, you toss the sweet potato cubes with the onion celery mixture and cranberries, and then place it in a large baking dish. Pour the chicken stock over the top of the sweet potato mixture, and bake until the stuffing is tender with browned edges, stirring 1-2 times throughout the cooking time.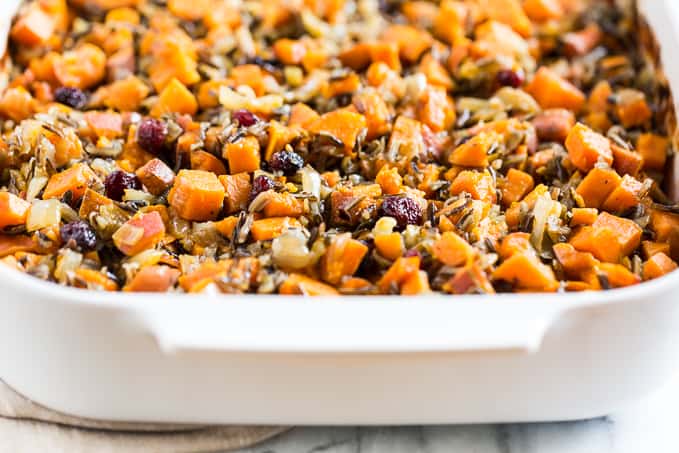 If you want to do the optional wild rice addition, you cook the rice on the stove top and mix it into the stuffing after the baking time. Wild rice takes too long to cook and too much liquid to bake it along with the sweet potatoes, and the top kernels of rice get overly crunchy when they're baked with the stuffing.
This stuffing is so good, you're going to want to keep it in your life outside of Thanksgiving. It's perfect with a roast chicken, and I'll have a recipe for you in a few weeks that's been my favorite roast chicken for longer than I can remember!
Print
Cranberry Sweet Potato Stuffing 2 Ways
---
1

large yellow or white onion, 1/2″ dice, 1 1/2 pounds

5

stalks of celery, thinly sliced, 8 ounces

4 Tablespoon

butter, or avocado oil for dairy free

2 Teaspoons

poultry seasoning

2/3 cup

dried cranberries, 3 ounces, fruit juice sweetened
Sea salt and freshly ground pepper

4

large sweet potatoes or yams, 1/2″ cubes, 3 1/2 pounds

1 cup

chicken stock
Optional

1/2 cup

wild rice – see note below for cooking
---
Instructions
Preheat the oven to 425ºF.
Heat a 9″ skillet over medium-high heat, when the pan is heated add the butter, onions, and celery. Sauté until the onions are translucent and golden but not browned. Add the poultry seasoning and dried cranberries.
Season to taste with sea salt and pepper, and toss the mixture with the cubed sweet potatoes.
Place the sweet potato mixture into a large baking pan (4 or 5 quarts) and pour the chicken stock over the top.
Bake the stuffing for 45-50 minutes, or until the sweet potatoes are tender and the edges are browned, stirring 1-2 times during the baking time.
Serve immediately.
If you have leftovers, this stuffing reheats perfectly.
Notes
I used 1 1/2 Teaspoons sea salt and 1/2 Teaspoon freshly ground pepper, but this measurement can vary depending on whether or not your chicken stock is salted.
To add wild rice to the stuffing, cook 1/2 cup wild rice with 1 1/2 cups water until the rice is tender. Drain off any excess liquid and add it to the stuffing after it's been baked.
Prep Time:

15 mins

Cook Time:

50 mins