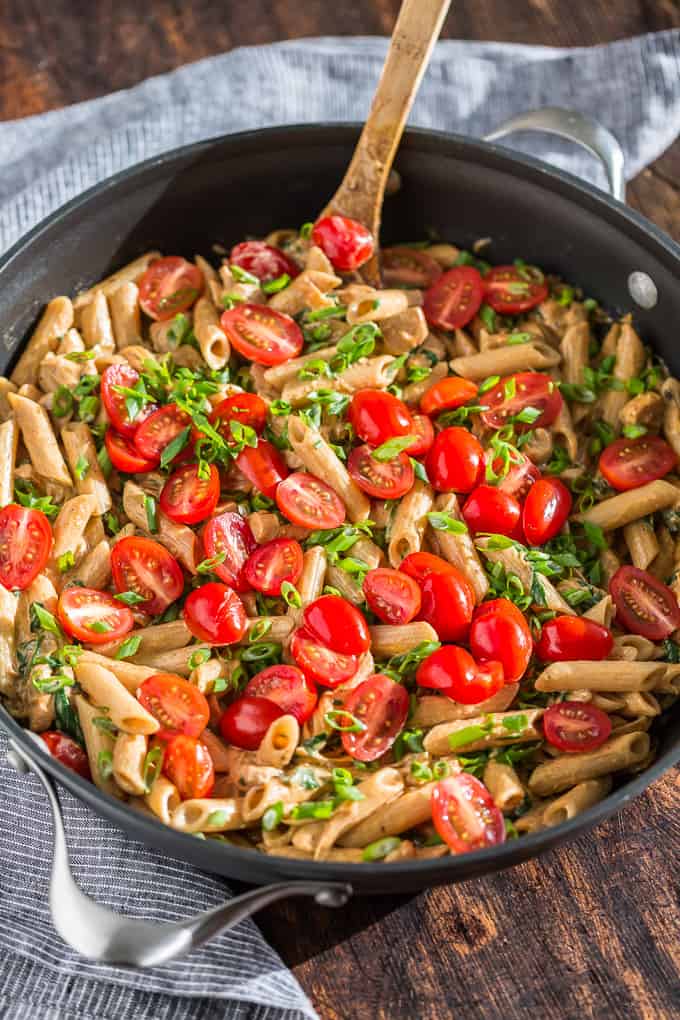 I used to make a dish similar to this Blackened Chicken Pasta all the time because we just loved the spice and cream sauce combo. But over the last few years we've both backed off on how much dairy we eat, since we both feel better eating less of it.
However we both still crave cream sauce dishes all the time, so I've really been experimenting to find some alternatives. And finally I came up with my Savory Vegan Cashew Cream Sauce that we've both been loving!
In fact the moment I knew I had reached success with a dairy free cream sauce was when I made this pasta dish. I didn't say anything about it being an experiment and just served it up. After dinner of course I wanted some feedback, so I told Tyler it was a dairy free sauce, and as it would turn out he didn't even know it was different – so that's definitely a win!
You'll want to have a batch of cashew cream sauce ready made and in the fridge before you make this dish for the fastest prep time. Or you can soak the cashews, (they need at least 4 hours) in the morning and blend the sauce that evening as you make the pasta. The key thing is to have your cashews soaked and ready to go!
The main base of this pasta dish is a tangle of caramelized onions, sautéed chicken, blackening spices, and a pop of color + nutrition from the spinach.
Then you add cooked pasta and the cashew cream sauce. The dish can be served just like that, or you can add some fresh flavor with cherry tomatoes and sliced green onions for the ultimate version.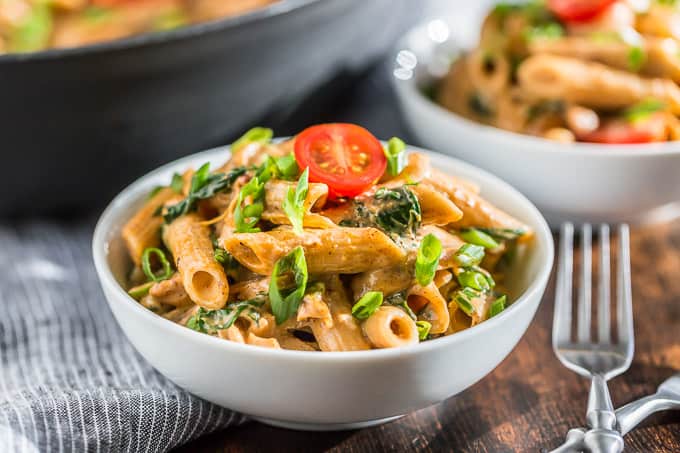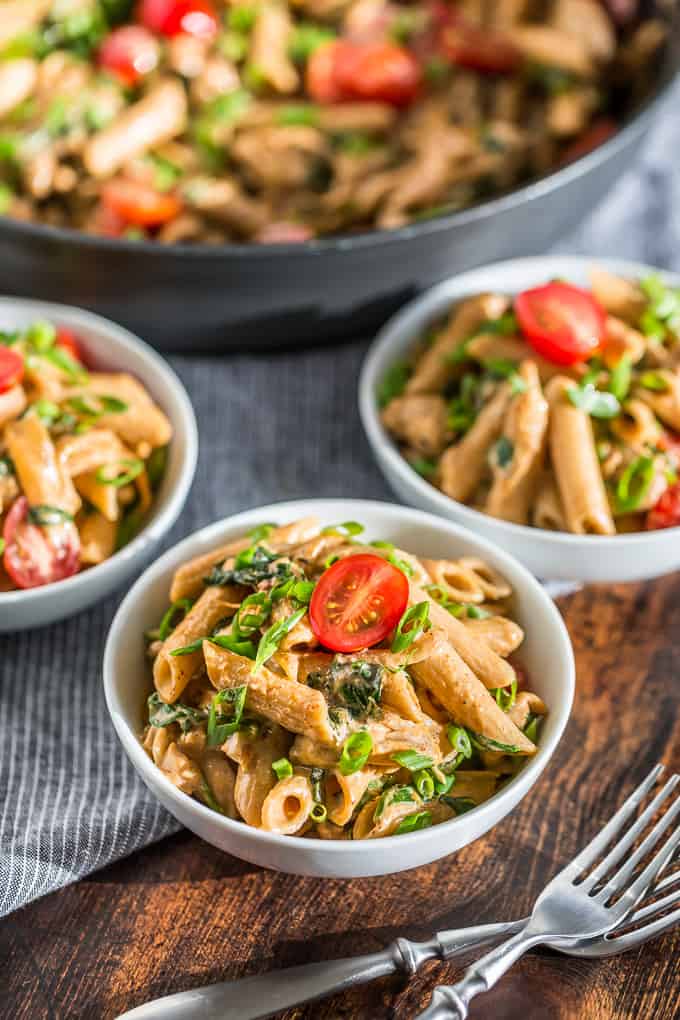 I used a recipe for blackening seasoning that I lightly adapted from the Tupelo Honey cookbook, (great cookbook by the way). But you can also use any blackening seasoning that you love to make this even faster!
Print
Creamy Blackened Chicken Pasta
---
1

yellow onion

2 Tablespoons

olive oil

1

pkg boneless skinless chicken thighs, 1 pound

2 cups

baby spinach

1

–

2

Tablespoons blackening spice, see notes

1

–

12

ounce package pasta, I used Jovial 100% brown rice penne

1 Teaspoon

sea salt, or to taste

3/4 cup

thinly sliced green onions

2 cups

halved cherry tomatoes, 10 ounces

1 cup

reserved cooking water from pasta to thin the sauce if needed
Blackening Spice adapted from the Tupelo Honey Cookbook:
1 Tablespoon

coconut sugar

1 Tablespoon

ground sea salt

1 Teaspoon

freshly ground black pepper

1 Teaspoon

cayenne

1 Tablespoon

smoked paprika

1 Teaspoon

onion powder

1 Teaspoon

garlic powder

1 Teaspoon

dried thyme

1/2 Teaspoon

dried oregano
---
Instructions
If you're mixing your own blackening spice, mix together all the ingredients listed for the spice mix, and set it aside.
Slice both ends off the onion, and cut it in half from the top to the bottom. Peel away the tough outer layer, and lay each half flat side down on the cutting board. Then slice across the rounded top to create 1/4″ half moon slices.
Preheat a large skillet, (12-15″) over medium high heat. When the pan is hot, lower the heat to medium, and add the olive oil and slice onions. Sauté the onions, stirring as they brown until they soften and are caramelized, about 10 minutes.
While the onions cook, cut the chicken into bite sized pieces, 1/2″ cubes.
Bring a large pot of water to a boil, and cook the pasta until it's al dente, or according to the package instructions, usually 8-10 minutes.
While the pasta cooks, turn the heat up on the onions to medium high and add the chicken. Cook until the chicken is just done, 4-5 minutes. Then add the spinach and blackening spices. Remove the pan from the heat, and let the spinach just barely wilt while you wait for the pasta to finish cooking.
When the pasta is done, reserve 1 cup of the cooking liquid. Then drain and immediately add it to the pan with the chicken along with the cashew cream sauce. Cook the pasta and sauce together for 1-2 minutes, seasoning to taste with sea salt and adding the reserved cooking water if needed to thin the sauce.
Remove the pan from the heat and add the green onions and cherry tomatoes.
Serve immediately.
Notes
I used 2 Tablespoons of the blackening spice listed in this recipe, but each spice blend really varies with level of heat and such. So start with less and work up to what tastes right to you.
This blackening spice in this recipe makes 1/4 cup.
Prep Time:

20 mins

Cook Time:

20 mins