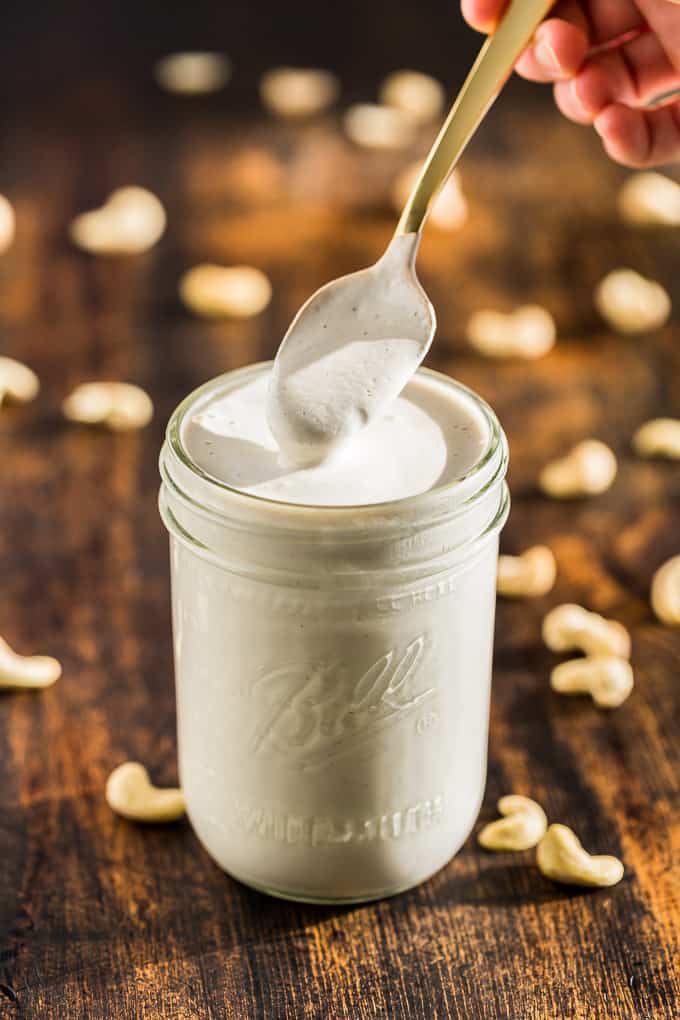 If you're in need of a good dairy free cream sauce, today's your lucky day! But even if you're not dairy free, hang with me for a moment to revel in the lusciousness of this incredible sauce.
When I posted my family's special occasion recipe for Life Changing Rosemary Mushroom Cream Sauce around the holidays, I received lots of requests for a dairy free version. So today I have a substitute for heavy cream that makes an incredible base to add all sorts of delicious flavors to.
While cashews are my favorite nut, I was a little skeptical on whether or not they could really make a cream sauce. You see… a few years ago I did some experimenting and let's just say everything I tried turned out a little gritty.
Then came the cauliflower craze, and while cauliflower is pretty adaptable, it's just never seemed all the creamy to me when I tried a cauliflower cream sauce. What actually ended up happening is I made a batch of cauliflower cream sauce, we both tasted it, and decided it needed some heavy cream and butter added in which obviously completely defeats the point!
I remember cooking the pasta and cauliflower sauce together in a pan, and I just kept adding splash after splash of heavy cream until we both decided it was a little more palatable.
But not to be deterred, I decided to try out yet another alternative to dairy. And to my surprise, it was actually really good. So good that you're getting the recipe here today. In fact, I used this cream sauce in a pasta dish, (coming soon) and Tyler didn't even know it wasn't a real cream sauce.
Not to mislead you or anything, this does not taste exactly like a cream sauce (although it's pretty close). But it's so good and absolutely 100% creamy with a silky texture that's perfect over pasta.
This sauce doesn't have a lot of flavor on it's own, but it's just like a regular cream sauce in that way, you want to add distinct flavors to it. It's a perfect neutral base, and it's incredible creaminess will blow you away!
The only key to success with a cashew cream sauce is to soak the cashews. I put some in a mason jar in the morning while making breakfast. By the end of the work day they're ready to go when I'm making dinner.
Once they're soaked, drain and rinse them well.
Then add them to a high powered blender with some water and spices…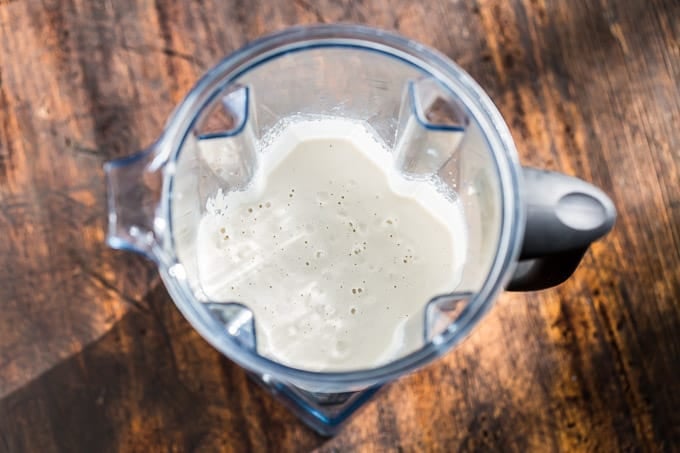 … and blend until completely smooth.
Your finished cashew cream will keep in the refrigerator for 3-4 days. This sauce can be used in all sorts of savory recipes that call for cream. I've been having so much fun with it that I know I'm going to need to get going on a base that can be used for sweets. But for now if you want to use this sauce in a non savory capacity, but sure to leave out the garlic and seasonings!
Print
Savory Vegan Cashew Cream Sauce
---
2 cups

cashews, soaked, see directions below

1 1/2 cups

water

1

clove garlic, minced

1/2 Teaspoon

sea salt

1/4 Teaspoon

black pepper
---
Instructions
To soak cashews for this sauce, place 2 cups of cashews into a 4 cup/ 32 ounce mason jar and cover with 2 cups of water. Leave the jar on the counter at room temperature to soak for at least 4 hours. I leave mine to soak during the work day, and use them at dinner time.
When you're ready to use your cashews, drain off the soaking liquid and rinse them well.
Place the drained cashews into a high powered blender with the rest of the ingredients.
Secure the lid and blend until completely smooth.
Use the cashew cream right away, or within 3-4 days.