Risotto is the perfect dish for entertaining, from dinner parties to date nights! It's infinitely adaptable, easy to make, and it's creamy nature makes it indulgent. Most people are scared off by the '20 minutes' of stirring, but you don't need to stir constantly to have a creamy risotto. Once you've made it a few times, you'll find it second nature to prepare other courses while giving your risotto a stir every 5 minutes or so. It makes a great date night recipe because it seems so gourmet, but it's actually really easy to pull off especially when both of you are in the kitchen, and can take turns stirring!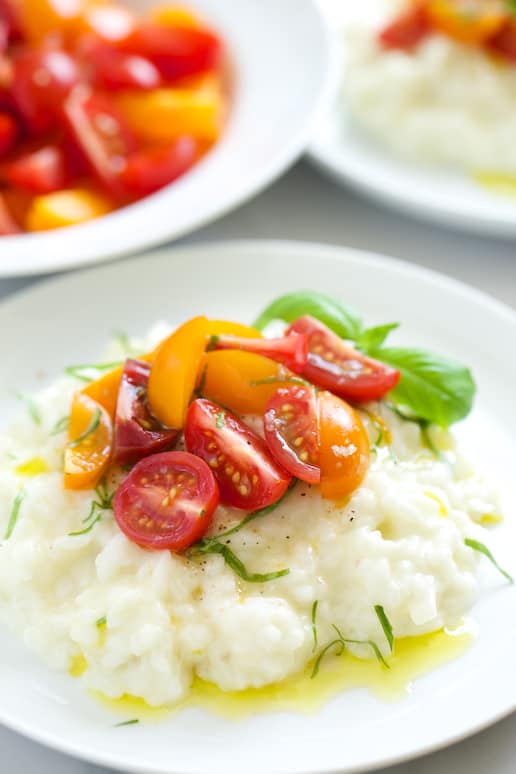 A date night evening goes something like this:
1. Tyler makes an antipasto plate while I start the risotto.
2. We nibble antipasto while taking turns stirring the risotto, and start the second course or dessert.
3. Prepare the tomato topping for the risotto, then grill some chicken and veggies for a second course, or churn some Coconut Lime Ice Cream to go with seasonal berries.
4. Set the table, (light candles if it's not too hot outside), and turn on our favorite acoustic guitar station on Pandora that's centered around the music of Tommy Emmanuel.
5. Plate the risotto like the above picture so that it feels like a real dining experience, and enjoy!
To mince the shallot for the risotto, start by cutting off both ends and peeling it. Next make 2 cuts from the top almost to the bottom, but not quite cutting through.
Then, you make cuts across the top of the shallot, again not cutting all the way through, you want to leave the core end of the shallot intact. And finally, thinly slice crosswise into a 'mince'. If you have a food chopper, feel free to go that route instead, it's definitely faster especially when you're chopping bigger quantities!
For risotto, you always start by sautéing the shallot. When it's tender, you add the rice and sauté briefly until the rice turns slightly translucent, (above left hand photo). Then you add a small amount of liquid, (about 1/2 cup at a time, above right hand photo) and stir every few minutes until it absorbs.
When the rice has absorbed it's liquid, (above left hand photo) add the next 1/2 cup water, and continue the stirring process. You'll know when the risotto is done when it doubles in size and becomes tender. The best way to tell is to bite into it, (just like pasta) risotto is also cooked al' dente meaning 'to the bite'. When you bite into a grain of rice it will be tender, but with just a speck of white remaining in the center of the grain.
For the tomato topping, stack your clean basil leaves together, roll them up, and thinly slice them crosswise to create thin ribbons called a 'chiffonade'.
How gorgeous are these tomatoes from our local Farmer's Market? I'm so excited to have great quality local tomatoes again!
My tomatoes were the size of cherry tomatoes, and I quartered them. If your tomatoes are a bit larger, cut them up to be bite sized. Toss the tomatoes together with the sliced basil. Set the tomato basil topping aside until the risotto is done.
Risotto Tips 101: 
1. Stir vigorously, you don't have to stir constantly, but every few minutes give it a vigorous stir for 30-45 seconds and you will have a creamy texture.
2. Don't add you liquid all at once. Risotto gets it's creamy texture by adding the liquid little by little, and waiting for it to absorb before adding a bit more.
3. Never use anything but good quality stocks, (chicken or vegetable usually) or water. I read about using water in place of stock from Marcella Hazan, and it's the best thing that's ever happened to my risotto making! I love using chicken stock for heavier risotto dishes, but water is perfect, (doesn't compete) with delicate flavors like creme fraiche and vegetables.
4. Use a good quality aborio rice like Lundberg Farms aborio rice. The type of rice is important too because you can't make risotto from any other kind of rice, (aborio is a short grain rice that creates it's own creamy sauce during cooking).
Risotto is usually served al'onde which means 'on the wave' in Italian. This means you don't want it to be stiff, when it's served, it should spread out a bit on the plate, but still hold some shape.
Print
Creme Fraiche Risotto with Heirloom Tomatoes and Basil
---
Total Time:

45 mins

Yield:

2

as a big dinner or

4

as a side dish and 6 as a first course

1

x
1

shallot, minced weighing 2 ounces

1 Tablespoon

olive oil

1 cup

aborio rice

1 Teaspoon

sea salt

2 1/2

–

3

cups water

1/2 cup

creme fraiche
sea salt to taste at the end of cooking

1

–

2

Tablespoons of freshly squeezed lemon juice, to taste
Tomato Topping:
12 ounces

heirloom or cherry tomatoes, halved or quartered to make bite sized pieces

6

big leaves of basil thinly sliced (

1/4 cup

loose pack slivers of basil)
olive oil for drizzling
coarse sea salt to sprinkle over the top (sometimes called finishing salt – see notes)
---
Instructions
Place a large saucepan or small pot, (around 9″ in diameter) over medium heat.
Add the olive oil and minced shallot to the pan and sauté until the shallot is tender.
Add the aborio rice to the pan and sauté until the rice turns slightly translucent. Then, begin to add the water in 1/2 cup increments. Stir vigorously for 30-45 seconds every few minutes, adding an additional 1/2 cup water only when the rice has completely absorbed it's liquid.
While the risotto cooks, prepare the tomato topping by mixing together the tomatoes and slivered basil together in a bowl. Set the mixture aside until the risotto has finished.
Continue adding water in 1/2 cup increments and stirring the risotto until it's tender, about 20 minutes. You may need more or less water than is called for in this recipe due to varying circumstances like the rate of evaporation. You'll know the risotto is done when it's doubled in size and the rice is tender, but with a small speck of white remaining in the center of the grain when you bite into it, (al' dente just like pasta).
When the risotto is finished take it off the heat and stir in the creme fraiche. Add additional sea salt to taste. This step is important because it will be very bland if you don't add additional sea salt!
Plate the risotto by spooning some into a pasta bowl, top with a generous amount of the tomato mixture, drizzle with olive oil, and sprinkle with a finishing sea salt (see the notes about finishing salt).
Serve immediately.
Notes
Finishing salts are fancy sea salts that add to the flavor, texture, and appearance of the dish. If you look closely at the tomato topping in the photos, you'll notice little grains of finishing salt sprinkled over the top – I highly recommend trying it out because it really adds a punch!
It's important to note that I got the idea to add creme fraiche to risotto from Amanda Hesser, (absolutely can't take credit for an idea that good) in her book Cooking for Mr. Latte. It's a fantastic idea, and I've been adding creme fraiche to all sorts of things ever since!
Prep Time:

15 mins

Cook Time:

30 mins