This Coconut Lime Ice Cream is ultra creamy thanks to the avocado added in! It's a refreshing combination that everyone loves. It's also dairy free and paleo, as well as vegan, so pretty much everyone can eat it.
This ice cream is the perfect partner for abundant summer berries, or pretty much anytime all year long! It's smooth and creamy without being at all heavy like ice creams can sometimes be. It's also one of those desserts that's both light and refreshing, yet oddly decadent at the same time.
The bright zesty note of citrus combined with the creamy coconut is all I could ever want in an ice cream. Although this is the most unlikely flavor combination I would have ever thought would be my favorite. I usually lean towards more traditional flavors. But this coconut lime combo has become my favorite.
Watch how to make Easy Coconut Lime Ice Cream
It would seem it's the favorite of many of you as well. So I thought I'd give it a bit of a makeover since it's one of our oldest and most popular recipes. Tyler still asks for it no matter what the occasion is. And lately our new favorite thing is to pack this ice cream into a hydro flask.
Then freeze it solid for a day or two and take it with you somewhere for a picnic. The last place we took it was hiking up a mountain on a super hot day. And I can tell you it's never tasted better that that!
How to make Coconut Lime Ice Cream
For the lime zest in this recipe, you want to use a microplane grater and only grate the outer green part leaving the white behind. That way, you get the intense flavor without any chewy chunks of rind.
Tip: Always zest the limes before you juice them because it's much easier. Every once in a while, I forget and it's a real pain trying to zest limes after they've been juiced.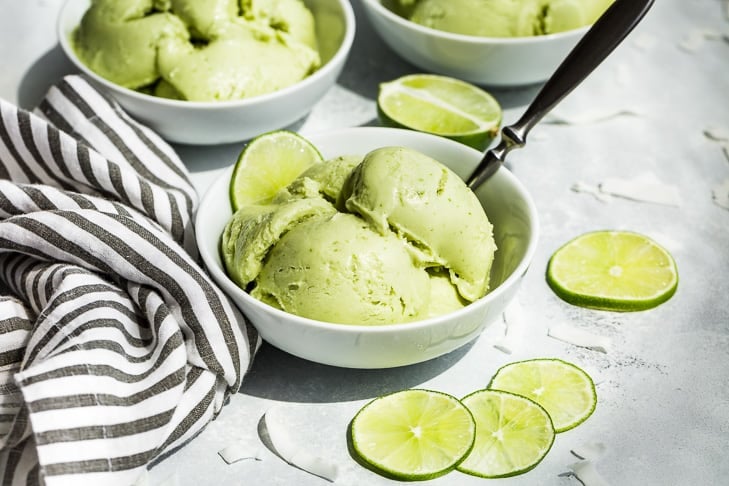 No cooking required
I use the tamper that comes with my blender to keep the mixture moving. And that way I didn't have to scrape the sides at all.
How do you tell if the ice cream is done? Scoop some ice cream out with a spoon. When it's ready it will stay on the spoon. If it's still too soft, it will slide right off .
Coconut Lime Ice Cream Ingredients
Coconut Milk – it's super important that the coconut milk be full fat. The lower fat versions produce more of a sorbet texture than a super creamy ice cream. My favorite brands are Native Forest and Thai Kitchen.
Avocados – don't worry if you're not an avocado fan, they're here for the super creamy texture, and their flavor doesn't come through.
Maple Syrup – I've been using the Grade A amber pure maple syrup that's been available at our Costco. It's a much lighter flavor and the perfect all natural sweetener for ice creams.
Lime juice & zest: this is where the magic happens! All that fresh lime juice and zest make for incredible flavor. It's also why you don't taste the avocado!
Water – this is just to help the ice cream blend easier in the blender. You can leave it out with an even creamier result, but you may need to scrape down the sides more.
What makes this vegan & dairy free ice cream so creamy? The full fat coconut milk is a definite must. But the real secret to both the beautiful color and creamy texture is avocado. Don't worry though I've fed this to many an avocado hater, and they've always loved it!
How do you make Coconut Ice Cream without an ice cream machine
First blend together all the ingredients.
Next freeze the mixture in ice cube trays, keeping back about 1/2 cup liquid.
When the ice cream cubes are frozen, add them to a high speed blender with your reserved, (refrigerated) 1/2 cup liquid ice cream base. You can also do this in a food processor, but you may need to do small batches.
Blend on low speeds using the tamper until you have a thick and creamy ice cream.
Serve immediately, or freeze for a couple hours for a firmer texture.
How to make ice cream without an ice cream maker is the most frequently asked question I get, so I wanted to write down the exact method for you. This is how I used to make ice cream before I had an ice cream maker.
If you don't have a high speed blender or food processor, you can place the mixture in the freezer. Then stir it every 30 minutes until it freezes. The texture will be icy, but that's the only other way I know to make ice cream without a machine.
The reason this method is icy is because there's only the stirring to break up the size of the ice crystals while they form. When you manually stir it every 30 minutes, the ice crystals form larger, which creates the icy texture.
Notes about blending ice cream in your blender
This only works with a high powered blender, and it's hard work even for them. If you don't have a high powered blender, I absolutely wouldn't attempt to blend ice cream. You can try the same method in a food processor instead – I use my Cuisinart.
It's super important to monitor the blending constantly. Don't step away for a moment because blending ice cream is hard on a blender. By monitoring and using the tamper, everything 'should' be fine. I have a Vitamix and it has a safety feature that turns the blender off if it starts to overheat. So that definitely gives me some peace of mind.
I think what I love about this ice cream is that it fits every occasion. Even when it's the depth of winter coldness, this ice cream is still my favorite dessert.
And no matter what cuisine you're serving, this coconut lime combination is the perfect end to almost any dinner. I especially like serving it after anything Mexican or Asian inspired.
More coconut lime inspired recipes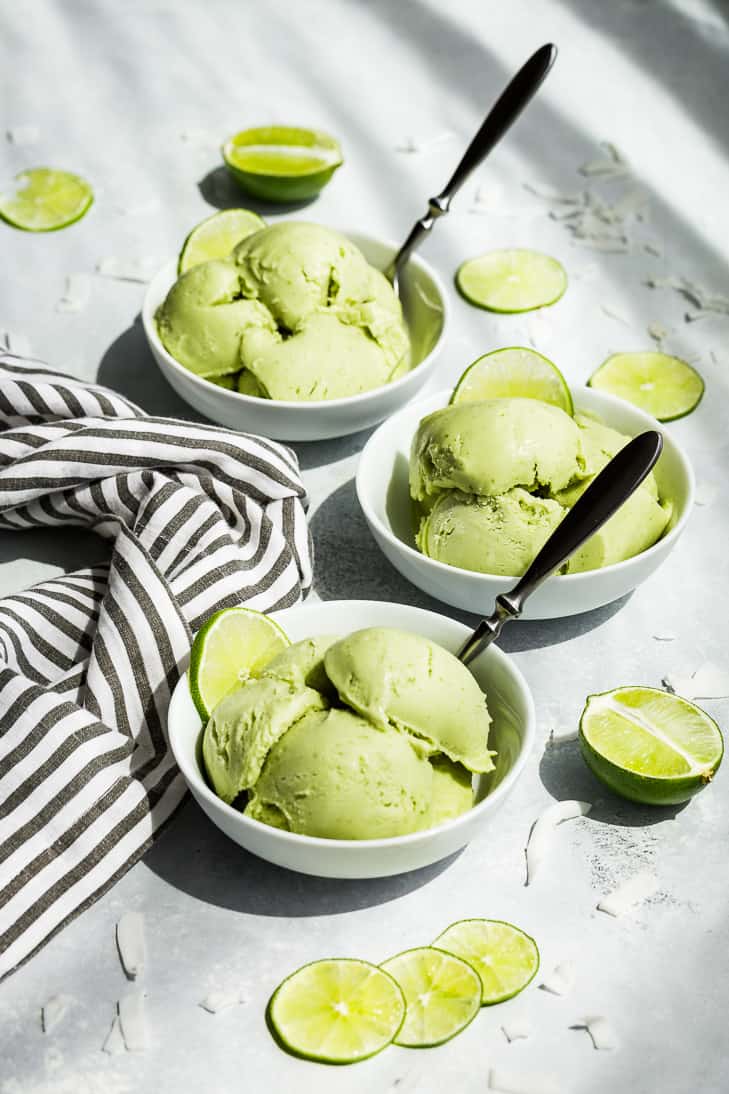 If you do get a chance to make it, I hope you'll leave me a comment/rating below. I always love hearing from you here in the comments. And also over on Instagram where you can tag me at #getinspiredeveryday with your photos of what you make.
If you're looking for even more dairy free ice creams, I wrote an e-book called Inspired Ice Creams. There's 32 recipes + 143 variations which = 175 total frozen treats!
Print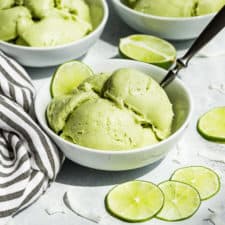 Easy Coconut Lime Ice Cream
---
Description
This super easy Coconut Lime Ice Cream is an all time favorite in our family with it's refreshing flavor, and super creamy texture!
---
1 can (13.66 ounce) of coconut milk
2 avocados, peeled and pitted
1 cup maple syrup, Grade A, or to your taste
1 Tablespoon lime zest
1/2 cup lime juice, freshly squeezed (5 limes)
1/4 cup water
---
Instructions
Place all ingredients into a blender or food processor and blend until smooth. For either appliance, scrape down the sides a couple of times for a smooth texture. I prefer the blender because it's easiest to get a perfectly smooth texture.
Pour mixture into an ice cream maker and freeze according to your machine's instructions. The ice cream is finished when you can scoop some out, and it stays on the spoon without sliding off right away (about 20 minutes).
Serve immediately or freeze for a firmer texture.
This ice cream becomes quite hard when it's fully frozen, so it's best to let it soften on the counter for 15 minutes or so before serving it.
Prep Time:

10 mins

Category:

Ice Cream

Method:

Blending

Cuisine:

American
Keywords: Coconut Milk Lime Ice Cream, Dairy Free Coconut Lime Ice Cream, Vegan Coconut Lime Ice Cream