Ever since I started making applesauce in the crockpot, I've never looked back. It's so easy to put together, and it cooks while I sleep! Waking up to fresh applesauce for breakfast is also totally great. The whole house smells amazing, and applesauce tastes so good warm or even hot, (which was a new concept for me).
If you've never made your own applesauce before, you're in for a treat because there's so much more flavor in the homemade version.
If your apples are big enough to run through a peeler-corer-slicer, there's almost no work involved at all. Making applesauce this way gives you a chunky kind of sauce that you have the option to blend if desired.
I've started making my applesauce even easier by not bothering to peel the apples at all. I just quarter them up, cook until they're soft, and then blend them in a high powered blender until smooth.
I've used all kinds of different apples for this, but the softer apples always work the best because they break down faster. If you do use a baking apple such as Macintosh, (pictured above along with some Sweet Sixteens) or Granny Smith, you'll need to increase the cooking time (sometimes as much as 3-4 more hours on low).
My favorite kind of apple to use is the Transparent, which is the perfect apple for applesauce. It breaks down nicely and has amazing apple flavor.
You can cook your applesauce on high for 4-5 hours throughout the evening, or you can cook it on low heat for 8-10 hours overnight.
If you haven't peeled the apples, remove the cinnamon stick after the cooking time, and place the chunky sauce into a blender. Then blend until the applesauce is smooth. If you don't like small bits, you can even strain it which is still faster than peeling all those apples!
I had to strain mine one time because I accidentally left a piece of cinnamon stick in there which the blender promptly chewed up into hard bits in my applesauce. So I strained it, and the whole process went quickly, leaving a super smooth applesauce.
My favorite variation of this recipe is to use half of a vanilla bean instead of the cinnamon stick. Or you can even use star anise or cardamom pods which are both awesome.
I know it might seem weird to get so excited over applesauce, but… try it and you'll see the difference! I've frozen so many batches this fall since it keeps in the freezer well, and Tyler loves it in his lunches.
Print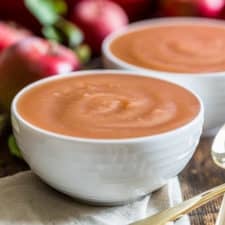 Crockpot Applesauce
---
5

pounds apples, Transparent, McIntosh, and Sweet Sixteen are all wonderful

1/2

cinnamon stick or

1/2 Teaspoon

ground cinnamon

1 cup

water
---
Instructions
Peel (if desired), core, and quarter your apples.
Place the apples with the rest of the ingredients into a 6-quart crockpot.
Turn the crockpot to low and cook for 8-9 hours, (overnight), or cook on high for 4-5 hours until the apples have softened.
Remove the cinnamon stick or any whole spices you've used.
If you peeled the apples, you can either mash up the applesauce to your desired texture, or blend it. If you left the peels on, place the applesauce into the blender, being careful not to burn yourself, and blend until smooth.
Refrigerate for 3-4 days or freeze for up to 3 months.
Notes
I highly recommend a peeler-corer-slicer because it does all the work for you if you want peeled apples. You just run your apples through it and place them directly into the crockpot.
Prep Time:

10 mins

Cook Time:

9 hours