Taco salad has been both a classic and a favorite since childhood. The way I grew up eating it was fully loaded with both cheddar cheese and sour cream. But I've been working on cutting back how much dairy I eat.
So this fully loaded taco salad is for those of us who still want the classic fully loaded with flavor, but without the dairy. Although you can definitely add the dairy back in if you desire. Once in a while for a treat I add some grated aged cheddar and a little lactose free sour cream from Green Valley, (not sponsored, I just love their sour cream and it doesn't bother my stomach like other sour creams).
In any case, you'll find this salad has all the flavor it needs thanks to the fresh salsa dressing. I think I first saw this concept from Gourmet, (not sure about this) and I've been making salsa dressing for my taco salads ever since. It's definitely a game changer because it elevates a regular ole' taco salad to something you want to eat everyday!
It's still prime tomato season, so definitely go with fresh when you can to make this tasty dressing. However in the winter months, I use my Easy Fire Roasted Blender Salsa as a dressing instead because it makes use of canned tomatoes.
I like using cherry tomatoes for my salads because they're super flavorful and easy to cut up. But you can also use whatever tomato you like cut up into bite sized pieces.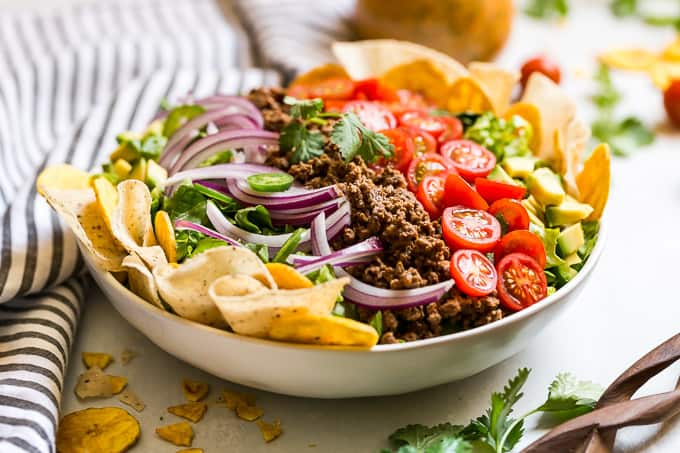 And finally, if you can't have corn we definitely need to talk about chips! The chips pictured here are from the brand Siete, (again not sponsored) and they make these grain free 'tortilla chips' without corn. And I love using the lime ones in this taco salad.
These chips are so good, perfect for dunking into homemade salsa and guacamole, and of course crushed up on this taco salad. Before I found them, I had been using plantain chips for a couple of years. And I love plantain chips on taco salad so much that now I'm torn between them and tortilla chips.
Mostly I end up putting both in my salad because I can never decide. But I figure at least this way you have lots of options, which is really nice when you can't eat certain things!
So there you have it, a fully loaded taco salad with all sorts of options, and I hope you enjoy this one as much and as often as we have!
Print
Fully Loaded Taco Salad with Salsa Dressing
---
Author:

Kari

Total Time:

30 minutes

Yield:

4

-

6

servings

1

x
Description
An allergy friendly yet still fully loaded version of the classic taco salad!
---
Salsa Dressing:
1 cup halved cherry tomatoes, or diced fresh tomato
1 cup roughly chopped fresh cilantro
1/4 cup freshly squeezed lime juice
1 Teaspoon ground cumin
2 cloves garlic, minced
2 Teaspoons minced jalapeno, optional
1/2 cup avocado oil
1/4–1/2 Teaspoon sea salt, to taste
Salad Ingredients:
12–14 cups chopped and washed romaine lettuce
3–4 cups halved cherry tomatoes
1/2 cup chopped fresh cilantro
1/2 small red onion, cut in half and thinly sliced, or minced if desired
1 large ripe avocado, sliced or cubed
1 – 4 ounce package plantain chips, crushed
Optional, thinly sliced jalapenos
Chips of your choice, crushed  to bite sized pieces
Taco Meat:
1 pound ground beef
2 Tablespoons Easy Homemade Taco Seasoning, or seasoning of your choice
---
Instructions
Make the dressing by adding the tomatoes, cilantro, lime juice, cumin, garlic, and optional jalapeno to a blender. Blend starting on low and working up to medium speed. When the dressing is still chunky, start adding the avocado oil in while the motor is running in a thin steady stream until all the oil has been added, and the dressing is emulsified. Season to taste with sea salt, and set the dressing aside while you assemble the salad.
Place the romaine, cherry tomatoes, cilantro, red onion, and avocado into a large serving bowl. Set the bowl along with the plantain chips, and or chips of choice aside until the taco meat is done.
Preheat a large 9-10″ cast iron skillet over medium high heat. When the pan is hot but not smoking, add the ground beef, and using a metal spatula, break up the meat into fine small pieces as it cooks.
When the meat is almost done, add the taco seasoning, and cook until the beef is cooked through. From here, I like to add the meat to the salad while it's still fairly hot and toss with the dressing and crushed chips, but this is just personal preference.
You can also make the meat before the other parts of the recipe to allow it to cool before adding it to the salad. Or you can serve everything separately for each person to assemble their own taco salad. If you know you'll have leftovers, it's best not to toss the salad together, (especially with hot meat) because it becomes quite soggy in the refrigerator.
Prep Time:

25

Cook Time:

5