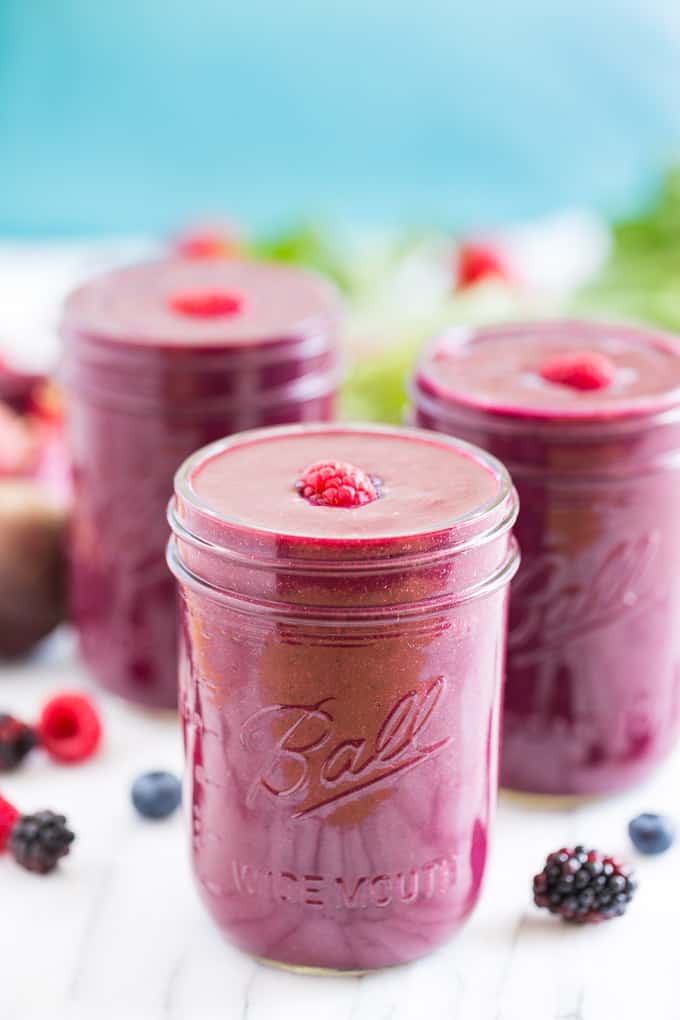 I hope the word 'beet' sorta hiding out there in the title hasn't scared you off! I'm a recovering beet hater myself, and it's only been recently that I've even entertained the idea of trying some new things with beets. For some reason I've never cared for their earthy flavor, which I've always described as 'tastes like dirt'. But then I tried golden beets, and their sweet, much milder flavor convinced me I had to try again.
Well that experience + a few weeks back my husband came home telling me all about the wonders of beets. (He had been listening to a health oriented podcast where they talked about athletes using the power of beets for better performance). Basically in a nutshell, beets make you glow from the inside out because they're nutrition powerhouses!
So of course I started looking up more about beets, and this is what I found:
Beets can help fight inflammation being a source of the nutrient betaine.
Their phytonutrients have anti-cancer properties.
They're rich in all sorts of nutrients including, Vitamin C, manganese, potassium, Vitamin B6, and folate.
The beet greens are also very valuable containing more iron than spinach. (I like to eat all types of greens sautéed with olive oil, a clove of garlic, and a pinch of red pepper flakes – sometimes with an extra touch of freshly squeezed lemon juice over the top.)
And finally they can boost energy levels being rich in fiber and good quality carbohydrates, which promotes long lasting energy.
Whew… that's a lot of reasons to start liking beets right!?!
The truth is beets definitely have an earthy flavor, but I'm learning with lots of experimenting, there are ways I actually enjoy them. One of my favorite ways to enjoy them is raw in a smoothie combined with ginger which really offsets their intense flavor – hence today's smoothie.
Another great thing about beets is their intense color which makes it easy to add greens to this smoothie. Despite the greens, this smoothie still comes out bright pink/purple/magenta – or whatever this color is.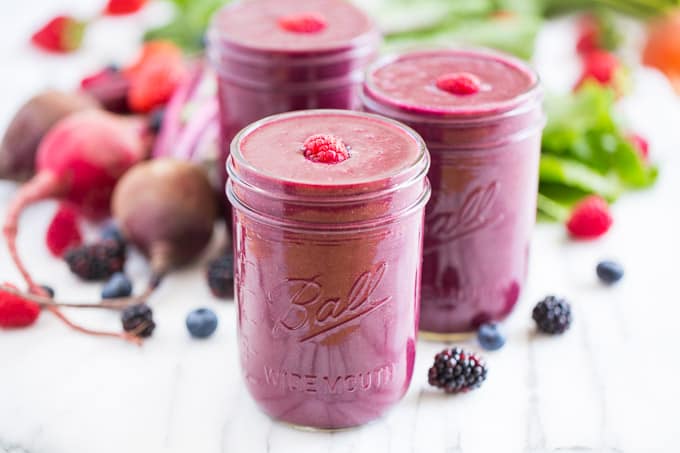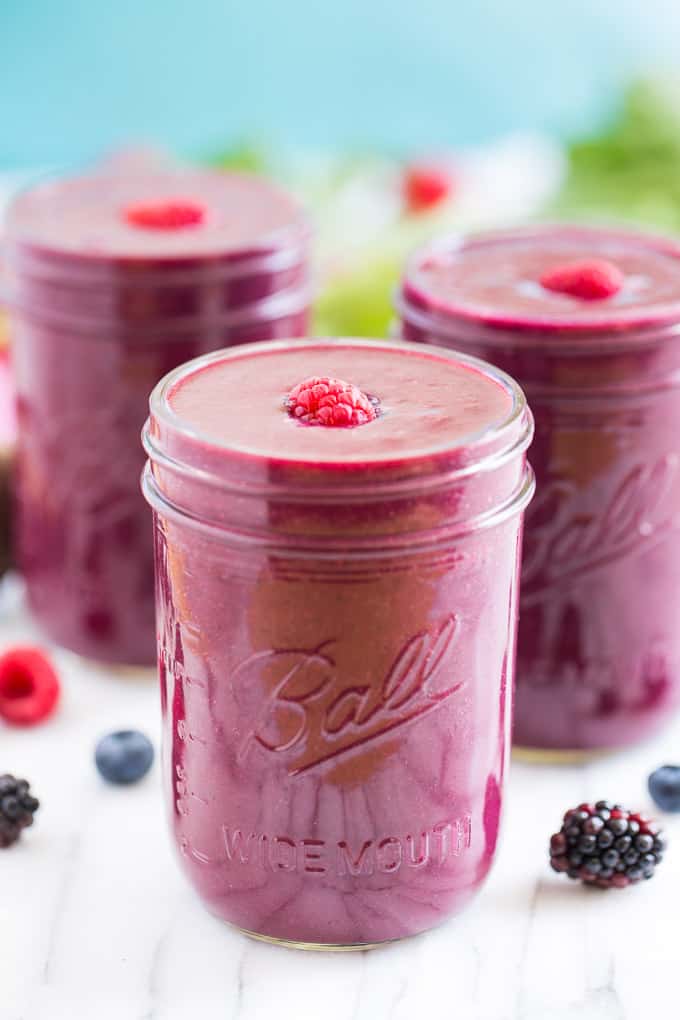 So far this smoothie and a beet juice made with carrots, apples and ginger are my go-to beet recipes. But I've planted 3 types of beets in my garden this year to do some serious experimenting, so I have a lot of beets coming my way soon.
I'm not so patiently waiting for them to get big enough to spiralize into noodles. (Seriously though, I dug the dirt away from one of the roots just yesterday to have a peek at how big they were – I'm really just a small child at heart.) Anyways, I've had an idea circling in my head of caramelizing beet noodles with my favorite herbs for a while now, and hopefully I'll have a recipe for you a month or two.
Print
Glowing Berry Beet Smoothie
---
3 cups

of mixed berries, fresh or frozen, see notes

1/2

of a small beet, 1/2 cup chunks, 2 ounces

2

ripe bananas, peeled

1 cup

kale leaves, stems removed, 1 1/2 ounces

1

small piece of ginger, about

2 Teaspoons

2 cups

coconut water, or freshly squeezed orange juice

1 cup

ice cubes
---
Notes
For the berries I just used what I had in the fridge: 1/2 cup raspberries, 3 ounces |
8 large strawberries, 6 ounces | 1 cup blackberries, 6 ounces | 1/2 cup blueberries, 3 ounces
Frozen berries work well year round, just omit the ice cubes.