This is a version of an old recipe of mine I brought out of my 'retired recipes pile' and gave a good makeover! I heard that phrase to 'bring a recipe out of retirement' from a friend a few weeks ago, and just had to borrow it. I know it's a common story now that more and more information becomes easily available about nutrition that people 'retire' their old recipes for newer, healthier ones.
But sometimes, those old recipes can be brought back with the right makeover. This recipe in it's originality was about as far from a healthy indulgence as you could get. It had all the classic suspects: several cups of white sugar, sticks (plural) of butter, and lots of refined white flour.
Predictably everyone absolutely loved them! And there was a time they were the only thing I was allowed to bring to any kind of get together. If I tried to branch out and bring something else, it was nothing but disappointment.
Then when we changed our diet a few years back, I 'retired' that recipe. But of course I've been thinking about it, and people are still requesting it. So I figured it was high time I pulled it back out, and make it into a healthier indulgence with all real food ingredients – nothing processed.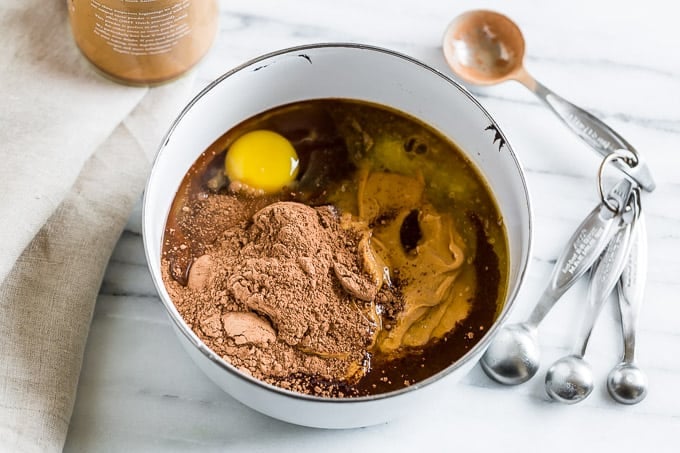 I started with my flourless brownie recipe, which I modified a bit to suit the cookie dough topping. That recipe has already proven to be a winner with everyone I know, so it's the perfect place to start.
I spread the batter into a pan lined two ways with parchment paper. By lining the pan with two strips of parchment paper, you can easily lift the brownies right out after they're done baking.
You can also bake them right in the pan, and serve them out of whatever baking dish you choose.
While the brownies bake, you make the cookie dough for the topping. There's no raw eggs in this cookie dough, so no need to worry about that!
Once the brownies have cooled, you'll spread/pat the cookie dough over the top.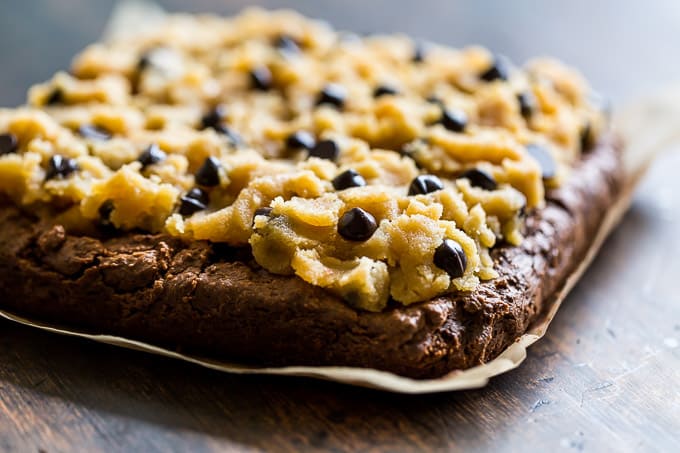 Then cut them into small squares because they're really rich…
… and finally serve them to awaiting friends and family who will love you forever! Just sort of kidding, but these brownies will definitely win you some of those proverbial 'brownie points'.
Print
Grain Free Cookie Dough Brownies
---
Brownie Base:
1 cup

cashew or almond butter

1/2 cup

maple syrup

1

egg

2 Tablespoons

salted butter, melted, or coconut oil for dairy free

1 Teaspoon

vanilla extract

6 Tablespoons

cocoa powder

1/4 Teaspoon

baking soda

1/8 Teaspoon

sea salt
Cookie Dough Topping:
1 1/2 cups

almond flour

2 Tablespoons

tapioca starch

1/2 Teaspoon

sea salt

2 Tablespoon

maple syrup

1 Tablespoon

vanilla extract

1/4

–

1/3

cup chocolate chips, see notes
---
Instructions
Preheat the oven to 325ºF. If you want to be able to lift the brownies out of the pan, line an 8″ baking pan with 2 strips of parchment paper placed crosswise into the pan with the edges of the paper hanging over the edge of the pan. These will act as handles to lift out the brownies after baking.
Otherwise, lightly grease an 8″ baking pan and set it aside.
Mix together all the ingredients for the brownie base in a medium sized mixing bowl. Then scrape the brownie batter into the prepared pan, and using a spatula, spread the batter to be as even as possible in the pan.
Bake the brownies until they are starting to puff in the center but are still fudgy, about 15 minutes.
When the brownies are done, let them cool completely before topping them with the cookie dough.
To make the cookie dough, mix together the almond flour, tapioca starch, and sea salt. Then mix in the maple syrup and vanilla extract until a thick dough forms. If it seems a bit dry, add a small amount of maple syrup until the desired consistency is reached. Finally add the chocolate chips and mix again to combine.
Carefully spread/pat out the thick cookie dough over the cooled brownies.
Slice and serve, or keep the cookie dough brownies at room temperature or refrigerated for up to 3 days.
Notes
I like to use the Enjoy Life brand of chocolate chips because they're dairy and gluten free, as well as delicious. Both the morsels and the mini chocolate chips work great in this recipe.
Prep Time:

20 mins

Cook Time:

15 mins