I've fallen hard for eggplants this year – Japanese eggplants to be precise! I've always been so so about them in the past – it was a 'take them or leave them' sort of thing, but all that's changed now! The texture of the Japanese variety is so much creamier than the regular globe eggplants – they're longer and thinner in shape, (see the picture below) so pick some up the next time you see them, you won't regret it!
Have you ever noticed how eggplant can sometimes have a cardboard-like texture? You'll find this just simply isn't the case with the Japanese variety – although in full disclosure I've been buying mine from the Farmer's Market, and they're top notch quality! Quality produce has changed some of my food preferences lately, and I've been loving it! It's not like I ever hated eggplant or anything – in fact I like most everything, but I'm learning to love things I never preferred before!
I think the matter of personal taste is a wonderful journey – figuring out what you like and why, is full time entertainment, (at least it is in our house)! When I first met my husband, he was pretty sure he didn't care for Vietnamese food because of a few bad experiences. However he was game to try again, and now he has several favorites dishes – you just never know right?
The Japanese eggplants are easy to recognize by their long slender shape – they're usually no bigger than 4″ in diameter, whereas a globe eggplant is around 8″ in diameter.
Whenever I'm coating things to be fried, I like to use bowl plates because the flour and egg mixture has nowhere to go when you're dredging eggplant pieces. I've tried using regular flat dinner plates, but I seem to make an extraordinary mess when the flour crumbs go right over the edge of the plate!
I fry the eggplant in batches in one 9″ cast iron pan – this is easy enough to do for 2 people, but to speed things up for bigger numbers you might want to have 2 skillets going at the same time.
I like to place little bits of fresh mozzarella, (rather than full slices) over the surface of the eggplant – be sure to leave plenty of crust showing because you don't want a soggy texture! I always bake my Eggplant Parmesan and my Chicken Parmesan on a cookie sheet like this, otherwise it gets too crowded in a baking dish, and the crispy coating becomes rather soggy. For that same reason, I never bake it with the marinara sauce either, I just serve it on the side.
Hot out of the oven, and just look at that melted cheese bliss!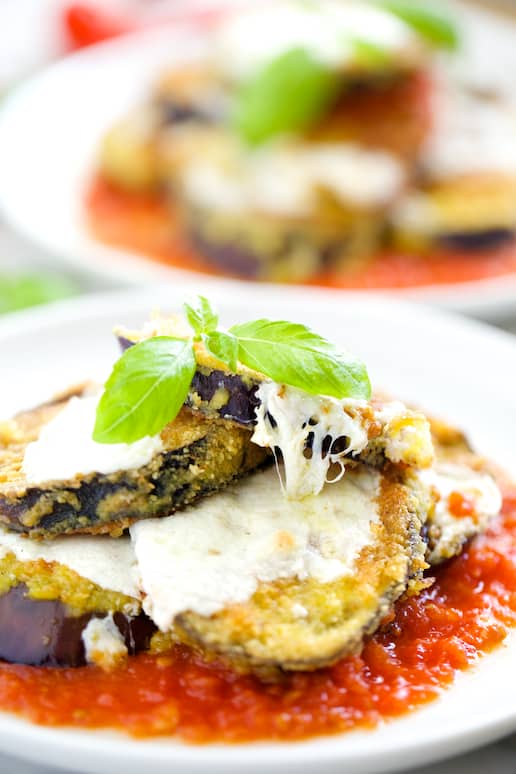 The crispy crust of this Eggplant Parmesan gives way to the creamy interior, topped with melted fresh mozzarella, homemade marinara, and fresh basil! What are you waiting for – grab some eggplants and enjoy the decadence!
Print
Grain Free Eggplant Parmesan
---
2

pounds Japanese eggplants
olive oil or avocado oil for pan frying the eggplant

2

eggs

1/4 Teaspoon

sea salt

1 1/2 cups

almond flour

3/4 cup

grated parmesan

1 Teaspoon

sea salt

10 ounces

fresh mozzarella

2 cups

Homemade Marinara Sauce
Freshly cut basil to taste – 1/2 cup chopped
---
Instructions
Start by making a batch of marinara sauce if you don't have any already made. I try to keep 2 cup packages in my freezer to make mealtimes simpler.
Preheat a large cast iron skillet over medium heat.
While the skillet heats, beat the 2 eggs and 1/4 Teaspoon sea salt together in a bowl plate. In another bowl plate, combine the almond flour, grated parmesan, and 1 Teaspoon of sea salt called for.
Add a small amount of olive oil or avocado oil to the skillet – just enough to coat the bottom.
Preheat the oven to 450ºF.
Dip slices of eggplant first in the egg mixture, and secondly in the almond flour mixture. Place them in the frying pan and fry for a couple minutes per side – or until golden brown.
When the eggplant slices are done, remove them to a parchment lined baking sheet – you'll fill 2 baking sheets by the end of the frying process.
Continue the process of dipping the eggplant slices and frying, adding more cooking oil as you go, until you're all out of eggplant. Sometimes if I'm heavy handed in the the breading process, the almond flour runs out before I've fried everything. Instead of making more, I just fry the last couple slices of eggplant plain without breading them. It's really important to keep the pan over medium heat – higher heat will burn the crumbs at the bottom of the pan.
Cut or tear the fresh mozzarella into small pieces and place them evenly over the surface of the eggplant being sure to leave plenty crispy crust showing.
Bake for 10 minutes, or until the cheese is bubbling and just starting to brown.
Serve immediately with the marinara sauce and fresh basil.
Notes
Fresh mozzarella weighs quite a bit more, (due to it's high moisture content) than the harder, brick type of mozzarella. If you can't find fresh mozzarella, use regular grated mozzarella – but just to taste because the 10 ounces called for in the recipe would be way too much if it's not fresh mozzarella!
Prep Time:

30 mins

Cook Time:

10 mins